Cleaning your home can become quite a hassle - it is time consuming, energy draining, and feels like an endless task, just like the legend of Sisyphus, punished to roll a huge boulder up a mountain for eternity. Luckily, this is not ancient Greece, and with a few shortcuts, cleanup can be a cinch! Here are 13 tips and tricks that would make quick work of cleaning.
1. Washing Machine: Clean Hot Water & Bleach (Please note that this is only for top-loaders)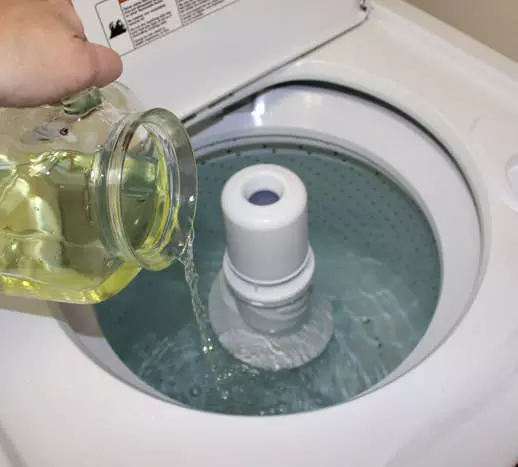 Source
Fill the washer with hot water and add four cups of bleach. Let the machine run for a minute, then stop it and allow the mixture to sit in there for an hour. Afterwards, let the machine run on the longest cycle. Once the cycle's done, refill the washer with hot water and add four cups of white vinegar. Let the machine run for another minute, then let sit for an hour. Finally, allow it to run on the longest cycle again. This will clear bacteria, mold, and limescale buildup.
2. Mattress: Use Baking Soda to Remove Stains & Odors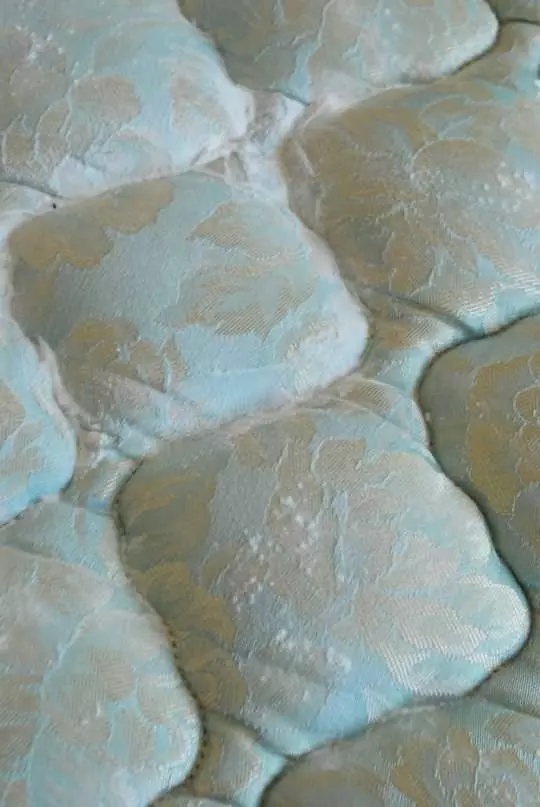 Source
Follow this easy guide.
3. Toaster: Clean Using a Toothbrush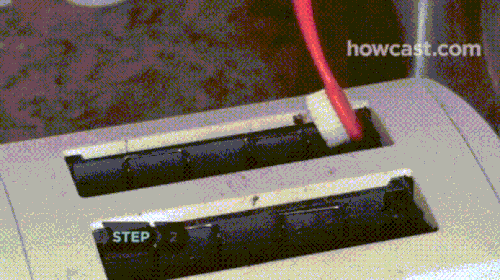 Source
Unplug the toaster and use a dry toothbrush to get all the crumbs and residue from inside the toaster. Remove crumb tray and wash it. If your toaster does not have a crumb tray, flip it over the sink and tap on it to get the crumbs out.
4. Odors: Use Vanilla Extract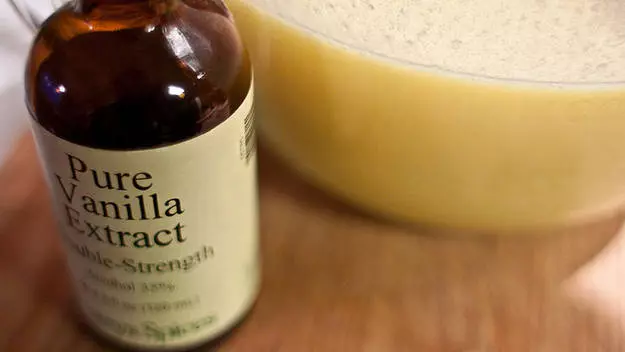 Source
If your home has an odd odor, you can deodorize it by putting two caps of vanilla extract in an empty coffee cup, and then put it in the oven at 300°F (150°C) for 2 hours.
5. Vacuum: Run the Filter in the Dishwasher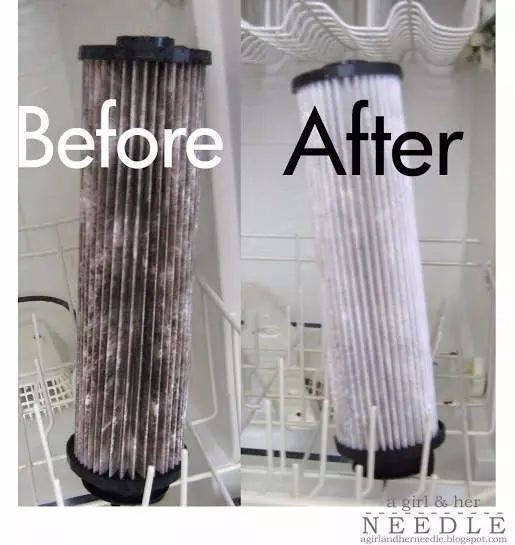 Source
If your vacuum is smelling odd or it isn't pulling as well as it used to, pull out the filter, clean serious lint and dust, then run it in the dishwasher.
6. Skillets: Use Salt as a Safe Abrasive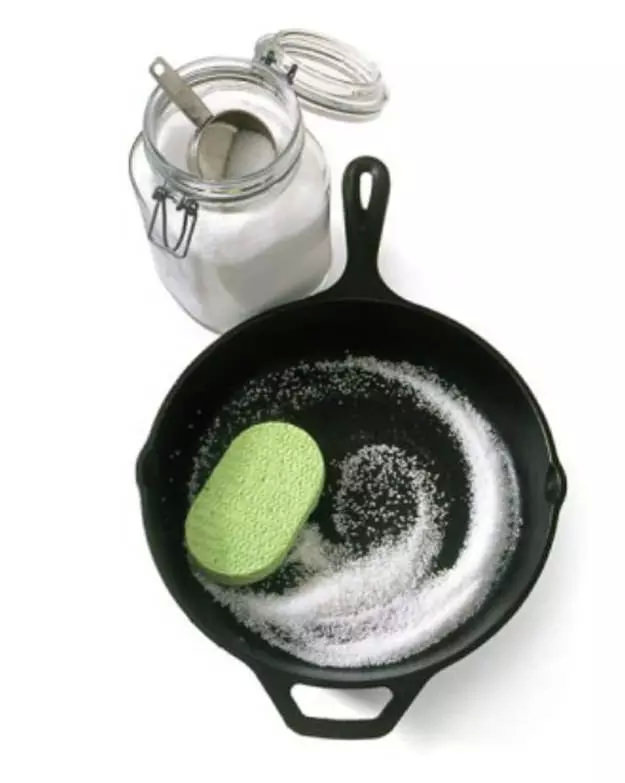 Source
Got a cast iron skillet or pan? The best way to scrub them clean is by using coarse salt and a soft sponge. The salt will absorb any liquids, such as oil, and will scrub hard residue off without damaging the iron.
7. Stove-Hood: Boil it in Backing Soda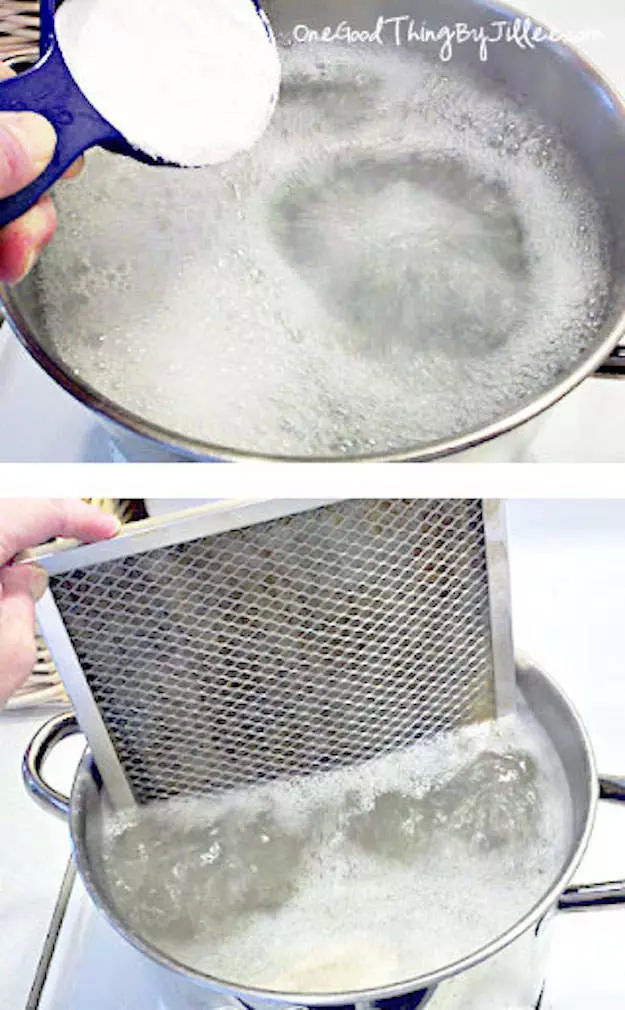 Source
Grab your biggest pot, fill it up with water and bring it to a boil. Add ½ a cup of baking soda to the boiling water (VERY SLOWLY!) and submerge the hood in it. After about 10 minutes, switch sides to make sure the entire hood gets cleaned.
8. Faucets: Use Wax Paper to Prevent Water Stains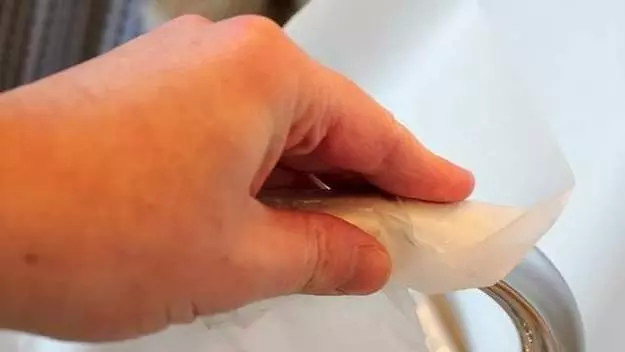 Source
This is an unbelievably easy trick. Rub your faucets with wax paper to clean any water stains and prevent them from returning.
9. Vacuum: Use a Seam Ripper to Clear Stuck Hair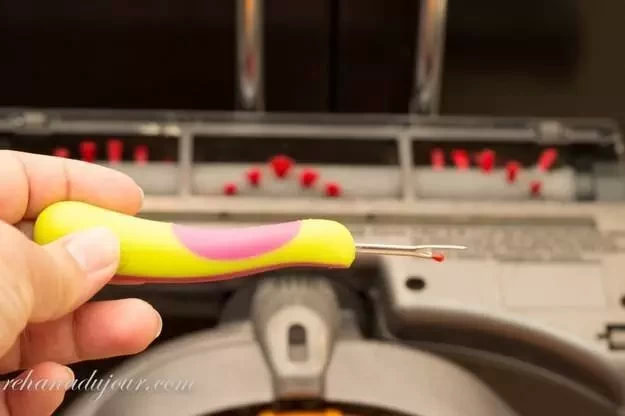 Source
When hair gets stuck in the vacuum's bristles, it can become a nightmare to remove. Unless you use a seam ripper.
10. Dish Sponge: Use a Large Binder Clip as a Holder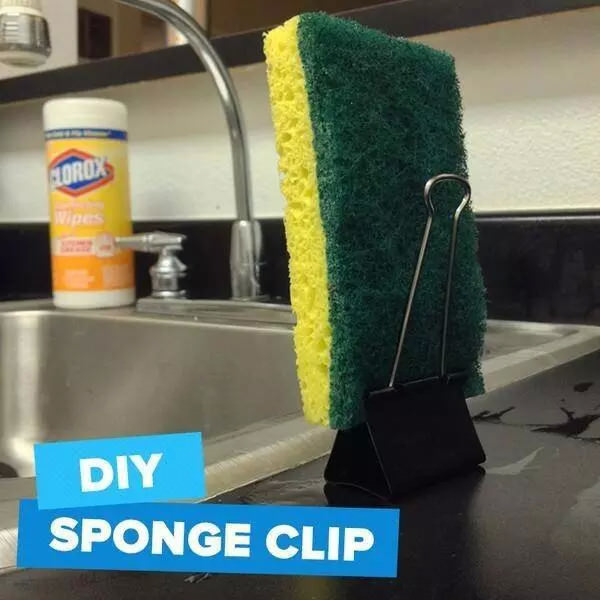 Source
As simple as it sounds – the binder clip holds and props the sponge up, keeping it off of surfaces you don't want it to be in contact with.
11. Baseboards: Use Dryer Sheets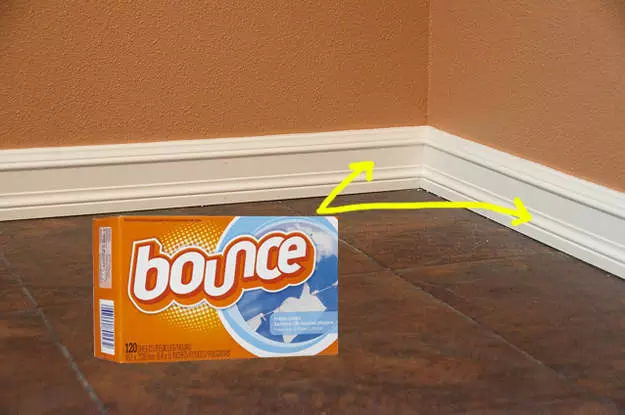 Source
It can get difficult to clean up baseboards, but if you grab a few dryer sheets, you'll be amazed at how quickly and easily they clean up dust and grime.
12. Candles: Remove dust using a Cotton Ball & Rubbing Alcohol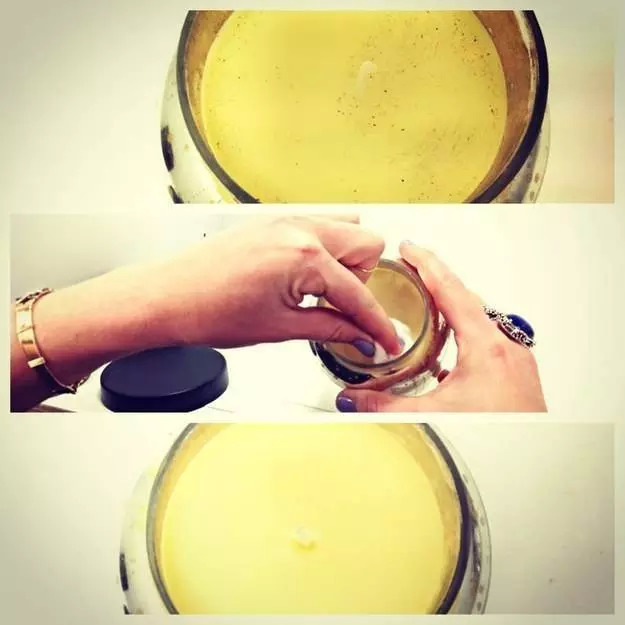 Source
Cleaning up a dusty candle can feel impossible, especially if you use water. Instead, grab a few cotton balls and some rubbing alcohol and make quick work of all that dust.
13. Dish Sponge: Disinfect it in the Microwave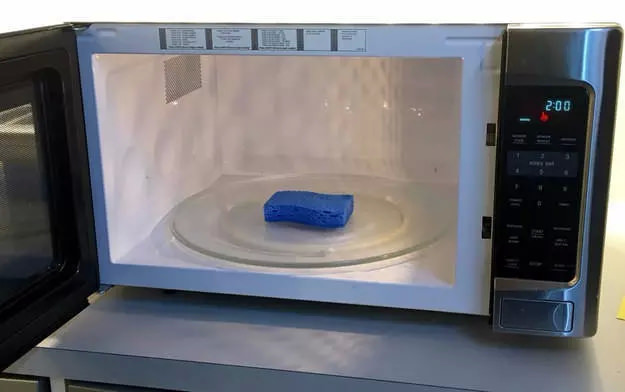 Source
Finally, a piece of advice that will keep your kitchen clean and your kitchenware germ-free. Grab a sponge and toss it in the microwave for 2 minutes on high, then let it cool. The heat kills bacteria, viruses, and mold, leaving you with a fresh sponge.
H/T: omfgfacts.org