When we hear of "healthy snacks", we usually think of carrot sticks, some bland yoghurt, or a handful of raw nuts, and this does little to get us into a healthier diet. Fortunately for us, healthy snacks can also be delicious, making our diet a little more fun, and staying healthy easier. Here are five scrumptious snacks that are as good for you, as they are for your taste buds.
Bacon & Guacamole Sandwiches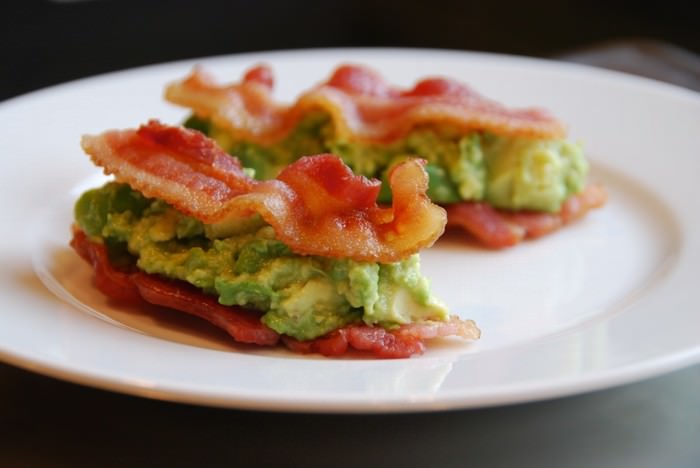 Despite the bad reputation if gets, in small quantities bacon is quite healthy. Combine it with guacamole and you've got yourself a treat that'll make everyone envious.
Ingredients:
Preparation:
Apply a thick layer of guacamole to 2 bacon strips

Place the 2 remaining strips on the guacamole
Cucumber & Feta Rolls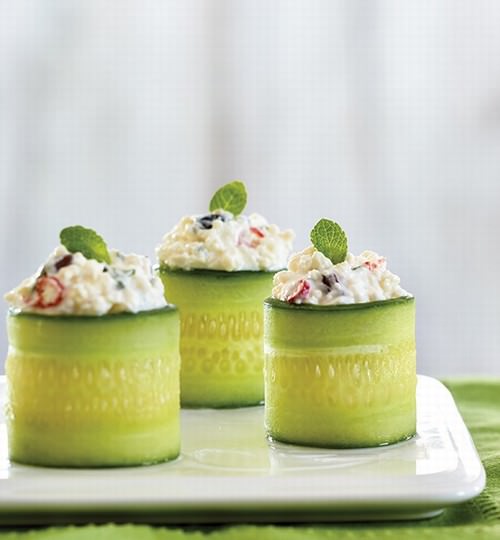 Cucumbers don't have to be boring, and combining them with feta cheese changes them from a bland snack, into a mouthwatering morsel.
Ingredients:
2 cucumbers

6 ounces feta (crumbled)

3 tablespoons Greek yogurt

2½ - 3½ tablespoons sun-dried tomatoes (diced)

Pitted Kalamata olives (chopped)

1 tablespoon chopped dill or oregano

2 teaspoons lemon juice

Black pepper (to taste)
Preparation:
Slice the cucumbers into long, thin strips – can be done with a vegetable peeler

In a bowl, mix the cheese and yoghurt using a fork

Add the sun-dried tomatoes, olives, dill, pepper, and lemon and stir until the mixture is uniform

Place 1-2 teaspoons of the mix atop a cucumber slice and roll

Hold the roll in place with a toothpick
Basil & Pesto Almonds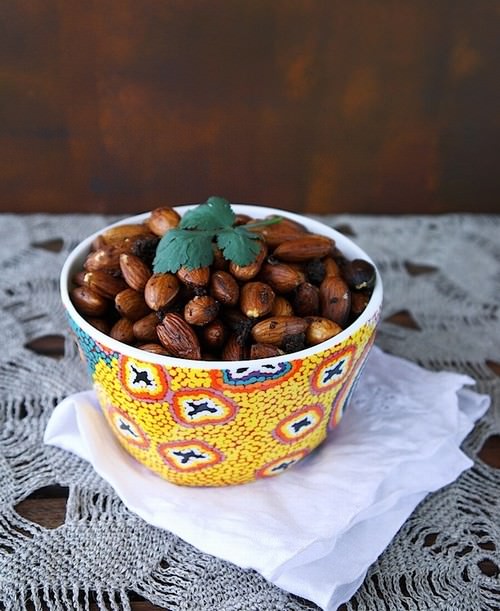 Once you've had these almonds, you'll never want to go back to the plain old kind. This variation is a little more fattening than the others on this list, but it is still healthier than most other snacks you can buy.
Ingredients:
400g whole natural almonds

25g grated Parmesan cheese

2 egg whites

10g fresh basil leaves

1 teaspoon salt

1/2 teaspoon garlic powder
Preparation:
Preheat the oven to 110°C (225°F)

Line a baking sheet and set aside

Blend the basil and egg whites until smooth

Put the almonds in a bowl and pour the mixture over it, making sure to coat all the almonds

Drain any excess mixture and set almonds aside

Mix the salt, garlic powder, and grated cheese in a different bowl

Combine the almonds and cheese mix and stir to coat the almonds

Spread the almonds on the baking sheet and place in the oven

Bake for an hour, and stir the almonds every 15 minutes

Allow to cool and enjoy
Apple Sandwiches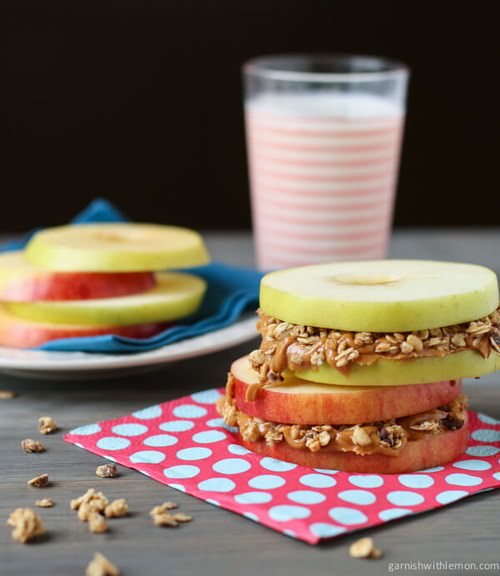 Low-calorie, low-fat, high in vitamins and delicious to the extreme.
Ingredients:
1 apple

Almond butter

Granola
Preparation:
Core the apple and cut it into rings

Apply a generous layer of almond butter atop half the rings

Sprinkle granola over the butter

Place "empty" rings over granola to form sandwiches
Chocolate Espresso Smoothie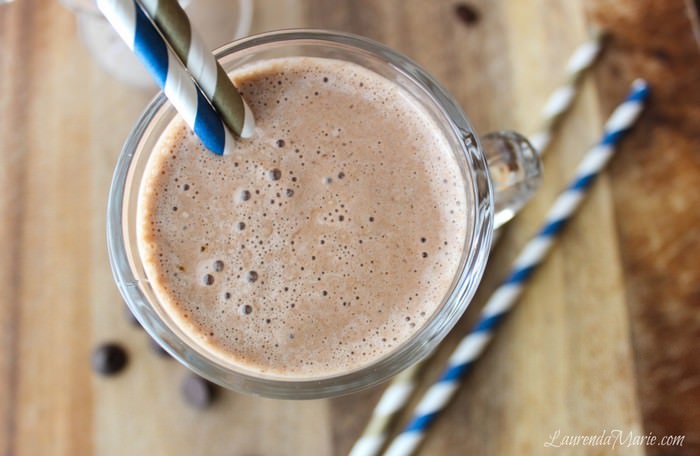 Forget that chemical-laden Starbucks coffee, and make yourself a smoothie that combines health, caffeine, and chocolate(!).
Ingredients:
1 cup coconut milk

½ cup ice

1 banana, cut and frozen

1 scoop chocolate protein powder

1 teaspoon instant coffee grounds / ½ cup coffee

1 teaspoon unsweetened cocoa powder

1 teaspoon coconut palm sugar
Preparation:
Blend ingredients and enjoy.