Don't skip breakfast
Start the day with breakfast. Not everyone enjoys preparing food and eating first thing in the day, but when you take the time to eat something in the morning, you help curb mid-morning hunger. Even just a helping of yogurt or a slice of toast can stop you from snacking on unhealthy treats mid-morning. If you eat breakfast, you're also less likely to indulge in a large, calorie heavy lunch. If you're not a fan of solid food first thing in the morning, try juicing fresh fruit, or making a smoothie.
Eat a salad before your main course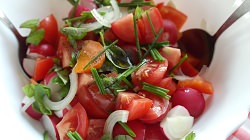 This trick will fill you up slightly, ensuring you don't overindulge in the main course. You'll find yourself consuming fewer calories in the day too. Make sure to choose a salad with more fresh vegetables and opt for low-calorie dressings.
Snack on nuts
While nuts are high in calories, they're an extremely healthy food that can quickly fill you up. This will stop you from unnecessary snacking and ensure you're putting good food into your body. It's easy to lose track of how many you've eaten so before you begin eating, portion out your nuts so that you eat the right amount.
Reduce your salad dressing
When you prepare or buy a salad, you tend to want to top it off with a healthy splash of dressing. Few realize that salad dressings are deceptively high in calories. A better tactic is to put your dressing or sauce in a separate bowl or container and dip each bite in instead. This can reduce your caloric intake. If you enjoy decking your salad with dressing, there are also delicious low-fat salad dressings available.
Be careful with coffee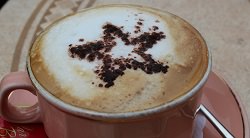 Drinking coffee has become a big part of culture and many variants have grown along with this trend. Some of the more exotic coffees available at coffee houses can contain more calories than a main course of a meal. Read the label of the coffee beans when preparing at home and ask the barista at your local coffee shop about the calories. If you don't ask, stick to a basic java to scale down on unnecessary calories.
Walk and talk
Don't be stationary during a phone call. When someone calls, get up and go for a walk, or hit the treadmill. Research shows we're more creative and lively when moving while talking. Not only will this make you a more lively conversationalist, but it can benefit your body. You can burn up to an extra 1,000 calories per month and not even notice it.
Every move counts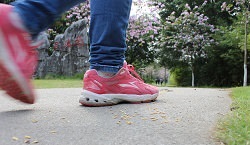 Every time you move during the day, you have the potential to burn extra calories. Aim to move for up to two hours per day. Keep track of how many minutes of your day were sedentary and how many were spent moving. Opt to take the stairs, walk as much as you can, taking the long route if possible. It might help to get a pedometer to help you keep an accurate count.