Roses are the most famous flowers in the world, and are given as an expression of feelings: red roses symbolize love, pink ones are for gratitude, white is for marriage, orange for passion, yellow for joy, etc. Shakespeare once wrote that "A rose by any other name would smell as sweet", but the petals themselves are also edible, and can add a delightful twist to some dishes.
1. Rose Ice Cream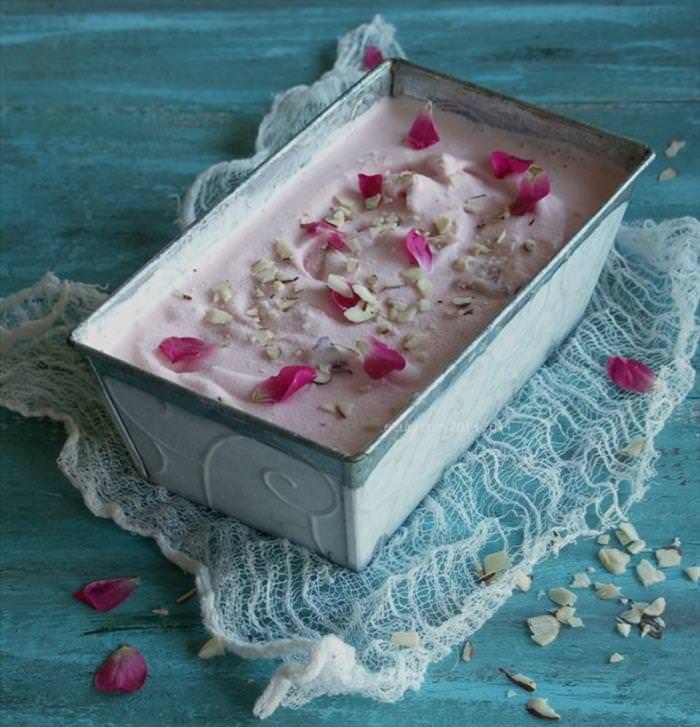 Source
Would you like a scoop of delicious ice cream that smells like a bouquet of roses, and tastes divine?
Ingredients:
200 ml heavy whipping cream (double if you want a fuller ice cream)

¾ cup sugar

½ cup fresh rose petals

¼ cup bottled Rose flavored syrup

¼ teaspoon lemon juice

2 teaspoon rose water

Nuts, pistachios or almonds (coarsely ground)
Preparation:
Combine rose petals and sugar, shake well and cover with plastic wrap. Put it in the fridge for 30 minutes.

In a pot, combine the cream, rose petals, sugar and the coarsely crushed nuts, and let it simmer for 12 minutes.

When you're ready to make the ice cream, combine the syrup, rose water, and chilled cream in an ice cream maker and follow instructions of the ice cream maker. Add lemon juice and churn for 5 more minutes. Freeze for at least 6-8 hours.

Don't have an ice cream maker? Simmer the cream with rose petals and sugar as mentioned above. Chill the mix and then fold in the other ingredients. Stir until the syrup evenly mixes with the cream. Stir in the lemon juice and freeze. When partially frozen, take it out and whisk it again. Freeze until ready to eat.
2. Rose Petals Shortbread Cookies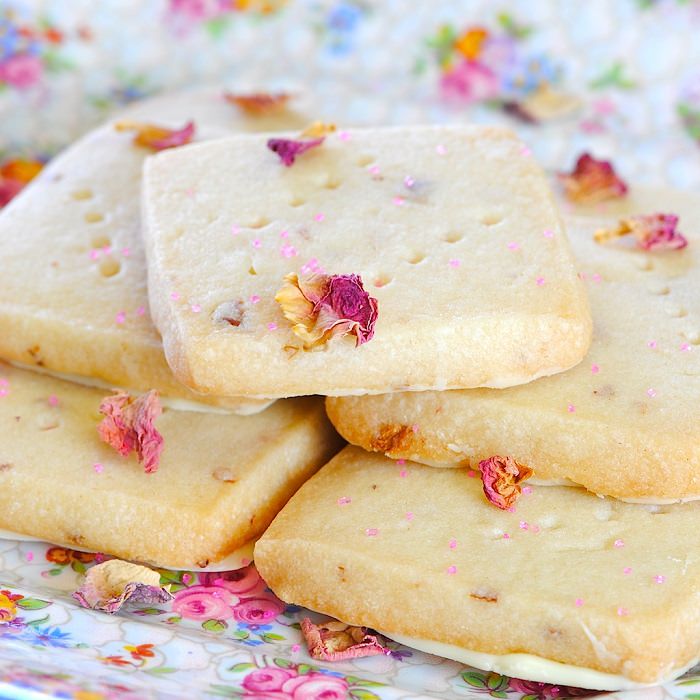 Source
An interesting twist on traditional shortbread. Perfect for summer and spring, but also goes well with a cup of tea by the fireplace.
Ingredients:
2 cups all-purpose flour

2 sticks unsalted butter

⅔ cup powdered sugar

1 tablespoon rose petals, finely chopped

½ teaspoon vanilla extract

½ teaspoon rose extract

White chocolate
Preparation:
Blend butter and powdered sugar until smooth and creamy. Add the rose petals, the vanilla, and rose extract and blend until combined. Add flour to incorporate.

Use a rolling pin to roll the dough until it is about 1/4 inch thick, refrigerate for at least 2 hours.

Preheat the oven to 325°F (165°C).

Line baking sheet.

Remove dough from fridge, use a long knife to cut the dough to the desired cookie size.

Separate and place individual cookies on the baking sheet, and refrigerate for 10-15 minutes.

Bake for 18 - 20 minutes. Keep an eye on the cookies, and remove them early if they're a golden color.

Melt white chocolate and with a teaspoon, drizzle it on top of the cookies.
3. Rose Butter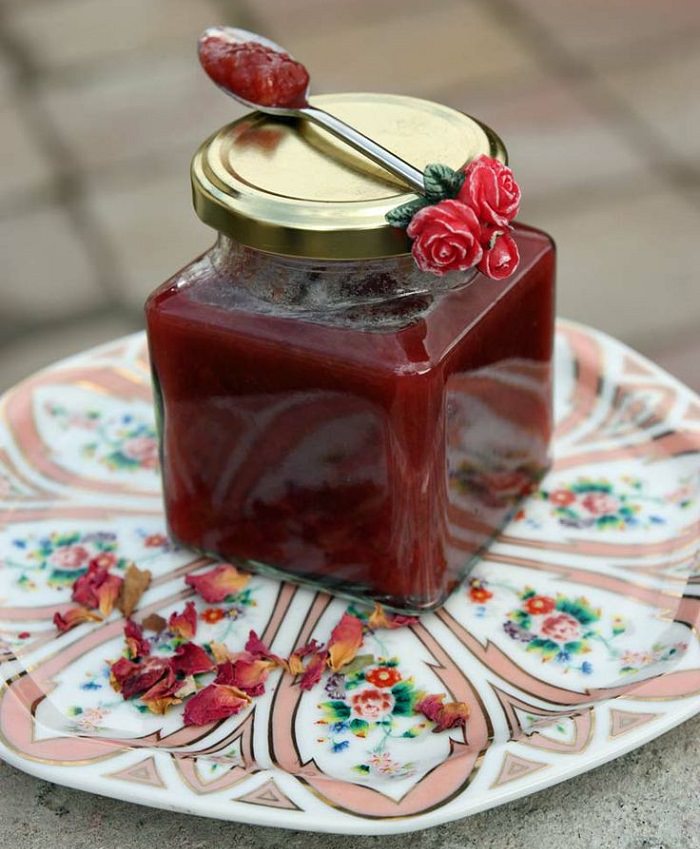 Source
Spread it on toast, or put a little on cookies for a mouthwatering treat. While this doesn't contain any actual butter, it is described as butter due to its texture (similar to peanut butter).
Ingredients:
Preparation:
Place the rhubarb in a sealable container with the sugar and allow to sit for at least 6 hours, until the sugar mostly dissolves.

Pour the content of the container into a pan, add the lemon juice and rose petals.

Put the pan on medium heat for 10-15 minutes, and stir from time to time.

Once the mixture thickens remove it from the heat and allow it to cool down.

Once the butter is cool enough, transfer it to a clean jar.
4. Dark Chocolate with Rose Petals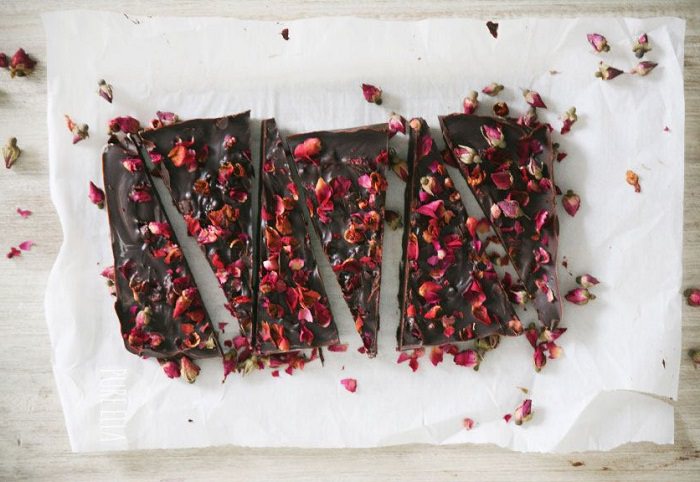 Source
Chocolate. Rose petals. Need we say more?
Ingredients:
200 grams of dark chocolate (72% cocoa)

½ cup rose petals

¼ cup dairy-free creamer

¼ cup coconut butter or oil
Preparation:
Line a pan with parchment paper and set aside.

Place a pot with water and stack a bowl over medium low heat to melt the chocolate. Add the chocolate, the creamer, and coconut oil and allow them to melt.

Stir until the mixture is fully combined. When the consistency is smooth and glossy, remove from the heat.

Pour the melted chocolate into the pan, tap the pan on a tabletop to get rid of all the air pockets, and then set aside.

Sprinkle the rose petals on the melted chocolate, and then dab some of the petals into the chocolate. Place in the refrigerator for about an hour.

Once the chocolate has set, separate the chocolate bar from the pan. Cut the chocolate into desirable shape/size pieces. Enjoy.
5. Rose Petal Punch (Alcoholic)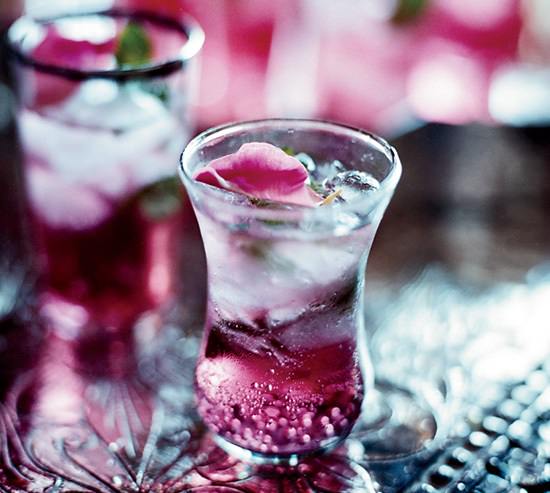 Source
Finally, a grown-up punch with a vodka kick. This punch will be a hit at any party, and can be an interesting take on bringing your loved-one flowers.
Ingredients:
6 cups chilled soda water

3 cups ice

1½ cups vodka

2 tablespoons rose syrup

2 tablespoons sugar

1 tablespoon torn mint leaves
Preparation:
In a microwave-safe bowl, mix the rose syrup and sugar, then microwave until the sugar has dissolved.

Transfer the content of the bowl into a large pitcher, add the vodka and mint, and stir.

Add the soda water and ice and stir some more.

Serve and enjoy responsibly.
H/T: diply.com