Apples are very versatile fruits that are used for both sweet and savory snacks, both fresh or cooked. When apples are in season and you feel like creating an original healthy snack out of them, try out this simple recipe to make a delicious fruit galette. It's fun and simple to make, and the result is totally irresistible, especially when still fresh. All you need are 7 common ingredients and 7 simple steps. Try adapting this recipe to use for whatever fruit there may be in season - so it's perfect and easy for you at any time of year. Here's how easy it is to make it.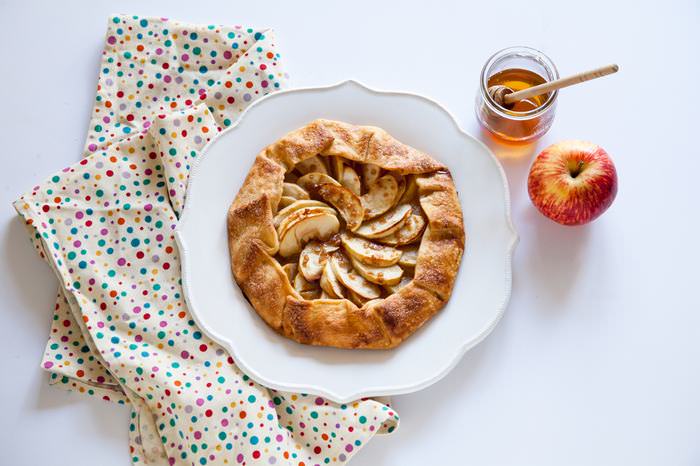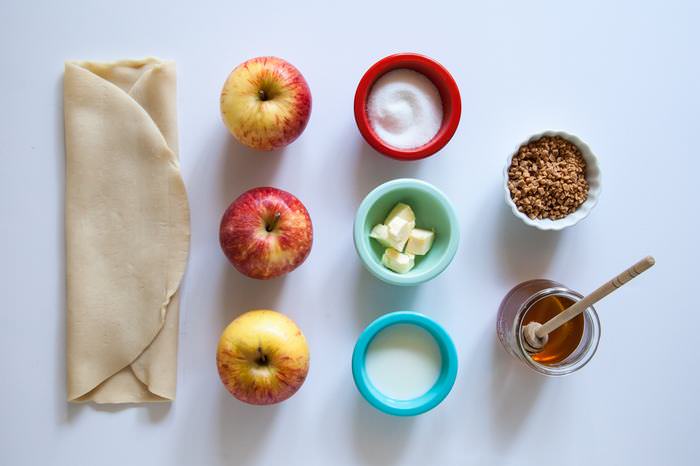 7 Ingredients:
• 1 prepared pie crust (either store-bought or home-made)
• 2-3 apples (peeled and sliced)
• 2-3 tablespoons honey
• 2 tablespoons toffee bits
• 2 tablespoons unsalted butter, diced
• 1/4 cup whole milk
• Sugar for sprinkling
7 Steps:
The following simple step-by-step instructions, demonstrated by photos, will guide you on how to get your scumptious apple galette done and ready to eat in less than an hour, including preparation and cooking time. Before starting, pre-heat your oven to 400 degrees Fahrenheit. Enjoy the process!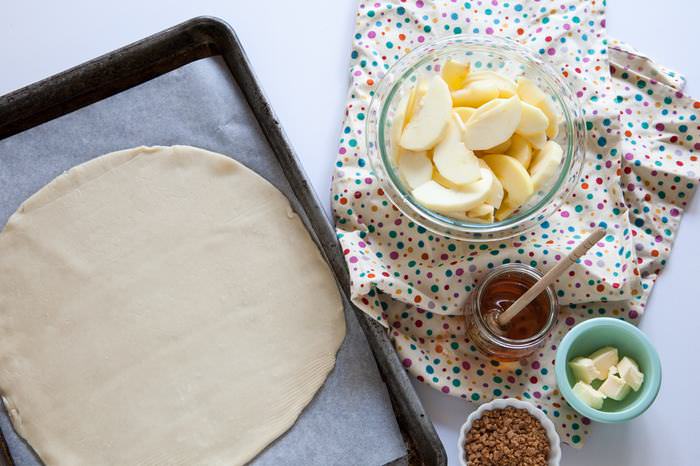 1. Roll out your pie crust in a circle and place it on a baking sheet. Have your fruit and toppings prepared.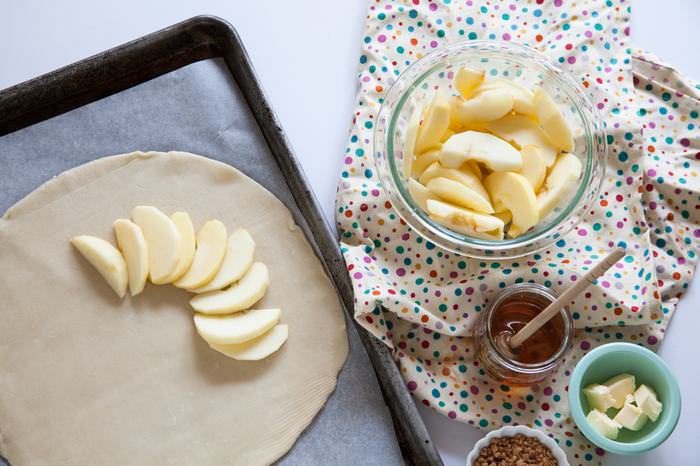 2. Fill the centre of the circle by fanning out the apple slices. Start from the outer circle, at least 1-2 inches from the edge, and continue to the centre, adding some layers.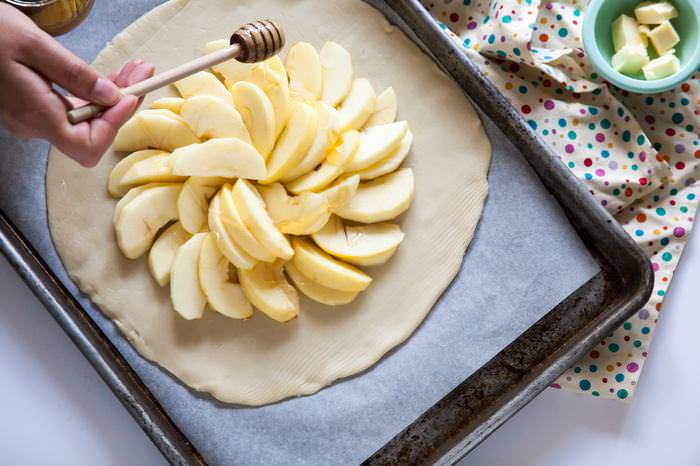 3. Drizzle honey over the apples.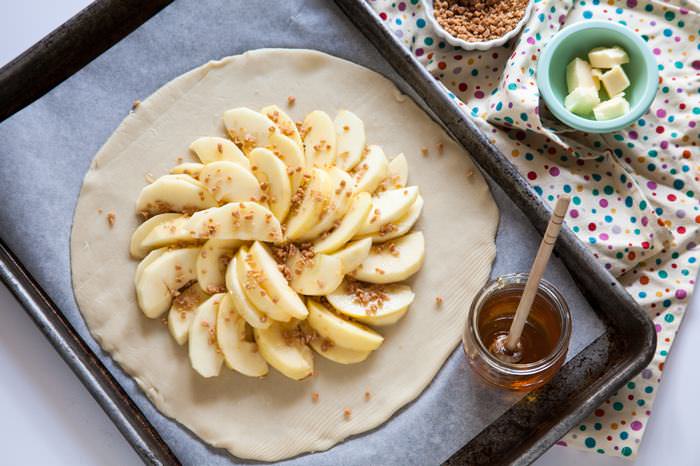 4. Add some toffee bits.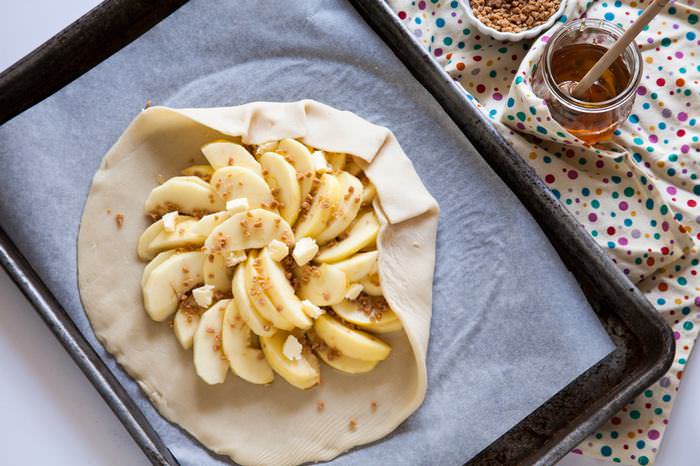 5. Place some pats of butter over the apples and start folding the edges of the crust up and over the filling, pleating as you go.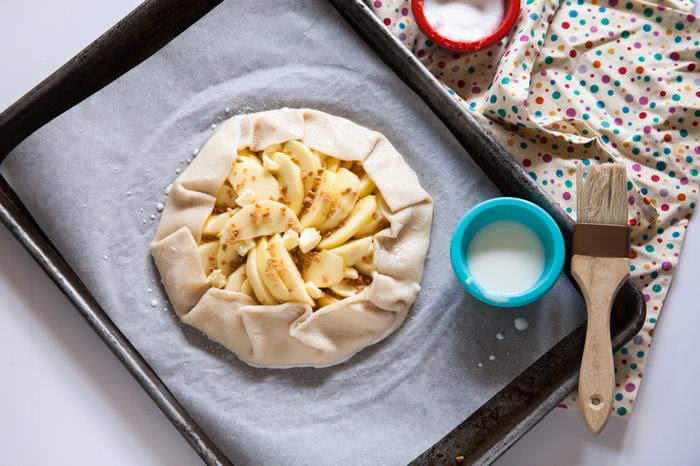 6. Once done folding, brush the edges of the crust with milk and spinkle with sugar. Place in the oven when ready, and leave to bake for 35 to 40 minutes, or until it turns golden brown.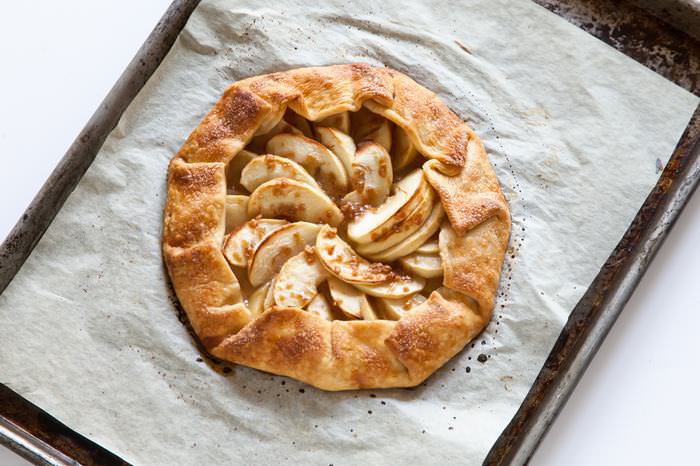 7. Voila - your apple galette is ready to be devoured! Enjoy while still warm and crispy, or eat as a snack any time.
If you liked this recipe, you may want to use your creativity and go on adding more fruit or other ingredients to the apples next time round. Why not add some cranberries or cinnamon, or turn it into a pear and maple syrus galette for instance? The possibilities are endless - share your alternative ideas with us in the comment section below.