Processed foods have made our lives so easy. There's need to slave away in the kitchen, or waste time preparing meals, when you can just open a box or a can. As convenient as it may be, one of its downsides is the toll these foods take on your health. They are often filled with preservatives, or are heavy in sodium. They're also not fresh, colorful, or full of nature's nutrients. If you've gotten used to a diet heavy in processed foods, then this is the article for you. We've found recipes for all meals of the day that are simple, and use fresh, healthy foods. They're not hard to prepare and are still bursting with flavor.
Breakfast
1. Grain-free butternut squash oatmeal (made in a slow cooker)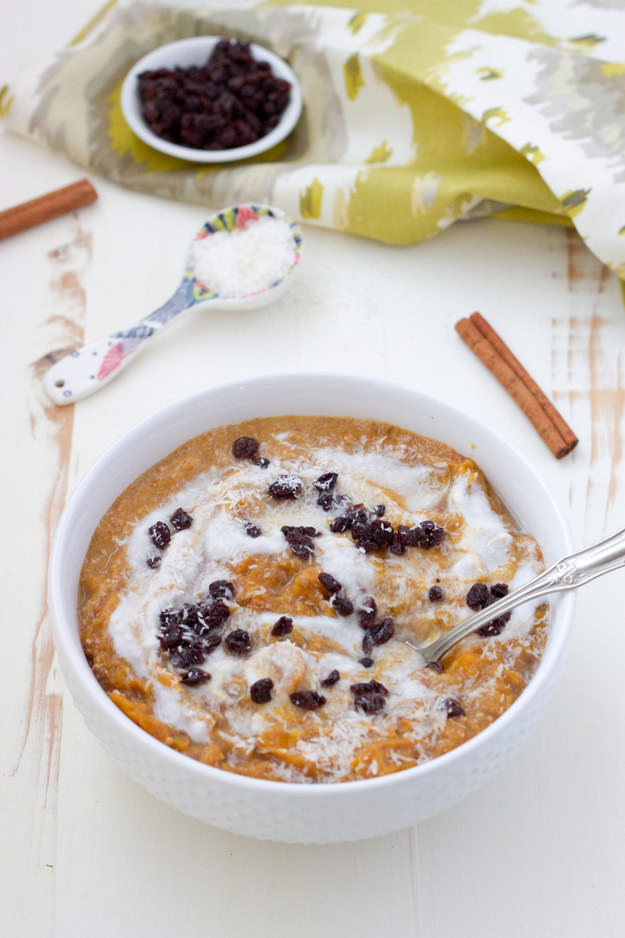 Source
Ingredients for oatmeal
½ cup raw walnuts

½ cup raw almonds

1 medium butternut squash, peeled and cubed

2 apples, peeled and cubed

1 teaspoon cinnamon

½ teaspoon nutmeg

1 tablespoon coconut sugar

1 cup coconut milk
Ingredients for topping
Coconut milk

Currants

Dessicated coconut

Maple syrup
Instructions:
Soak the almonds and walnuts for 12 hours. Cover them completely with water and add a dash of salt.

After soaking, rinse the nuts and blend them in a food processor, until they attain a similar consistency to flour.

Add your butternut squash, apples, cinnamon, nutmeg, ground nuts, coconut sugar and coconut milk to the slow cooker.

Cook the ingredients for 8 hours on low.

Mash the oatmeal with a potato masher.

Add toppings to the oatmeal and serve.
2. Poached eggs, farmed veggies and romesco sauce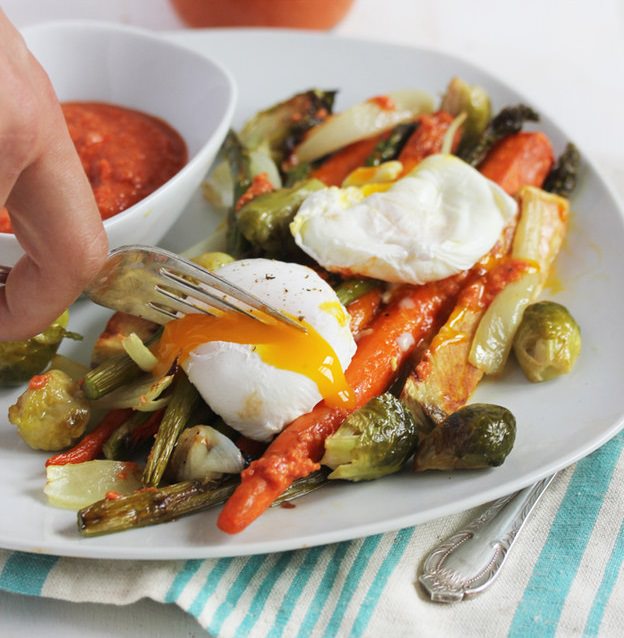 Source
Ingredients for romesco sauce:
Other ingredients:
Eggs

Asparagus

Carrots

Brussels sprouts

White sweet potatoe

Onion

Spinach

1 tablespoon olive oil

Sea salt

Vinegar
Instructions:
Preheat the oven to 400˚F (204˚C).

Clean and chop the vegetables.

On a baking sheet line the vegetables, and coat in oil and salt.

Roast these for about 40 minutes, until tender.

In a food processor blend romesco sauce ingredients until thick and combined.

To make the poached eggs, add 2 cups of water and 1 tablespoon vinegar in a medium size pot. When the water boils stir until the water is spinning. Add a cracked egg into this and let it cook for 4 minutes until the egg white is opaque. Spoon out the egg with a slotted spoon.

Serve the roasted vegetables, poached eggs, and sauce on a plate.
3. Apple muffin made in a mug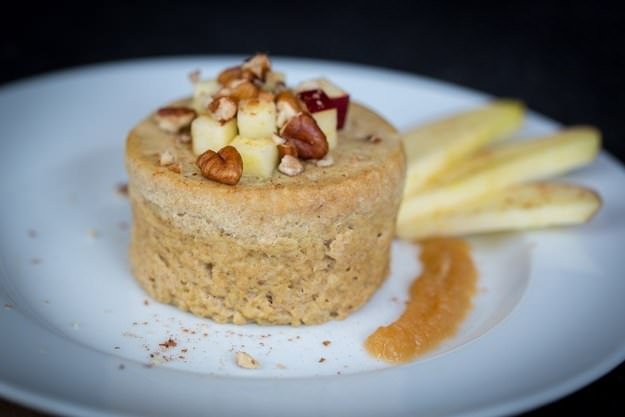 Source
Ingredients for muffin:
Ingredients for streusel topping:
1 tablespoon apple, finely chopped

Pinch of crumbled walnuts

Pinch of cold butter
Instructions:
Place the butter in a microwave-safe mug, and melt it in the microwave on low power.

Whisk the applesauce, egg, vanilla and maple syrup together.

Add the almond meal, cinnamon, baking powder, and salt. Stir for 30 seconds.

Combine the streusel topping ingredients with your fingers and sprinkle over the batter.

Microwave for 1 minute, 10 seconds on medium-high power.

Let your muffin cool and then enjoy.
4. Green protein smoothie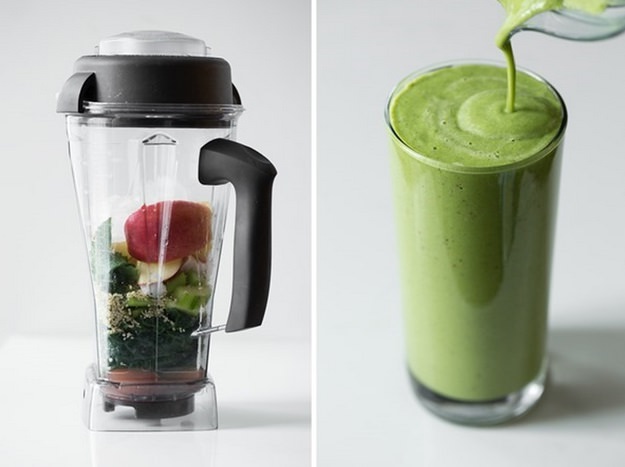 Source
Ingredients:
Half a fresh red grapefruit

½ cup fresh red grapefruit juice

1 cup destemmed kale

1 large sweet apple, cored and chopped

1 cup chopped cucumber

½ cup chopped celery

4 tablespoons hemp hearts

¼ cup mango

⅛ cup mint leaves

½ tablespoon virgin coconut oil

4 ice cubes
Directions:
In a blender juice the fresh grapefruit and then pour in the ½ cup of grapefruit juice.

Add the kale, apple, cucumber, celery hemp seeds, mango, mint, coconut oil and ice to the blender.

Blend on a high speed until smooth. Adding a touch of water can help the mix blend easier.

Pour in a glass and enjoy.
Lunch
5. Chicken collard wraps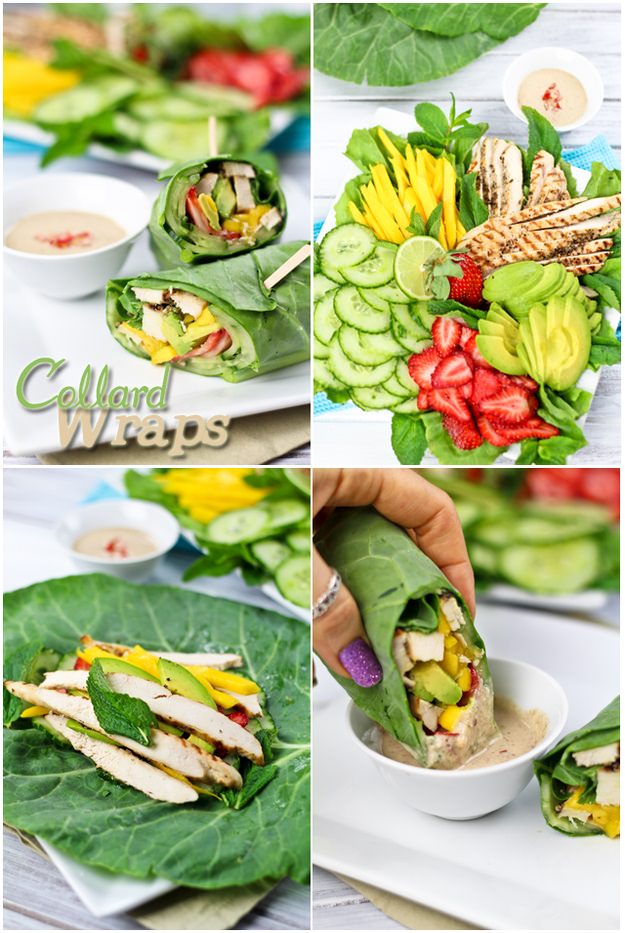 Source
Ingredients for wraps:
2 chicken breasts, grilled and cut into strips

6 large strawberries, thinly sliced

1 mango, peeled and cut into thin strips

½ cucumber, thinly sliced

1 medium avocado, sliced

24 mint leaves

4 large collard leaves, stems removed
Ingredients for dipping sauce:
2 tablespoons coconut cream

2 tablespoons almond butter

Juice of 1 lime

1 tablespoon ginger, grated

1 clove garlic, crushed

1 tablespoon white wine vinegar

1 teaspoon sesame oil

1 tablespoon tahini

⅛ teaspoon salt

2 tablespoons applesauce

1 birds eye chili, finely chopped
Instructions:
Prep the veggies, dividing them equally between the 4 collard leaves.

Fold the bottom edge over the filling and follow by folding the sides.

Roll tightly and secure with toothpicks.

Cut the wraps in half.

Add all the sauce ingredients into a food processor, and blend until smoothly combined.

Pour the sauce into a dipping bowl and serve with the wraps.
Continue to Page 2