Zippers make life so easy but if they break it's often the end of your favorite garment. Don't despair if your slider comes off the zipper. You don't have to throw your pants out yet. And you don't have to be an expert sewer either. You might need to replace the zipper at a later stage, but there is a temporary fix to get your zipper functional without intense sewing. You just need to know how to use a needle and thread for this trick to work.

The first thing you need to do is get the zipper slide back on its track. To achieve this, you need to cut a slit between the zipper tape's teeth. This slit should be a deep open one so that you can insert it into the zipper slide.

Next you need to slide the zipper slider all the way to the bottom. Insert the slit part you made in step 1 into the zipper slider and zip the zipper back up.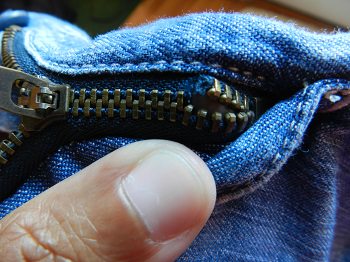 Once you have zipped the zipper back up, you'll notice there was an opening. This needs to be repaired so that you can slide the zipper up and down without the zipper slipping off track.

Now you're going to create a temporary stop for the zipper slider, so grab a needle and thread. In this tutorial, I've used contrasting red thread to make the sewing steps obvious. Try using a thread that blends with your garment's color. Insert the needle under the teeth and come up through the other side. Continue wrapping under and around until you've made a thick stop.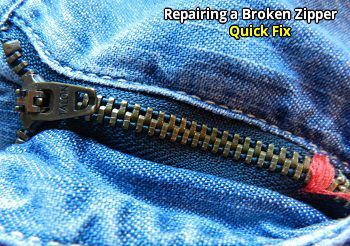 This is a temporary fix until you have time to replace the zipper. It allows you to get the slider back on track and then zip the zipper up and down.
H/T: makeitorfixit