If you close your eyes and picture a perfect beach, you are likely to envisage an unspoiled arc of golden sand, glistening, clear blue waters and palm trees swaying gently in the breeze. That is the classic view of paradise as we all know it, but some beaches are blessed with a less conventional beauty. This group of photos gathers together some of the most unique, quirky and unusual seaside destinations in the world. If you are a beach lover who is looking for something different, then you will want to add these stunning places to your bucket list!
1. The Green Beach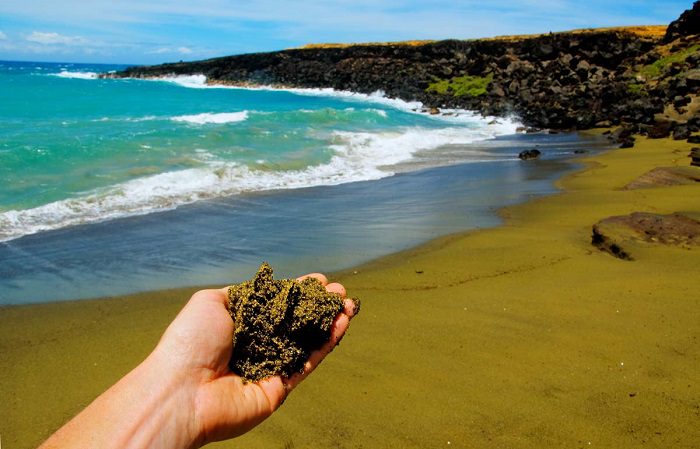 Papakolea Beach in Hawaii might look like it is covered in moss, but its bright green appearance is actually provided by the native sand that lines it shores. The color comes from a nearby volcano, which produces the green mineral olivine and it is one of only four green beaches in the world, making it a wonderful, if peculiar, destination for any traveler.
2. The Hidden Beach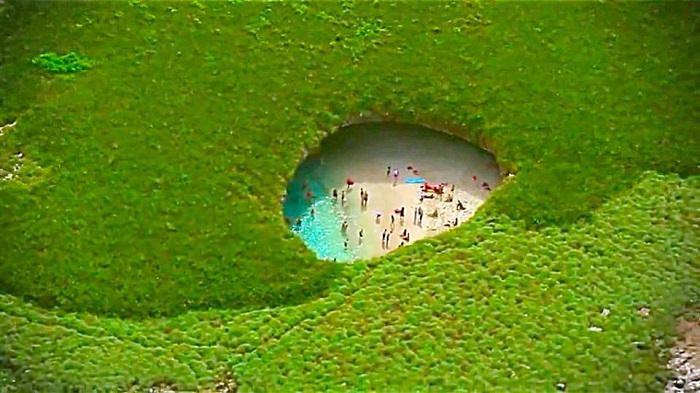 Unless you know it's there, you need to be up high to spot Playa da Amor on the Marieta Islands, Mexico. Yet this idyllic location has a violent past - it was created when the area was used by the Mexican Government for bomb testing, and a huge hole was blasted into the sea cliff. It has left behind a truly stunning swimming spot, and travelers are just starting to become aware of its unique existence.
3. The Glass Beach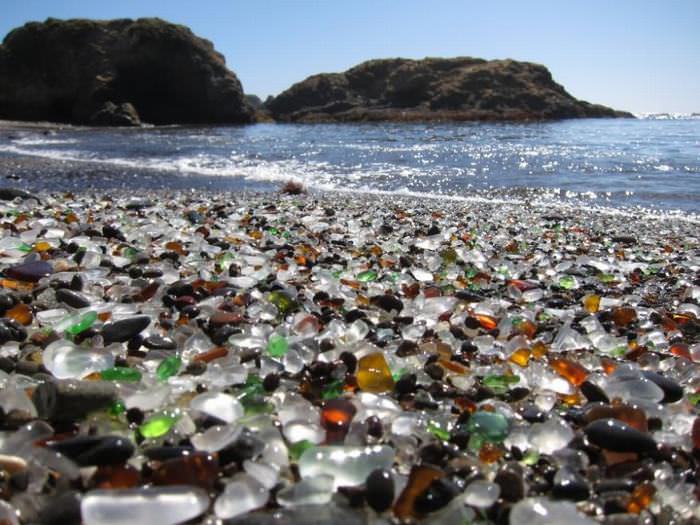 Image: Unknown via Bored Panda
You wouldn't expect the idea of a beach full of glass to be that inviting, but luckily, the smoothing effect of the sea makes it perfectly possible to stroll across this shoreline without cutting your feet. The beach twinkles with a special kind of beauty, but it is another landmark which has murky beginnings. The glass is remnants of human waste, pounded by the sea over the years and has since become a favorite spot for photographers.
4. The Pig Beach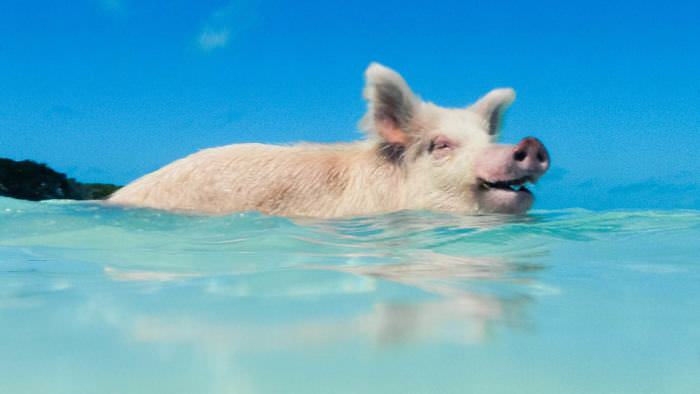 Around 20 feral pigs inhabit Big Major City in the Bahamas, and they love to swim! They are also used to visitors so will playfully paddle over for a curious look at strange human swimmers, while spending the rest of their time lounging around in the sun. Nobody knows how the pigs came to the island in the first place, but an increasing number of visitors are keen to see these unusual residents for themselves.
5. The Desert Beach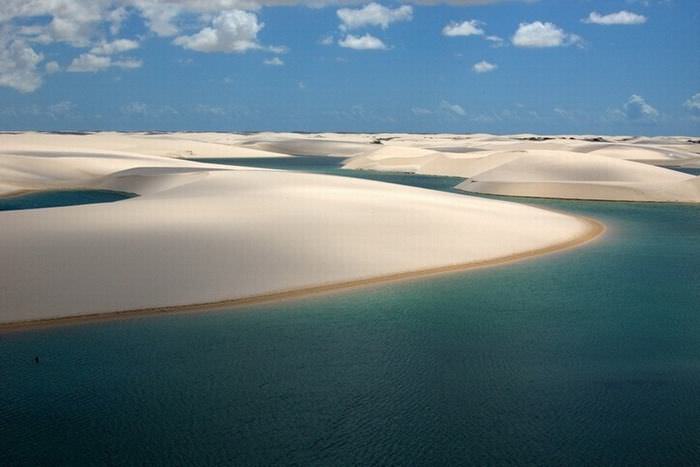 Okay, so this beach isn't actually by the seaside, but it is so wonderful that it's worth including in the list. Every year, continuous rainfall floods the Lencois Maranhenses National Park in Brazil, creating beautiful lagoons fringed with perfect white sands. May to September is the best time to visit, and fish can even be spotted in the water during these months. The lagoons dry up completely around October, before being replenished again in February.
6. The Beach That Doesn't Burn Your Feet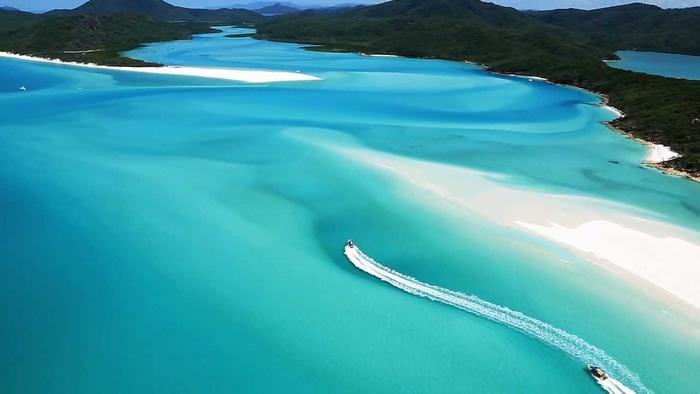 Whitehaven Beach on the Whitsunday Islands in Australia, is not only one of the most attractive slices of paradise in the world, but it also has a couple of unique features that ensure it stands out from the crowd. It is considered to be the most ecofriendly beach in the world, despite attracting many, many visitors. Its white sand is also full of silica, which reflects heat, meaning that you can stroll along the soft shore with barefeet no matter what the temperature is.
7. The Glowing Beach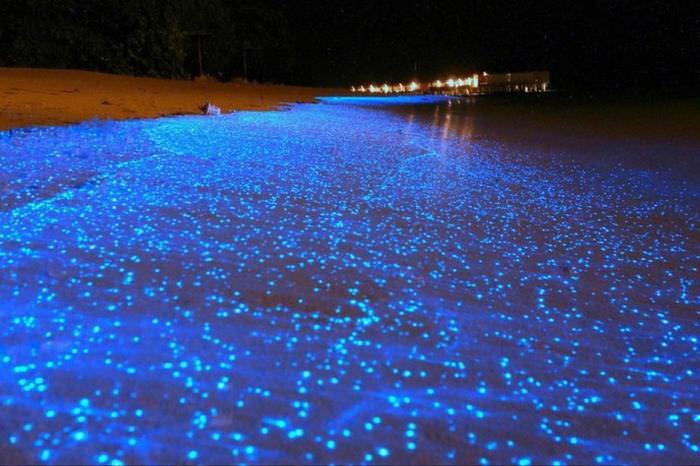 This beach on the Maldives is fit for fairytale royalty. It takes on the appearance of a starry night sky after dark, an incredible sight that's attributed to phytoplankton which glow when disturbed, and are particularly abundant along the shores of the Maldives. The islands are a favorite honeymoon destination, and there can be few more romantic places for newlyweds to take a stroll.
8. The Aeroplane Beach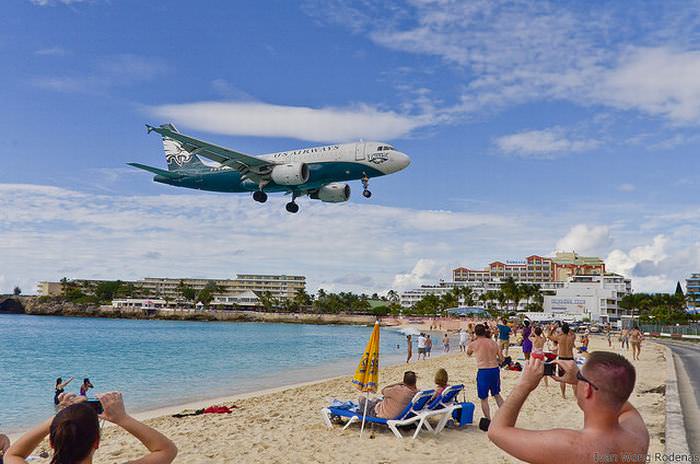 Maho Beach on the Caribbean island of Saint Martin would be fairly unremarkable if it wasn't situated right next to Princess Juliana International Airport, meaning that planes pass just a few feet above beachgoers' heads. Visitors have even been known to leap up and touch the underside of the plane on occasion, ensuring that this seaside oddity has become a frequently visited location.
9. The Rainbow Beach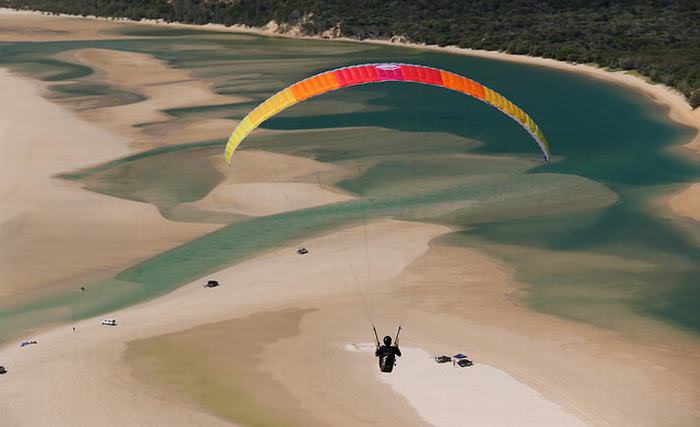 Multi-colored sand dunes surround Rainbow Beach in Queensland, Australia, supplying it with over 70 different colors of sand. The colorful hues are the result of years of erosion and oxidation, although according to legends of the local Kabi people, the dunes were colored by Yiningie, a spirit represented by a rainbow. The area has now become an idyllic holiday and retirement destination, although adventurous people can also find great gliding here - and it offers a wonderful opportunity to see the many colors of the dunes from the sky.
10. The Hot Water Beach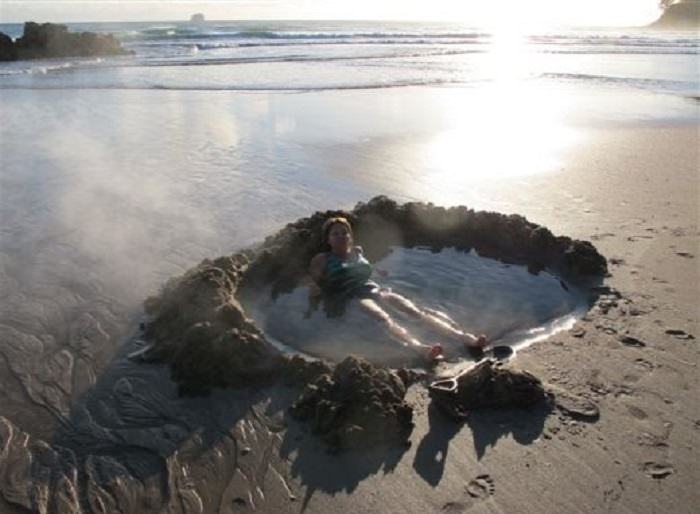 Underground springs provide Hot Water Beach on the Coromandel Peninsula, New Zealand with its name. Tourists flock here armed with spades, because a little bit of work brings big rewards. In fact, you don't have to dig too far down to create your own bath from geothermal spring water, which peaks at temperatures of 64˚C (147˚F). There is nowhere else quite like it on Earth.
11. The Ice Beach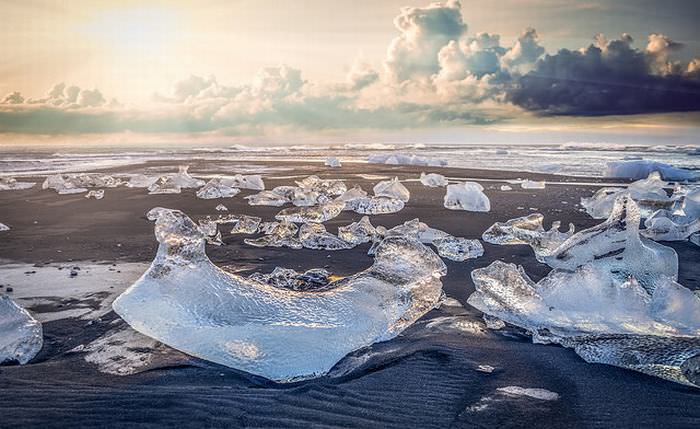 Jökulsárlón in south-eastern Iceland is home to a jet black beach, smattered with chunks of ice of all sizes. The contrast of the ice against the dark sand make it look like a scene from Narnia, and at night it is also possible to view the spectacular northern lights in this area. Volcanic activity gives the beach its black sand, while the ice comes from a nearby glacier; and it's a combination that is attracting an increasing number of photographers.
12. The Pink Beach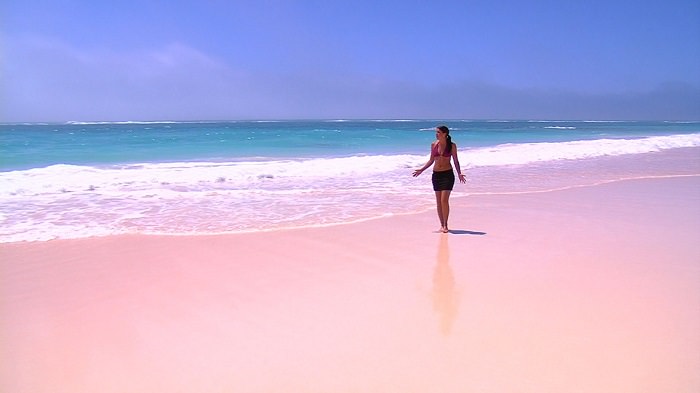 There are a few twinkling, pink beaches on Harbour Island in Bahamas, all of which get their lovely color from eroded red coral particles mixed with native white sand. The pink glow stretches for 3 miles (4.8km) in some locations, and provides a beach experience found in few places on Earth.
13. The Cathedral Beach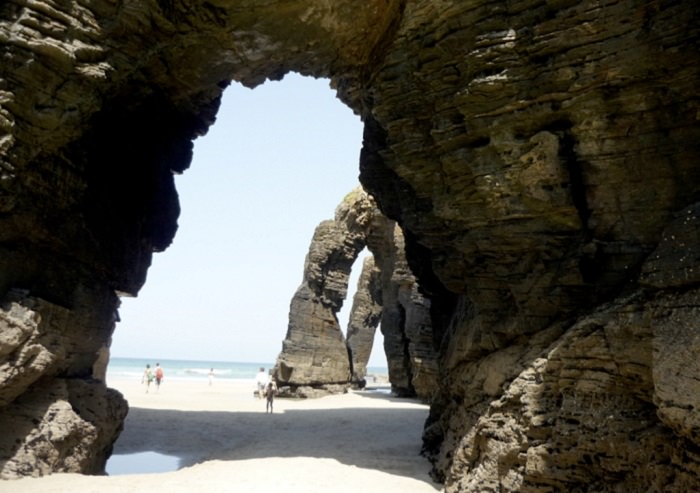 Cathedral Beach or Playa de las Catedrales in its native Spanish, is so named because of the huge geological arches and caves that dominate its shoreline. They are only fully viewed during low tide, when you can wander underneath the arches and gawp at their sheer size.
14. The Snow Beach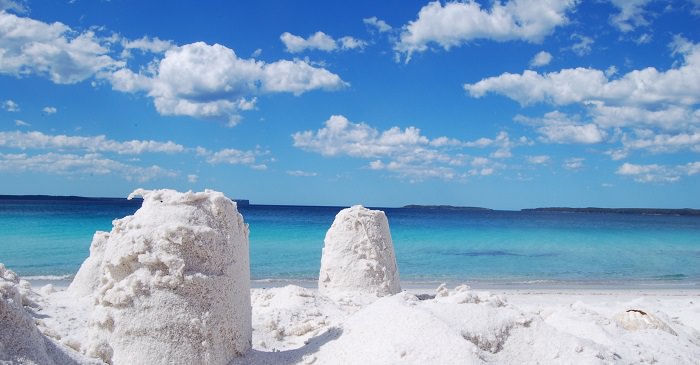 Hyams Beach is found in New South Wales, Australia and holds the Guinness World record for having the whitest sand in the world. In fact, when it reflects the midday sun, it looks more like snow than sand, giving tourists a strange sense of being in a winter wonderland despite the temperature being incredibly hot. It is also very bright, so a good pair of sunglasses is a must for any visitor.
15. The Disappearing Beach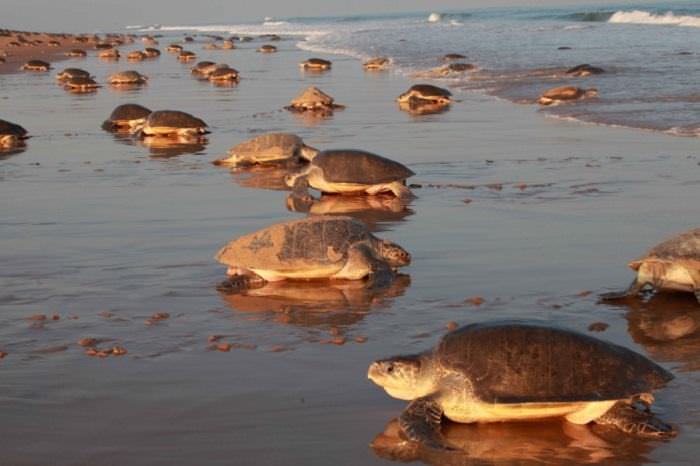 Every morning, Chandipur Beach in eastern India vanishes entirely due to some very special tides. Around 5km of previously sea covered beach can be explored during this period, and a huge array of sea creatures are usually left behind too. This strange spectacle happens twice daily throughout the year, and gives visitors the chance to investigate places they usually cannot.