Tips for an energy-efficient-run AC: Some times of year and climates are too hot not to use an AC. For these situations consider the following tips to run your unit as energy efficiently as possible.
Regular maintenance - This is something you should do annually to make sure your unit runs efficiently. It's wise to have this done in the fall or winter as maintenance companies will offer reduced rates when it's not peak season.
Small evaporative cooler - This item cools the air by blowing water through wet pads. To draw the air through the home, place it near a window that is slightly cracked open and then crack open a window on the opposite side of the house. This is a great nighttime solution for cooling a house or apartment since it only works effectively up to 105˚F (40˚C).
Replace the unit if it is older than 10 years - If you have a unit older than 10 years and you run it regularly, it's definitely worth investing in a newer model. This will feature improved and more efficient technology, enabling you to cut down your energy bill, or run the unit more than you used to for the same price.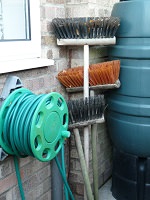 Outdoor unit maintenance - A clean outdoor area can assist your unit in cooling. Check that no debris is blocking the outside compressor unit and make sure this area remains unobstructed. Installing a shading device over the unit outside can help too. Both these changes will increase the air circulation and make for more efficient home cooling.
Check air ducts for drafts – Reduce the loss of cool air by making sure the crawl spaces and attics don't have any drafts. If you discover any - seal them with a foam sealant or insulate with silicone caulking.
Programmable thermostats – New model thermostats include timers and are definitely worth the investment. They enable you to set the temperature to increase after you've fallen asleep or raise the temperature while you're out of the home and cool it just before you return.
Close off unused rooms – You can close air vents in rooms you don't use often such as laundry rooms or guest bedrooms. It's important not to close vents near thermostats as this can mess with the reading and cause the AC to run unnecessarily.
Close doors – Leaving indoor doors shut can keep cool air in a room. This is especially helpful for homes with two stories or high vaulted ceilings. Again, when doing this, it's important to consider the placement of thermostats, to allow for accurate temperature gauging.