2. Disk Clean Up Wizard
Windows comes with a utility called Disk Cleanup, which helps you delete small and temporary files that collect on your computer. These files can take up valuable disk space and by doing so, make your computer run slower. It is a good idea to run the wizard regularly to prevent problems from developing.
How Do I Find It?
You can open the wizard in a couple of ways:
Click Start > Control Panel > System & Security > Administrative Tools > Free Up Disk Space
Click Start and type 'disk cleanup' into the search box. Click on the 'disk cleanup' icon that appears in the search list.
What Can I Use It For?

How Do I Use It?
When you open the tool you will be presented with a screen that look like this: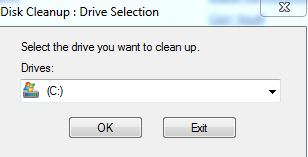 This is asking you to specify the disk you want to clean up. This is nothing to worry about, it's just a way of pointing the tool at the area of the computer that needs cleaning (i.e. the area which contains all the temporary files). On most computers, this will be the 'C' Disk, but some computers may have two disks 'C' and 'D'. If your computer has both then clean both, although you can only use the wizard on one at a time.
After making your selection, you will next see a scrolling, green bar as the tool scans your computer to find files that can be deleted: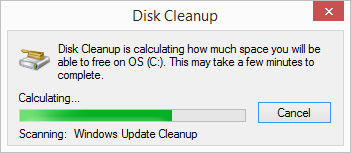 When it has finished scanning, Cleanup will open a dialog box and ask you to select the type of files you want to delete. You can scroll through and tick the boxes next to types you want rid of, and the tool will show you how much disk space you will free up by deleting them: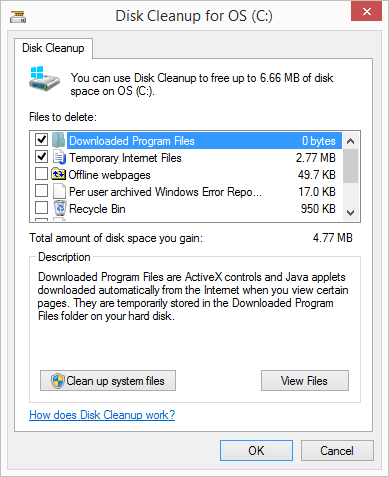 Most of the file types can safely be deleted. The only option we would suggest you always leave unticked is 'Compress Old Files' (this will appear on some versions of Windows but not others). Ticking this option can cause some issues with your computer.
You should also be careful when permanently deleting items from your Recycle Bin. This is where programs and files you have removed from your computer using the 'delete' button on your keyboard sit. Make sure that you are happy to permanently delete all the items in there before ticking the box. You can access your Recycle Bin to check what's in it via an icon on your Desktop,
Click OK when you are satisfied with your selections. This will start the clean-up.
---