Some flowering shrubs are just what you need to have your garden bloom into a spring heaven. Not only for aesthetic reasons, some can fill your garden with incredibly pleasant fragrances that are simply irreplaceable. The following photos show just how beautiful some of these flowering shrubs can look in your garden.
1. Viburnum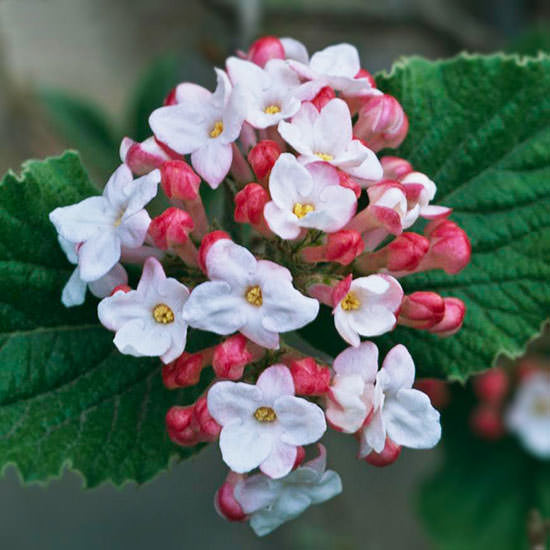 The wonderfully-scented Viburnum grows adorable bunches of flowers in shades of pink and white. These will look great during the spring season, and its leaves can even satisfy your garden in fall, since they change into a pleasant foliage color. The plant can grow up to 15 feet tall and wide and it grows best in well-drained soil and in the sun. The Viburnum may also come in other varieities, such as the American Cranberry Viburnum, Arrowwood and Doublefile Viburnum, which are all great at attracting birds.
2. Mock Orange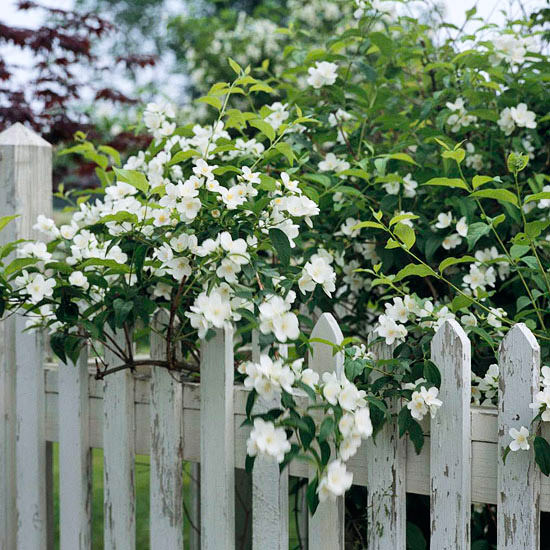 The Mock Orange is well known for its fantastic and distinguishable fragrance. You can smell its pure-white blooms from several feet away. Another plus of this plant is that it is easy to grow, requiring just sun exposure and well-drained soil. It can grow approximately 15 feet, but if your garden space is not that abundant, you may also look for dwarf selections such as the Miniature Snowflake, which doesn't grow more than 3 feet tall and wide.
3. Mountain Laurel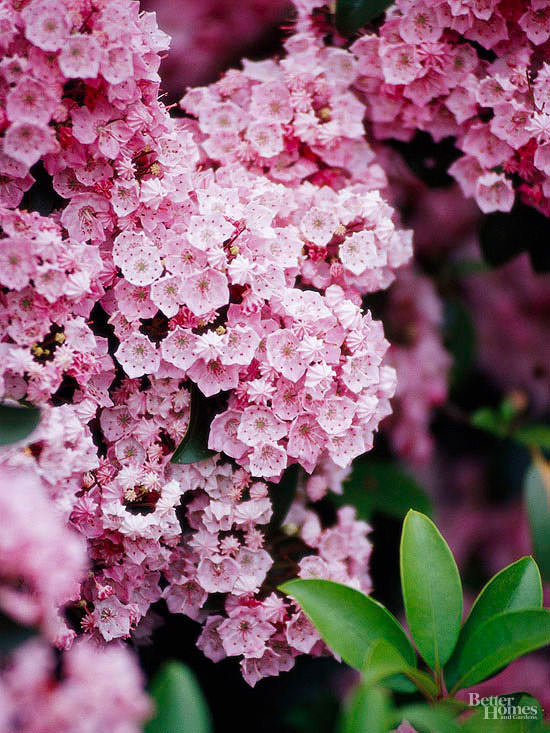 The flowers of the Mountain Laurel will easily transform your garden into a paradise. With their intricate shapes and impressive details, these flowers will lure you into curious inspection. They are normally found to be of a pink, red or white color, and they can grow in late spring and early summer. With a maximum height and width of 10 feet, the shrub grows best in the sun or shade, and in moist, well-drained soil. However, even though it looks so inviting, you may need to take one important precaution - All parts of this plant are poisonous, so make sure you keep youngsters and pets away from it.
4. Deutzia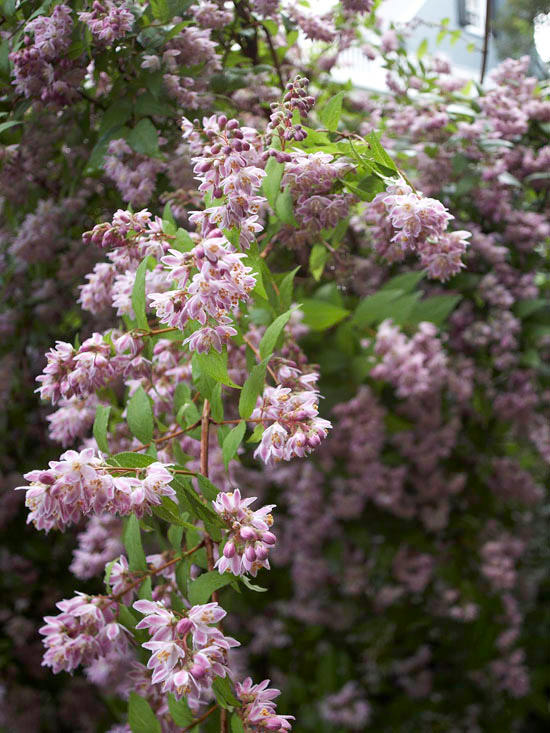 With its full clusters of pretty pink or white flowers, the under-used Deutzia definitely deserves more appreciation. Growing
up to 10 feet tall and wide, i
t blooms beautifully in spring or summer, depending on type. It needs full sun exposure or light shade to grow healthily, ideally in moist, well-drained soil. Some selections also offer a great scent, especially the Chardonnay Peaals, so it would be a good idea to plant it next to windows or walkways, where people can get a whiff.
5. Azalea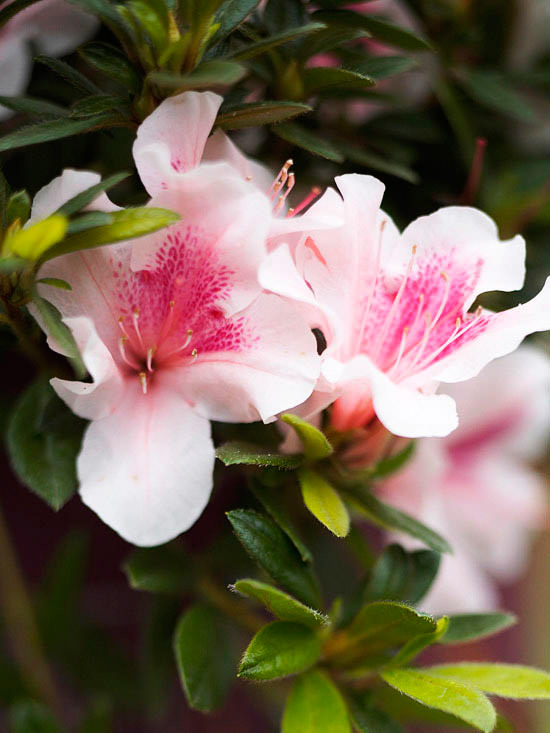 The Azalea produces attractive, colorful flowers that flourish in sunny or shady garden spaces. The shrub can grow to around 15 feet tall and wide or more, and it would happily thrive in moist and well-drained soil. For a prolonged bloom season, you may want to try growing the Encore series; or the Lights series if you want a cold-resistant Azalea.
6. Lilac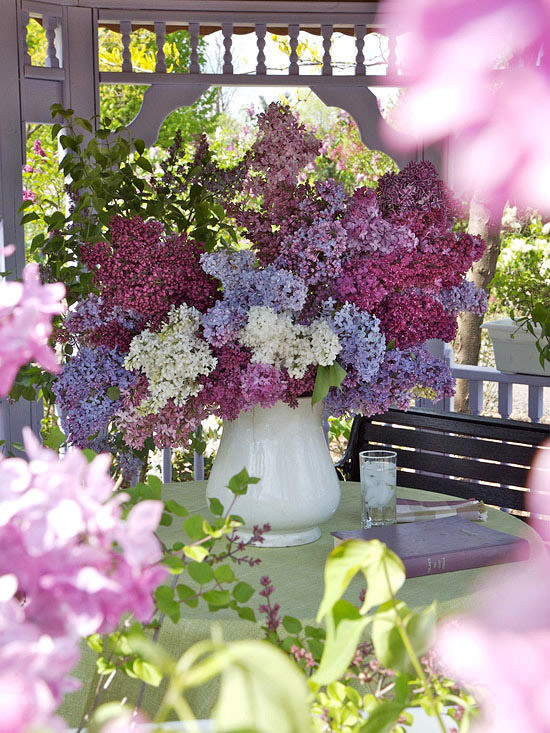 Growing Lilacs in your garden would definitely make for a lovely spring. These magnificent bloomers produce lush flower sprigs of pink, purple, lavender and white shades, with an
irresistible
sweet fragrance. They can grow up to 20 feet tall and wide and need a lot of sun exposure and well-drained soil. The flowers are so plentiful that they can make beautiful bouquets, both for enjoying the fragrance indoors and for surprising a loved one. Look for varieties such as Josee for reblooming types of Lilac and the Littleleaf Lilcac to extend the season till fall.
7. Rhododendron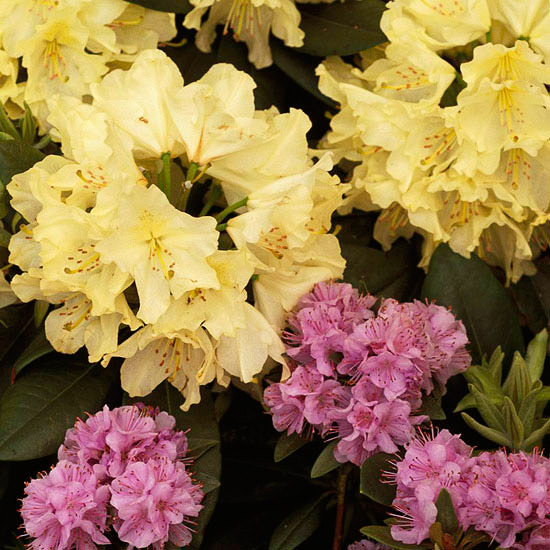 The Rhododendron is a flowering treasure, the colors of which range from warm yellow and oranges to pinks, purples, and white. With their foliage being rich and evergreen, it serves as an ideal colorful flowering shrub. Although it depends on type, it generally grows up to 15 feet tall and wide, and it grows best in the sun or shade and in moist, well-drained soil. If you want to enjoy rhododendron flowers for months to come, grow early, mid and late season varieties in your garden.
8. Weigela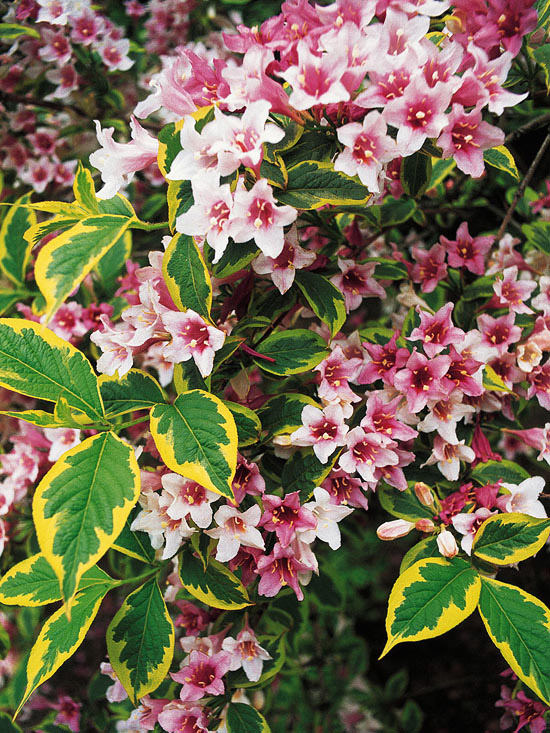 Another colorful plant is the Weigela, which grows up to 6 feet tall and wide. Not only does this flowering plant have colorful blooms of red, pink or white colors, but it also produces extremely colorful and shiny foliage that looks just as attractive as the flowers are. The plant needs a lot of sun and a well-drained soil to live a healthy life. For more outstanding varieties you may want to discover My Monet, Wine and Roses, and Eyecatcher, which produce appealing foliage from spring to fall.
9. Oregon Grapeholly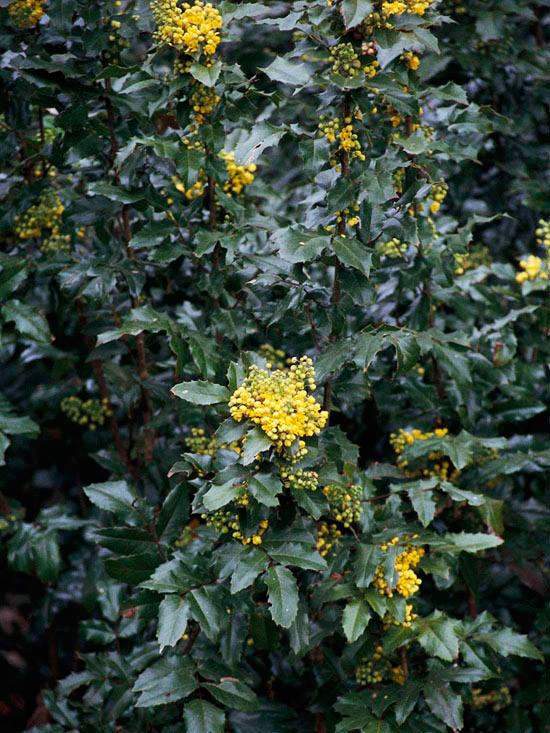 For a not-so-typical looking flowering shrub, you may try growing this lovely Oregon Grapeholly in your garden. This shrub retains its rich, glossy foliage throughout the year, and in the spring, it produces flowers of a bright yellow color. In the fall, it also produces clusters of deep blue fruits (berries), which attract birds. This would be the perfect shrub to grow for the garden-lover who wants his garden space to be a home for some wildlife as well.
10. Camellia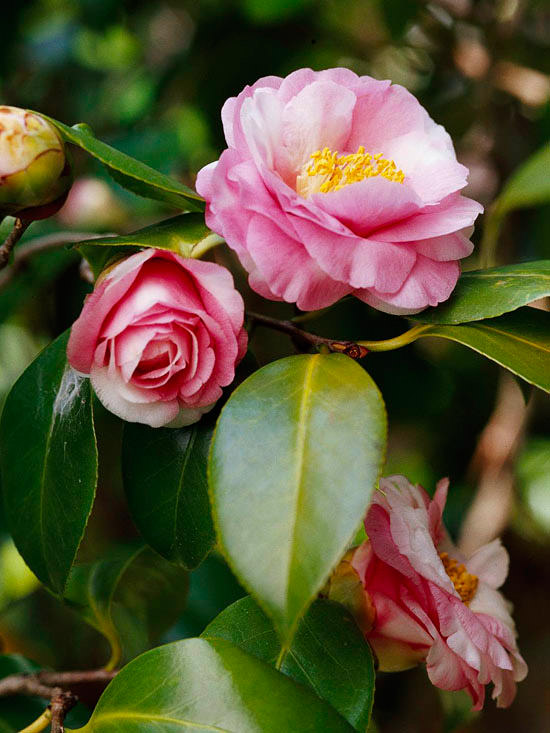 The Camellia is an evergreen shrub that grows striking rose-like flowers of pink, red and white shades, with bright yellow in their centre. These flowers grow in the fall, late winter and spring, depending on the type. Make sure it grows in shady and moist conditions, in a well-drained acidic soil. If you plant the Camellia in your garden, you will definitely have a stand-out plant, throughout the year. For a hardier version of this species, you may want to try the Ice Angels.
Related Articles:
10 Perennials That Will Serve Your Garden for Years
5 Guides for Vertical Gardening
Gardening Enthusiasts Will Love Using These Handy Apps