Every year on April 1st, millions of people fall victim to minor pranks and elaborate hoaxes. Reactions vary from amusement to rage, but every few years, a truly masterful hoax is concocted by some mischievous people, resulting in a day many will never forget. These are the top 10 April Fools' jokes in history.
#10 Google TiSP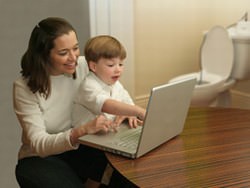 April 1, 2007, Google announces its new, high-speed internet connection – Google TiSP, giving people free internet connectivity by dropping a Google-supplied fiber-optic cable down their toilets, that will be connected to Google's servers within 60 minutes. TiSP stands for "Toilet Internet Service Provider". On a final note, Google even told users who are having connectivity issues to pour a two-liter bottle of Diet Coke down the drain and add a few pieces of Mentos… If you want to see more, check out the official page, HERE.
#9 The Premature Death of Mr. Partridge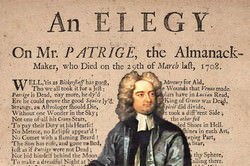 February, 1708, an almanac published by an unknown astrologer named Isaac Bickerstaff, predicted the death of a rival astrologer John Partridge on March 29th that year. The predestined "deceased" denied the prediction, but on March 30th Bickerstaff released a pamphlet announcing that he was correct, and that Mr. Partridge is indeed dead. On April 1st, John Partridge woke up to discover a sexton outside his house, who wanted to know what the burial plans are. Despite trying to deny his death, the humiliation forced Partridge to stop releasing his own almanacs thanks to his reputation as "the man whose death was foretold." If you were wondering who Bickerstaff was, he was the pseudonym of the satirist Jonathan Swift.
#8 A Hamburger for the Left-Handed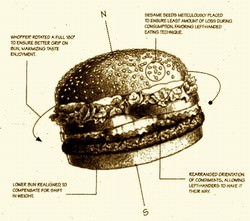 April 1, 1998, taking a cue from Taco Bell, the people at Burger King bought full-page ads, describing the new addition to their menu – the "Left-Handed Whopper", especially designed for the 32 million left-handed Americans. The burger itself was told to have been the same, but the condiments were turned 180 degrees to allow left-handed people to enjoy it to its fullest. Needless to say, thousands of Americans rushed to their local branch of Burger King to try the new version of the Whopper.
#7 Norway Has Too Much Wine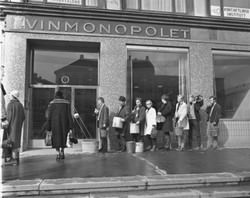 April 1, 1950, the largest newspaper in Norway, Aftenposten's headline told Norwegians that government-owned Wine Monopoly (Vinmonopolet) received a large shipment of wine barrels but has run out of bottles. In order to get rid of the surplus, the company was said to have a 1-day sale, where all surplus wine would be sold for a 75% discount, and tax-free. At 10 AM, the Vinmonopolet opened up its doors and was immediately flooded with hundreds of Norwegians carrying buckets, bottles, pitchers, etc.
#6 The Taco Liberty Bell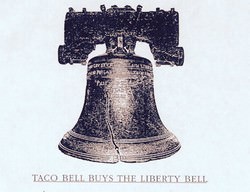 April 1, 1996, the Taco Bell Corp. bought full-page ads in several major newspapers, describing their recent purchase of the famous "Liberty Bell", and their plans to move it from Philadelphia to their headquarters in California, and to rename it the "Taco Liberty Bell". The joke sparked outrage by concerned Americans, who called and wrote to Taco Bell, as well as the National Historic Park to complain. One of the funniest moments that day were when the White House press secretary was asked about the purchase, he responded saying that the Lincoln Memorial was also sold and will now be called the "Ford Lincoln Mercury Memorial."
#5 Low Gravity Day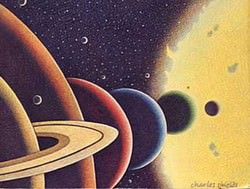 April 1, 1976, an early morning show on BBC's Radio 2, hosted Patrick Moore, a British astronomer, who announced that at 9:47 AM on that day, Pluto will be aligned behind Jupiter in an extremely rare occasion. The alignment was said to cause a temporary reduction in gravity, allowing people to float temporarily. At 9:47, the station was bombarded with phone calls from people reporting feeling the low gravity.
#4 The Island Nation of San Serriffe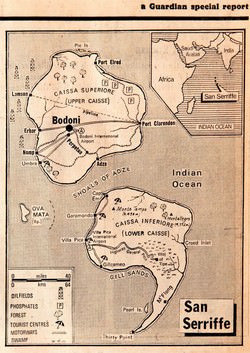 April 1, 1977, the British newspaper Guardian published a seven-page article about the island nation of San Serriffe. Reported as actual news, the story described a country comprised of two island shaped like a semicolon. While many were fooled, those who weren't fooled played along and wrote letters to the Guardian, describing their visits and vacation in the island nation. The hoax as so successful that it was used again in 1978, 1980 and 1999.
#3 Dormant Mt. Edgecumbe Erupts to Life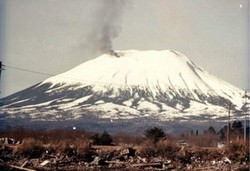 April 1, 1974, when the residents of the small Alaskan town of Sitka woke up, they were faced with a horrifying sight. The neighboring Mount Edgecumbe, a dormant volcano, was spewing smoke. As fear grew in the town, one man by the name of Porky Bickar was laughing his head off. Some time earlier, Porky has flown hundreds of old tires to the crater of the old volcano and lit them on fire in the morning of April 1st. Local legend says that when Mt. Helen erupted a few years later, the townspeople told Bickar that "This time you've gone too far!"
#2 Instant Color Television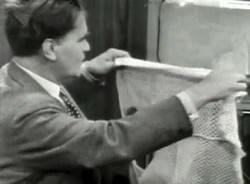 April 1, 1962, on this day, thousands of Swedes ran around their homes looking for nylon stockings. The reason was a broadcast by the national television station (SVT) brought a technical expert, who proceeded to tell the viewers that the nylon in stockings can bend the light in a way that, if stretched over the screen of a television, will display the broadcast in color. (Actual color broadcasting in Sweden only started in 1970)
#1 The Swiss Spaghetti Harvest
April 1, 1957, this hoax ran on the BBC's famous news show Panorama and drove thousands of Britons to call and write to the BBC, asking where they can purchase their own spaghetti tree…
Think there were better hoaxes? Let us know in the comments.