While there are many famous photographs of historical events, there are also quite a few photos of events that shaped our history that never got the attention they deserve. This is a collections of some of these lesser-known pictures, depicting events and individuals who affected history immensely.
1923, Washington D.C. U.S.A. - Testing a Bulletproof Vest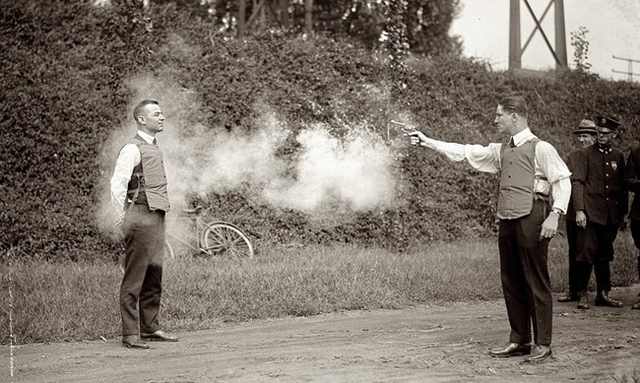 "The United States developed several types of body armor, including the chrome nickel steel Brewster Body Shield, which consisted of a breastplate and a headpiece and could withstand Lewis Gun bullets at 2,700 ft/s (820 m/s), but was clumsy and heavy at 40 lb (18 kg). A scaled waistcoat of overlapping steel scales fixed to a leather lining was also designed; this armor weighed 11 lb (5.0 kg), fit close to the body, and was considered more comfortable."
1915, Newfoundland - The Iceberg that Sunk the Titanic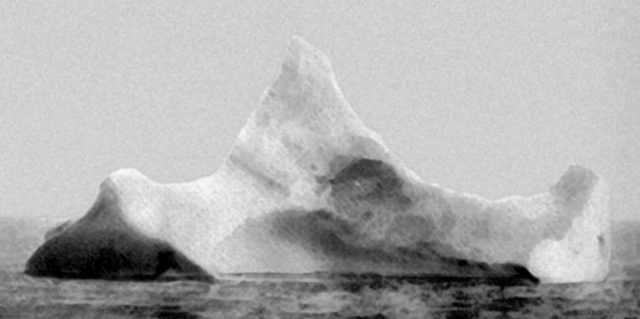 "At 11:40 p.m. on 14 April (ship's time), lookout Frederick Fleet spotted an iceberg immediately ahead of Titanic and alerted the bridge. First Officer William Murdoch ordered the ship to be steered around the obstacle and the engines to be put in reverse, but it was too late"
1945 - German soldiers seeing footage from death camps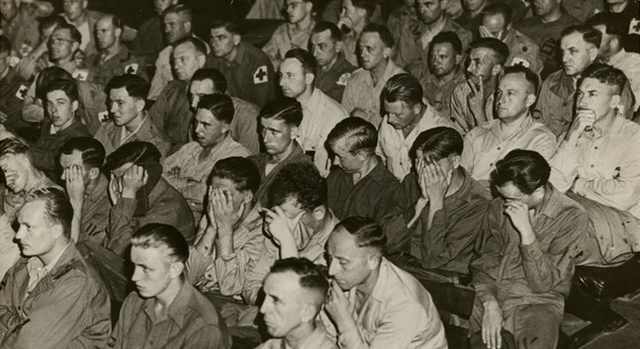 "After September 1939, with the beginning of the Second World War, concentration camps became places where millions of ordinary people were enslaved as part of the war effort, often starved, tortured and killed."
"In 1942, the SS built a network of extermination camps to systematically kill millions of prisoners by gassing. The extermination camps (Vernichtungslager) and death camps (Todeslager) were camps whose primary function was genocide."
1935, Weimar Republic - Cavalry training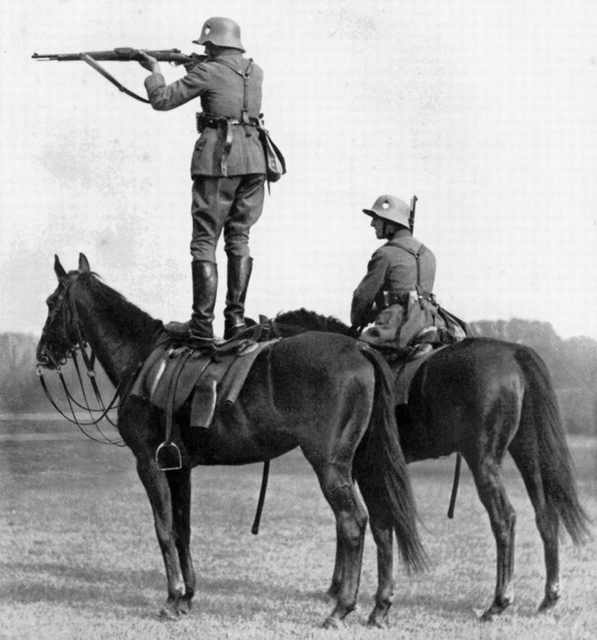 "The Weimar Republic …is the name given by historians to the federal republic and semi-presidential representative democracy established in 1919 in Germany to replace the imperial form of government. It is named after Weimar, the city where the constitutional assembly took place."
1935, New York City, U.S.A. - Everyone wore hats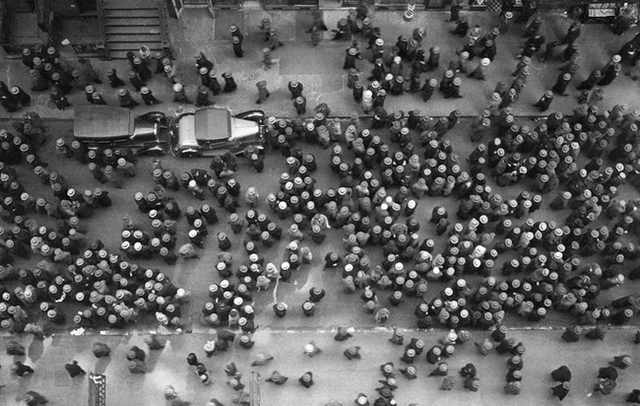 "New York became the most populous urbanized area in the world in early 1920s, overtaking London. The metropolitan area surpassed the 10 million mark in early 1930s, becoming the first megacity in human history."
1923 Washington D.C., U.S.A. - The Punt Gun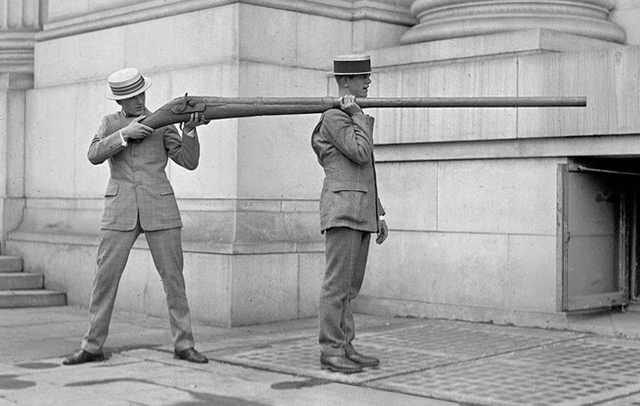 "A punt gun is a type of extremely large shotgun used in the 19th and early 20th centuries for shooting large numbers of waterfowl for commercial harvesting operations."
1967, Sweden - "Dagen H"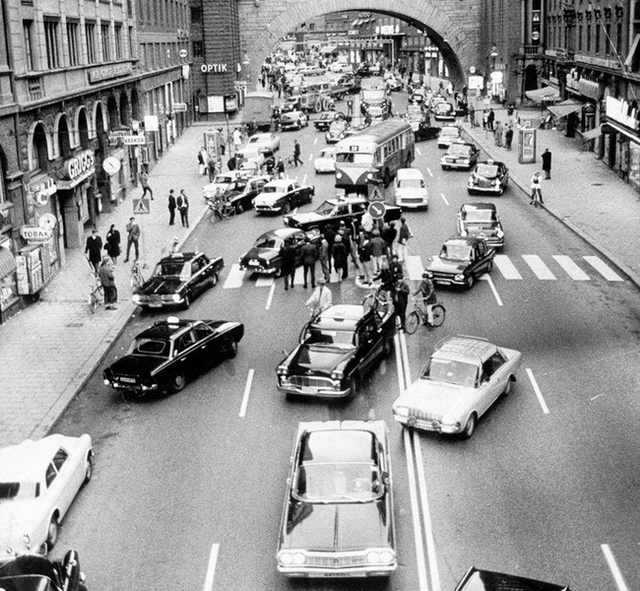 "Dagen H (H day), today mostly called "Högertrafikomläggningen" ("The right-hand traffic diversion"), was the day, 3 September 1967, on which traffic in Sweden switched from driving on the left-hand side of the road to the right. The "H" stands for "Högertrafik", the Swedish word for "right-hand traffic"."
1960, Japan - The televised assassination of Inejiro Asanuma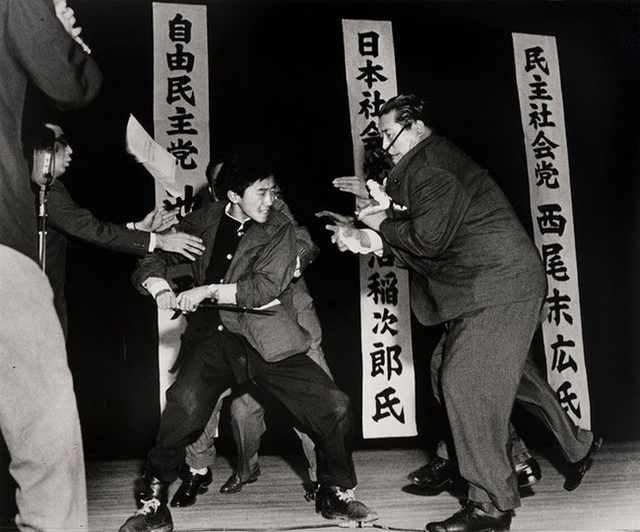 "Inejiro Asanuma (浅沼 稲次郎, December 27, 1898 – October 12, 1960) was a Japanese politician, and leader of the Japan Socialist Party. A noted public speaker, Asanuma was unusual in postwar Japan for his forceful advocacy of socialism, and his support of the Chinese Communist Party was particularly controversial.
Asanuma was assassinated by an extremist nationalist while speaking in a televised political debate in Tokyo. His violent death was seen in graphic detail on national television, causing widespread public shock and outrage."
1937, Harrow, England - "Toffs and Toughs"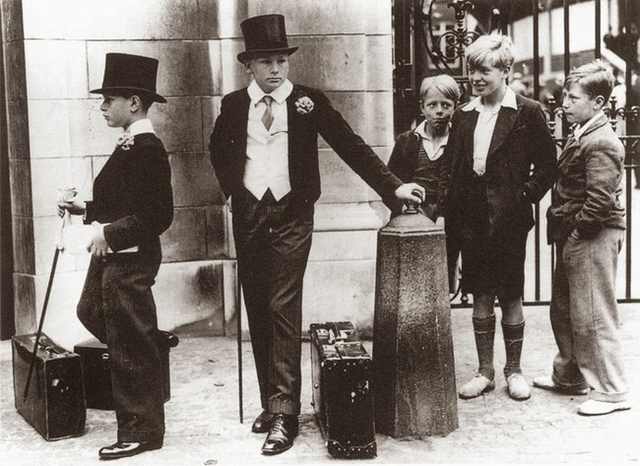 "A 1937 photograph of five boys: two dressed in the Harrow School uniform including waistcoat, top hat, boutonnière, and cane; and three nearby wearing the plain clothes of pre-war working class youths. The picture was taken by Jimmy Sime on 9 July 1937 outside the Grace Gates at Lord's Cricket Ground during the Eton v Harrow cricket match. It has been reproduced frequently as an illustration of the British class system."
1862, Virginia, U.S.A. - The USS Galena after a battle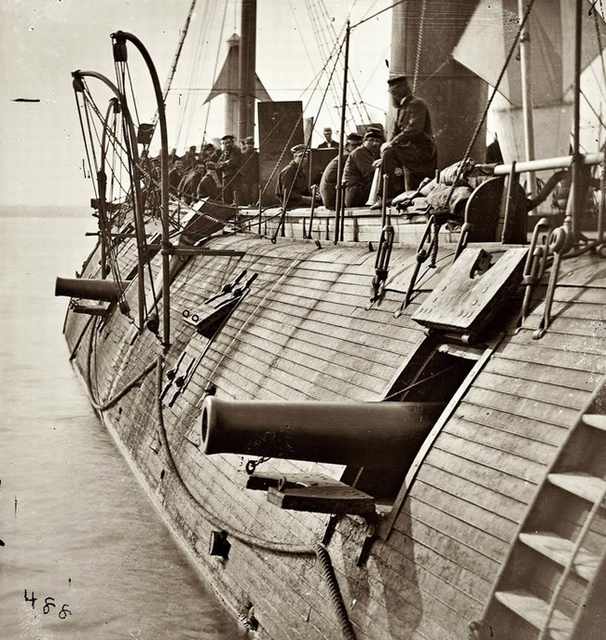 "USS Galena was a wooden-hulled broadside ironclad built for the United States Navy during the American Civil War. The ship was initially assigned to the North Atlantic Blockading Squadron and supported Union forces during the Peninsula Campaign in 1862. She was damaged during the Battle of Drewry's Bluff because her armor was too thin to prevent Confederate shots from penetrating."
1945, NY, U.S.A. - American troops returning after V-Day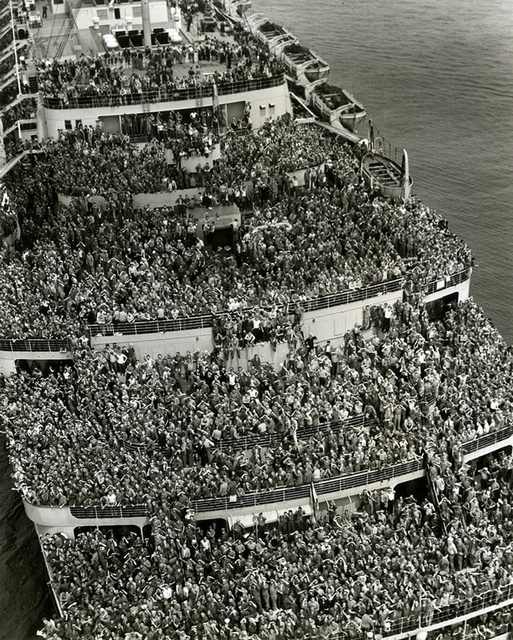 "Victory Day has commemorated the anniversary of Japan's surrender to the Allies in 1945 which ended World War II. The atomic bombs dropped on Hiroshima on August 6 and Nagasaki on August 9, and the Soviet Union's invasion of Manchuria in the previous week led to the eventual surrender."
1944 - A series of renders of Hitler distributed to U.S. troops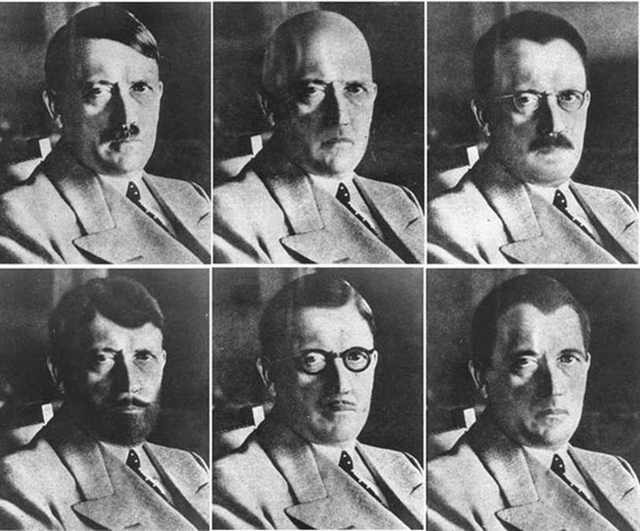 "By 1944 Adolf Hitler's image - with his trademark toothbrush mustache and dark hair slicked into a side parting - was known by the world. However, U.S intelligence officers feared the Nazi leader would be able to flee from Germany by assuming a disguise and - to prepare for this eventuality - ordered his portrait to be cloned. The following pictures, released by the U.S. National Archives in Washington, show head shots of 'Der Fuehrer' in numerous guises."
1905, Norway - The first ever delivery of bananas to Norway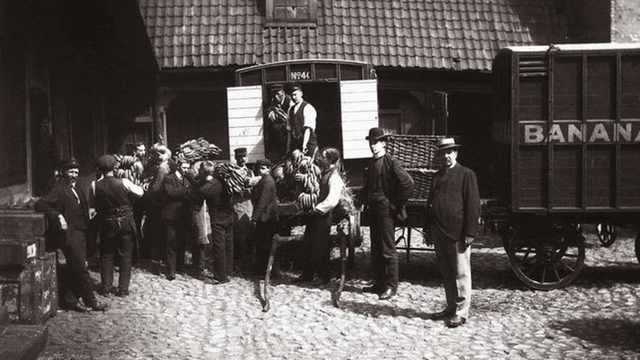 "Norway was actually the second country to import bananas in Europe, after the UK. It's very interesting that before global trading became as it is today, people really didn't encounter many products that weren't made locally."
1919, Germany - A young communist being executed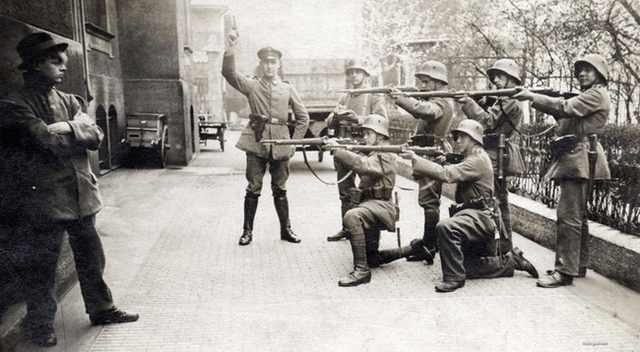 "The Bavarian Soviet Republic, also known as the Munich Soviet Republic was as part of the German Revolution of 1918–1919, the short-lived attempt to establish a socialist state in the form of a democratic workers' council republic in the Free State of Bavaria. On 3 May 1919, remaining loyal elements of the German army (…) entered Munich and defeated the communists after bitter street fighting in which over 1,000 supporters of the Munich soviet government were killed. About 700 men and women were arrested and summarily executed by the victorious Freikorps troops."
1862, U.S.A. - General Ambrose Burnside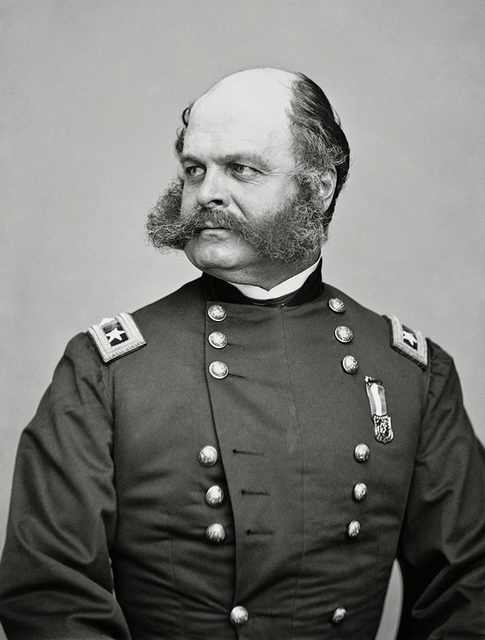 "Ambrose Everett Burnside (May 23, 1824 – September 13, 1881) was an American soldier, railroad executive, inventor, industrialist, and politician from Rhode Island, serving as governor and a U.S. Senator. As a Union Army general in the American Civil War, he conducted successful campaigns in North Carolina and East Tennessee, as well as countering the raids of Confederate General John Hunt Morgan, but was defeated in the disastrous Battle of Fredericksburg and Battle of the Crater. His distinctive style of facial hair became known as sideburns, derived from his last name."
1966, U.S.A. - Portrait of Hockey hall of famer Terry Sawchuk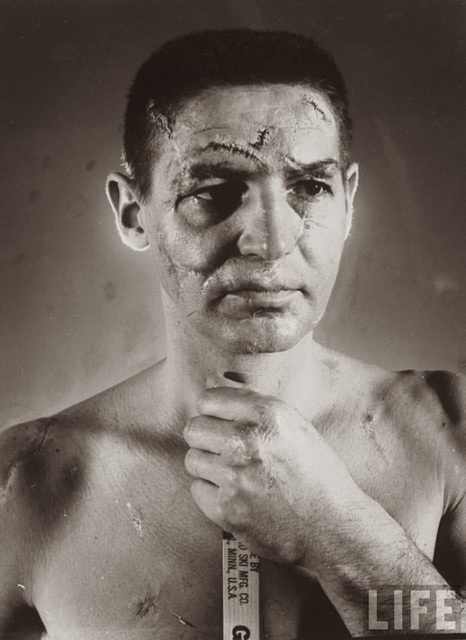 Before face masks became mandatory in hockey, players used to suffer many injuries; "In 1966, Life Magazine had a make-up artist apply stitches and scars to Sawchuk's face to demonstrate all of the injuries to his face over the years. The make-up artist did not have enough room for everything."
Unknown, Soviet Russia - A "off the record" picture of Stalin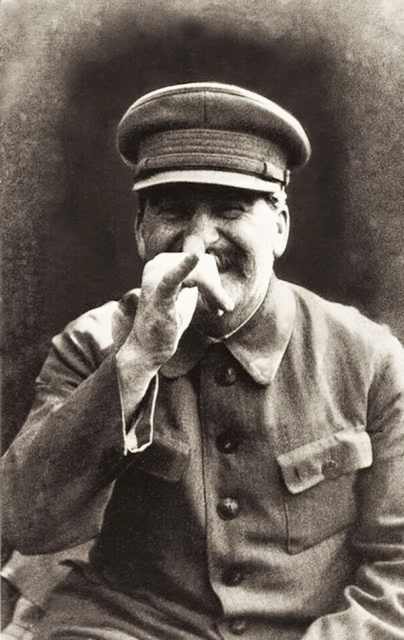 "Joseph Stalin or Iosif Vissarionovich Stalin; born in Georgia under the name Ioseb Besarionis Dze Jugashvili (18 December 1878– 5 March 1953), was the leader of the Soviet Union from the mid-1920s (After the death of Lenin) until his death in 1953."