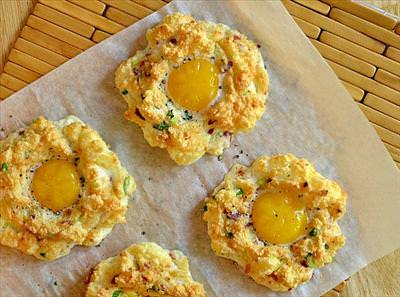 Recipe makes: 4 servings

Ingredients:

4 eggs at room temperature
1/4 cup of green onions
1/4 cup of parmesan cheese
2 pieces of cooked veggie or regular bacon, crumbled
2 tablespoons of chili peppers, chopped
Salt and pepper to taste

Begin by preheating the oven to 450F or 232C. Then cook up the bacon (regular or veggie) in a pan with a bit of oil. After its well-cooked, place the bacon on a plate covered with a paper towel to soak up the oil. Once the bacon has cooled, chop or crumble it up in your hands and place it on a separate plate.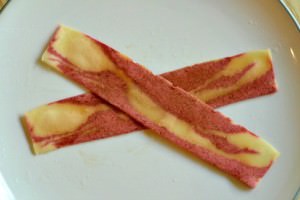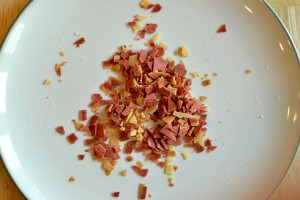 Then take the eggs and begin separating the egg whites from the yolks. Prepare a bowl and crack the eggs. Move the egg yolk between the two shell pieces and the egg white should fall into the bowl below. Then place the egg yolks in individual cups once they are separated. This is important because you will need one individual egg yolk for each cloud. Be careful not to break the yolks! Then, whip up the egg whites until stiff peaks begin to form, about 5-6 in an electric mixer.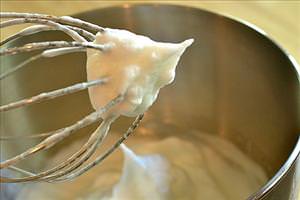 Once the egg whites are stiff, carefully fold in the grated parmesan cheese, green onions and chili. Make sure not to over mix the egg whites or they will lose their nice fluffy texture.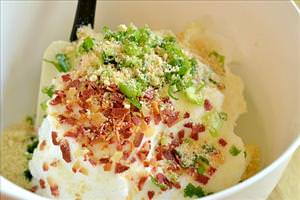 Line a baking sheet with parchment paper and spoon four mounds of the egg white mixture onto the sheet. Make a deep well in the center of each of the fluffy egg white clouds for the yolk. Then bake the egg whites for 3 minutes until they are lightly browned but not fully cooked.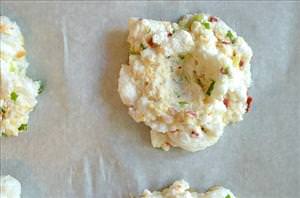 Now pour the egg yolk into the center of each egg white cloud. Bake the eggs for an additional 4 minutes until the yolks have just set. If you prefer your egg yolks less runny, leave the eggs in the oven for another minute or two.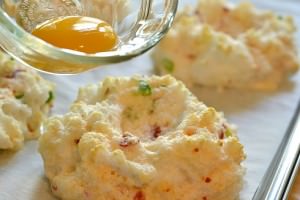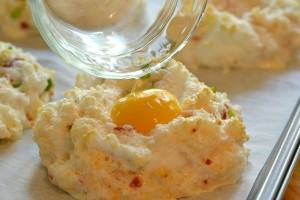 Remove the eggs from the baking sheet and enjoy your breakfast in the clouds!