Lakes, mountains and valley are all beautiful features of nature, but what about volcanoes? You might recall lava and eruptions, but the aftermath of these explosion leaves the world with stunning bowl shaped craters, also known as calderas. When these fill with water, they form mesmerizing crater lakes, adorned with pure shades of blue and green.
Heaven Lake, Tianchi, bordering China and North Korea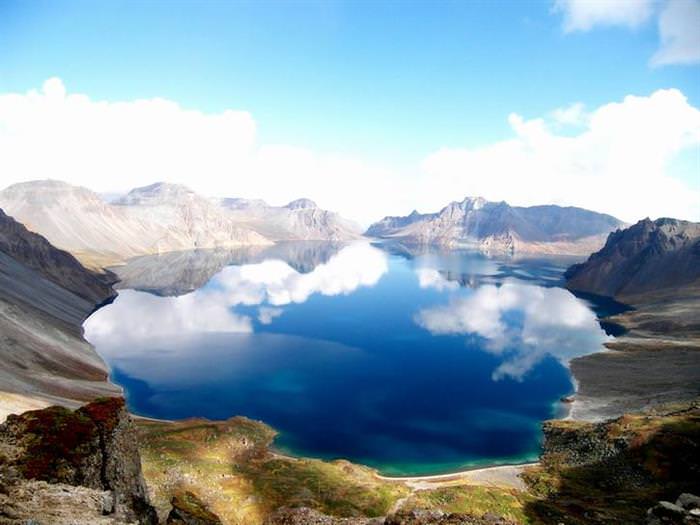 The alleged home of the Lake Tianchi monster, this caldera rests on the volcanic Baekdu Mountain. The lake is typically blanketed in ice from Mid-October until mid-June.
Photo by
Globe Images
Katmai Crater, Mount Katmai, Alaska, USA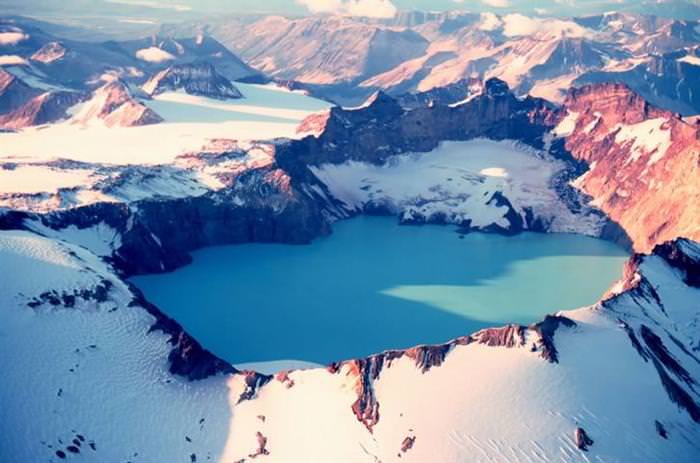 Mount Katmai is a large stratovolcano with a lake filled caldera, formed after the 1912 Novarupta volcano erupted, making it a relatively young crater lake. This little known gem is found in the Katmai National Park and Preserve.
Photo by
Captain Budd Christman, NOAA Corps
Lake Quilotoa, Ecuadorian Andes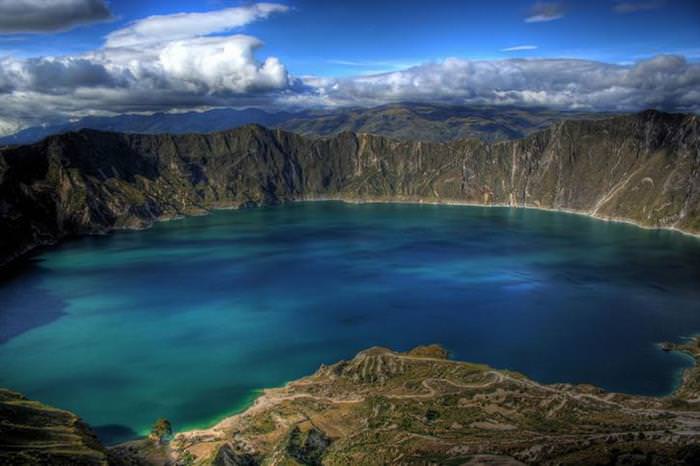 This water filled caldera lies in the Ecuadorian Andes and is 250m deep (820ft). This gorgeous volcano is a popular hiking destination and gets is rich green hue from dissolved minerals.
Photo by Kevin Labianco
Aogashima, Japan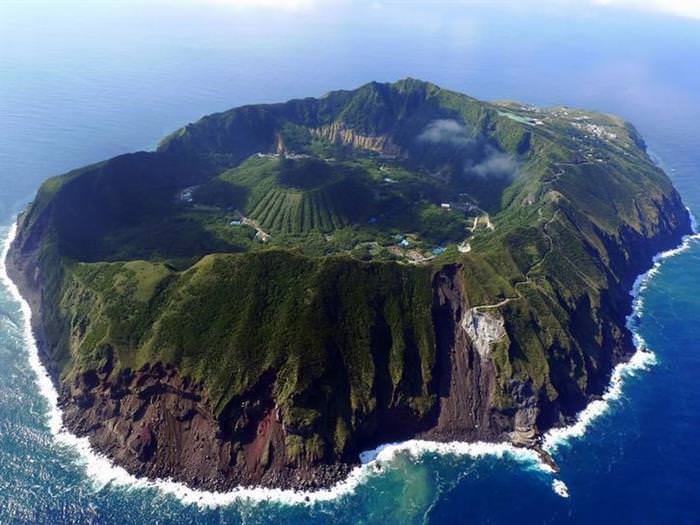 This small volcanic crater island in Japan is 8.75 km2 (3.38mi2) and could one day be a crater lake. At present the island only has small bodies of water. It is home to 170 people.
Photo by imgur via Wikipedia
Okama Crater Lake, Mount Zaō, Japan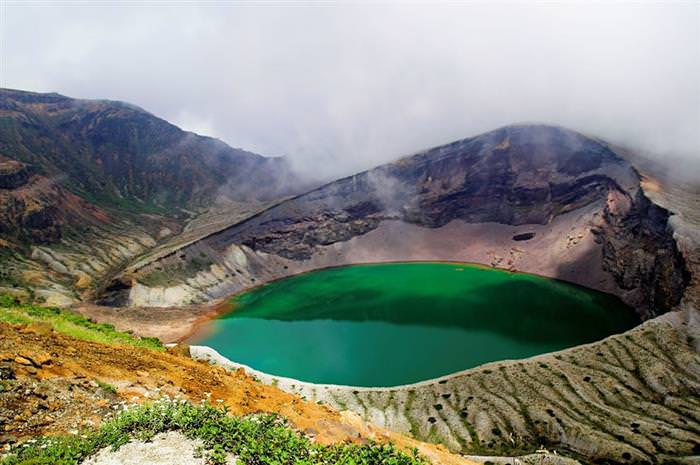 Goshiki-dake volcano is well known for its popular Okama crater lake, nicknamed the Five Color Pond because its colors change according to the weather. During winter local trees warp into "Snow Monsters" as they are decorated with icicles formed from lake's water being blown onto their branches and freezing.
Photo by
Laurenz Bobke
Pingualuit Crater, Ungava Peninsula, Canada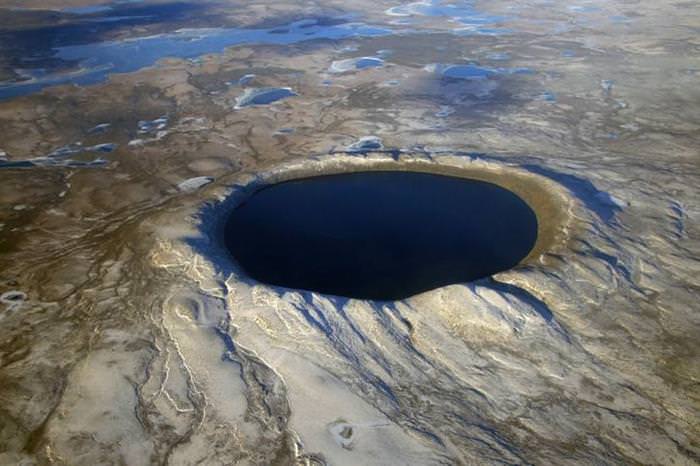 This crater lake has several unique features. It is most transparent lake in the world and the deepest lake in North America. It is also home to some of the purest water since it has no inlets or outlets, making the only source of water its rain and snow.
Photo by Denis Sarrazin / NASA / Earth Observatory
Crater Lake National Park, Oregon, USA

Formed by collapse of volcano Mount Mazama, this caldera lake is the deepest in the USA at 1,943 feet (592 m). It features two islands; Wizard Island and Phantom Ship and is famous for a bobbing tree, called Old Man of the Lake, which has been floating around for over a century.
Photo by Curtis Perry
Irazú Volcano, Costa Rica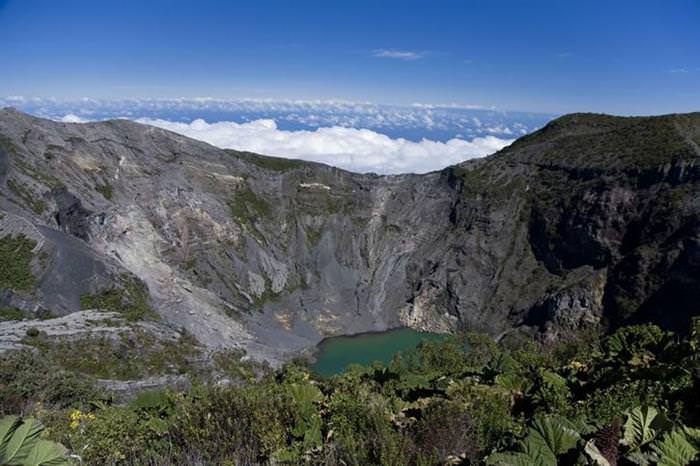 Volcano is locally referred to as "El Coloso" (The Colossus) as it has brought about many disasters. The crater lake is called Diego de la Haya, and contains a mesmerizing emerald green color.
Photo by
Rafael Golan
Mount Ruapehu, Tongariro National Park, New Zealand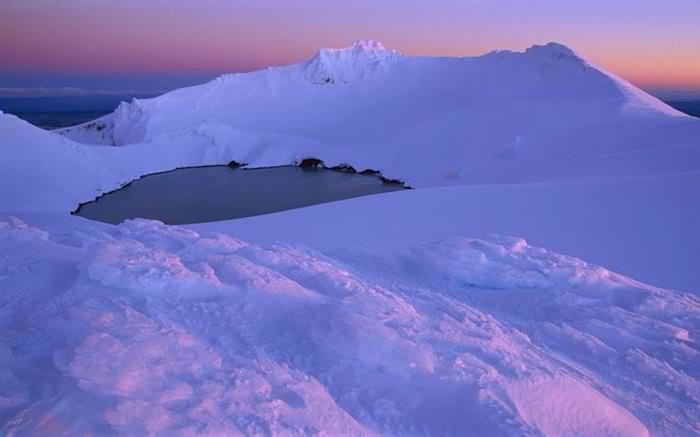 This volcano is the highest of three peaks in New Zealand's Tongariro National Park. It is also the most active volcano in New Zealand and the crater fills with water between eruptions.
Photo by myheimu
Lake Marjorie, Kings Canyon National Park, California, USA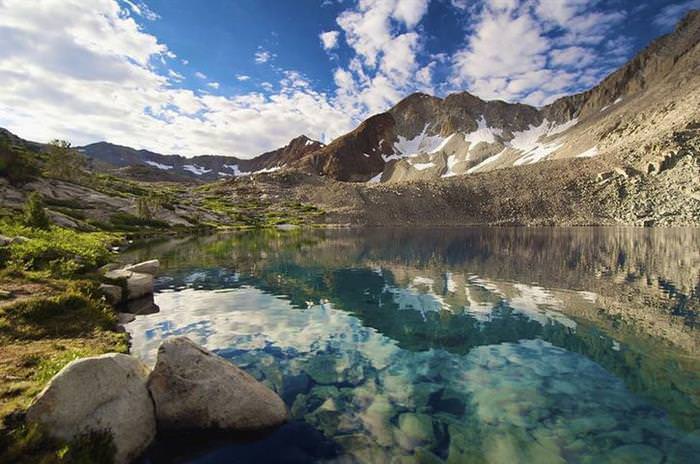 The extensive Kings Canyon National Park in Sierra Nevada, California is home to many lakes and mountains. Lake Marjorie, next to Crater Mountain, is one of its lesser known treasures but nonetheless gorgeous, featuring eye-catching hues of blue and brown.
Photo by Steve Dunleavy
Lake Pinatubo, The Philippines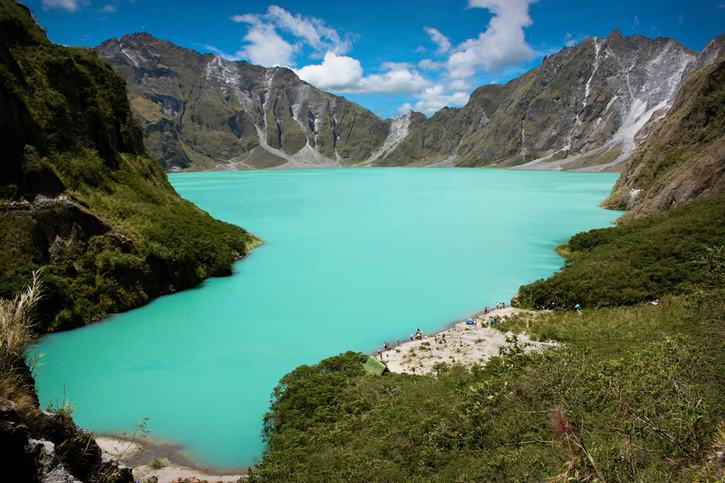 This summit crater in Mount Pinatubo formed after the volcano erupted in 1991. The lake formed following monsoon rains and is the deepest lake in the Philippines, at 2000ft (600m).
Photo by
monggoy
Taal Volcano, Luzon, The Philippines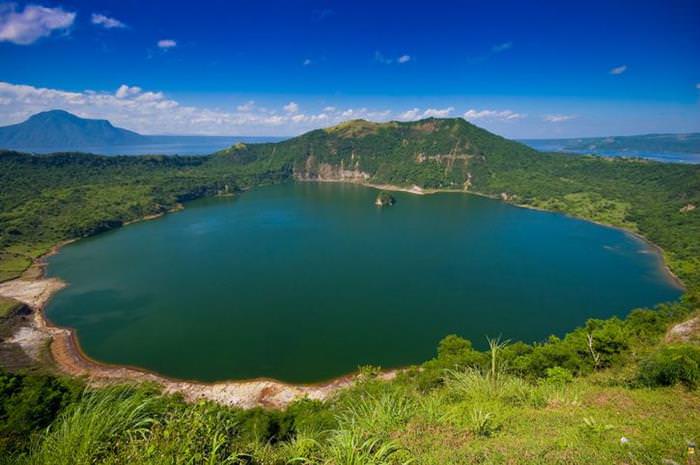 This freshwater lake fills Taal caldera, on Luzon Island and is the third largest in the Philippines. Peculiarly this island (Luzon) features an island (Vulcan Point) within a crater lake within an island (Volcano Island) within a lake (Lake Taal). The island within an island, Volcano Island, is responsible for the area's eruptions and unique situation.
Photo by
Deck Chua
Kelimutu Colored Lakes, Komodo, Indonesia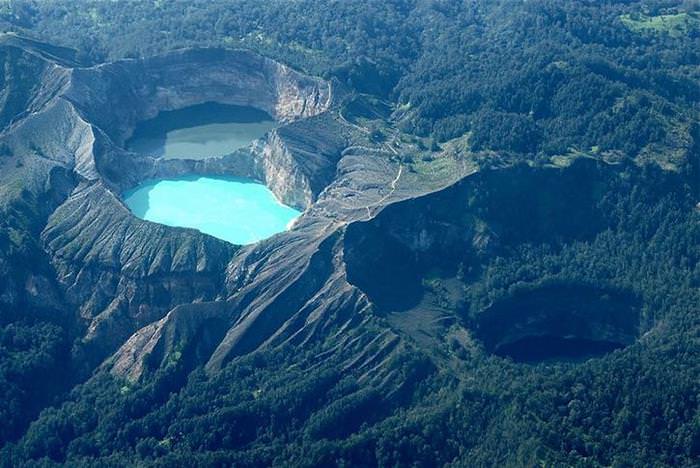 Volcano with three different colored crater lakes, one lake is called Lake of the Old People and the other two lakes, which are only separated by a crater wall, are named Lake of Young Men and Maidens. Each lake has different minerals and they often change color.
Photo by whl.travel
Uintas Mountains, Utah, USA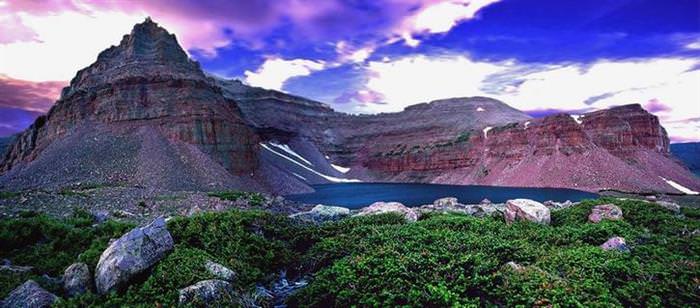 This stunning crater lake rests in the scenic Uintas Mountains in Utah, and plunges 147 feet deep, making it the area's deepest lake.
Photo by
Cordell Mandersen
Lake Maninjau', West Sumatra, Indonesia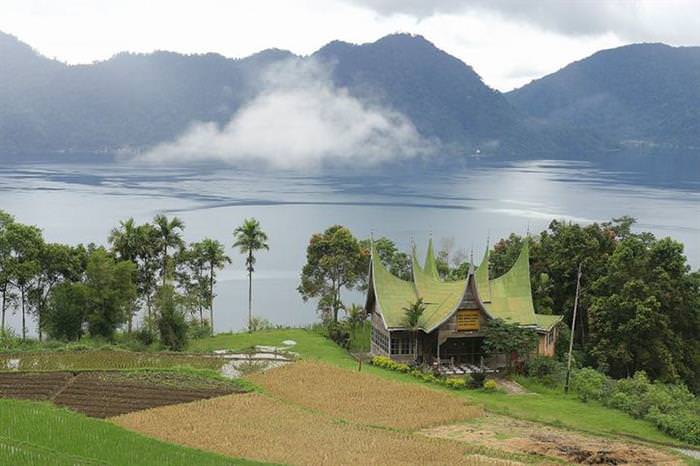 This large caldera lake in West Sumatra, Indonesia, and has a surface area of 99km2 (38.4mi2). The lake is used to generate hydroelectric power and for aquafarming.
Photo by
Indi and Rani Soemardjan
Rano Kau, Easter Island, Chile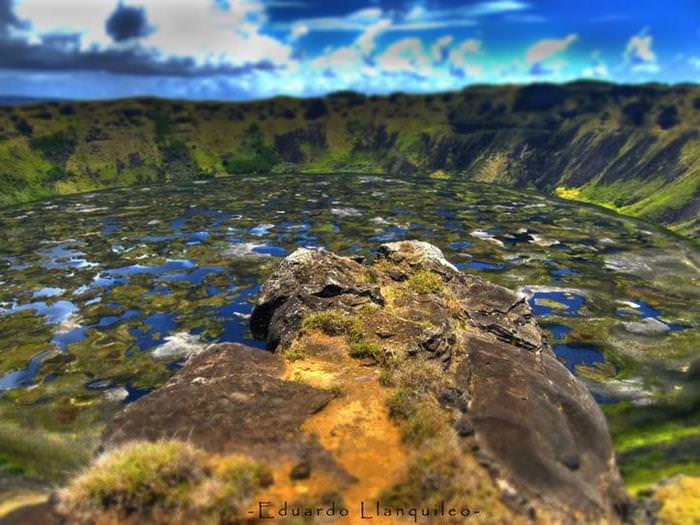 This extinct volcano rests in Easter Island, a Polynesian island well known for Moai, the name for the Rapa Nui people's large and daunting statues that decorate the island. The lake is one of the island's three natural bodies of water.
Photo by
Eduardo Llanquileo
Bajada del Diablo, Argentina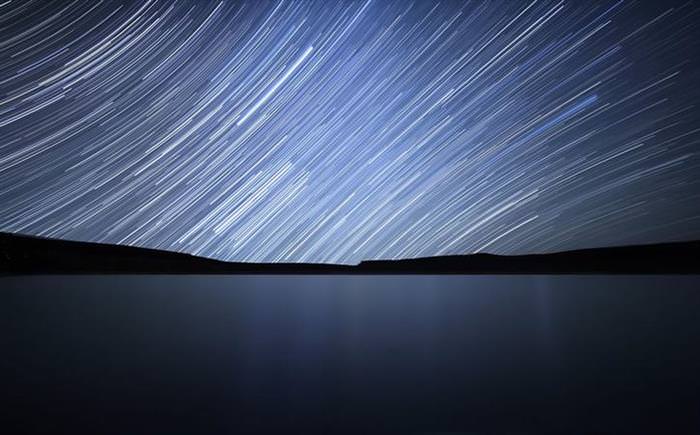 This volcanic area in Argentina is called Devil's Slop and at 400km2 (154mi2) features the world's largest crater field. At this point, close to the celestial equator the stars appear to travel in straight lines because the north and south poles are almost at the same distance.
Photo by
Luis Argerich
Tengger, Mount Bromo, East Java, Indonesia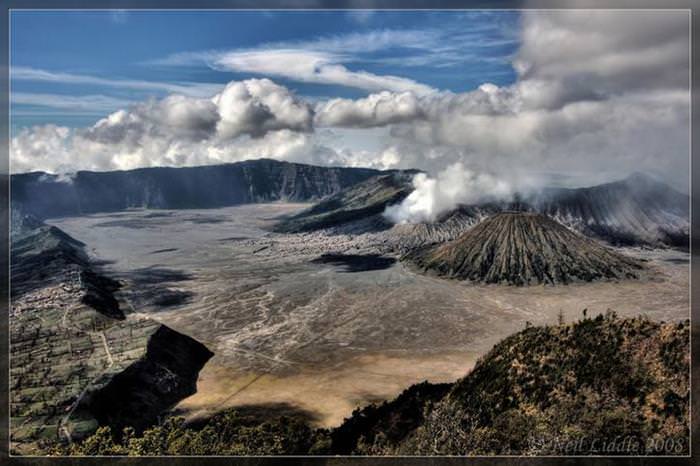 Part of the Tengger Massif, Mount Bromo is one of the more well known peaks of the region.. The volcano is part of the Bromo Tengger Semeru National Park and home to a caldera crater. This image is shot from nearby Mount Penanjakan.
Photo by NeilsPhotography