We sometimes hear stories of dogs that have been rescued from bad situations and life on the streets. Often, only the "pretty" dogs get saved, while less appealing ones don't get to be that lucky. Don't forget, even an "ugly" dog is actually a creature of beauty that only needs some love and care to shine again...
Meet Cedar: Abandoned by the Cedar golf course, he was starving and lost most of his fur to stress. Since then, Cedar found a loving home and is the happiest puppy!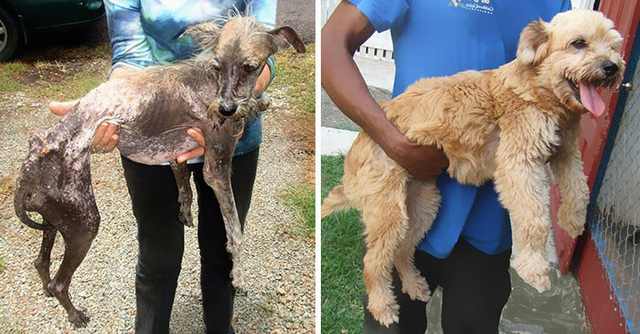 Source: Paaws Antigua
This is Treasure: She is a 2 years old and a purebred miniature poodle. The state of her fur made her unable to walk and she was found on the side of the road in a severe state of neglect. The person who found her took her to the vet and with some TLC and Treasure is now running around happily!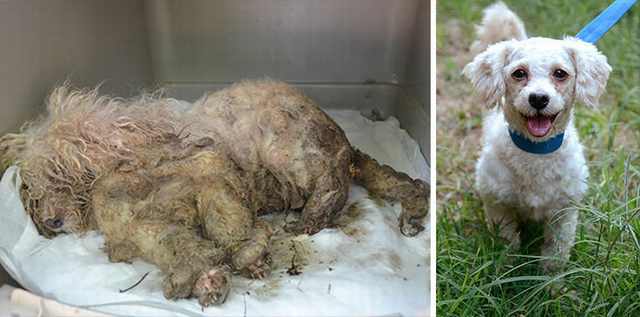 Source: onepicturesaves.com
Dolly was eating from a trash can in L.A. when she was found. When she was sheared, the matted fur that was removed weighed 10 pounds! (4.5Kg). But look at her now - simply adorable!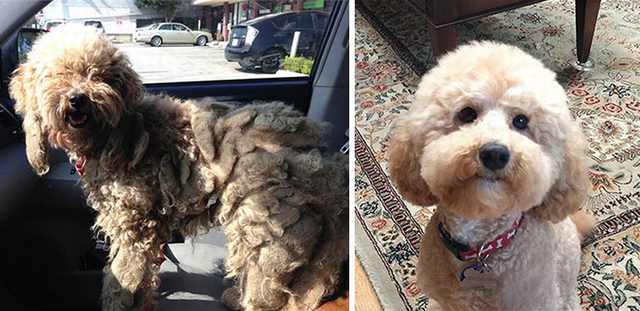 Source: onepicturesaves.com
Poor little Kenzy, a Cocker Spaniel, was abused and neglected by her owners. With proper veterinarian care and a few good baths, she's a gorgeous little cutey-pie!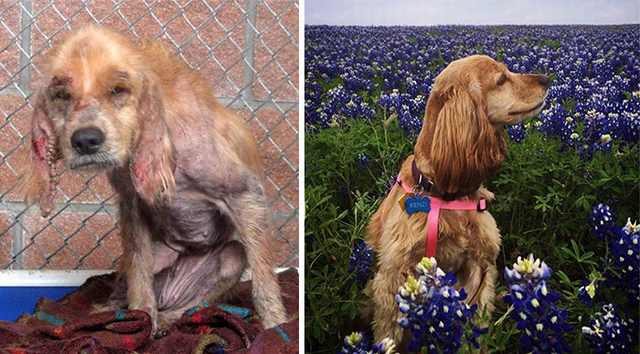 Source: onepicturesaves.com
Olivia's owner took her from the animal shelter in a terrible condition (left picture), but a year later, she's energetic and beautiful!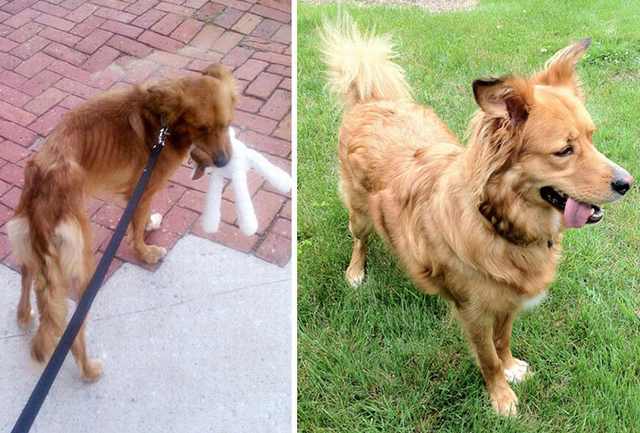 Source: imgur
Shrek's legs were covered in sores and he could barely move. After shearing the excess fur and treating the pup's injuries, the vet discovered he's a 6 years old malti-poo that apparently was used in a puppy-mill. Now Shrek has a new home and a loving family.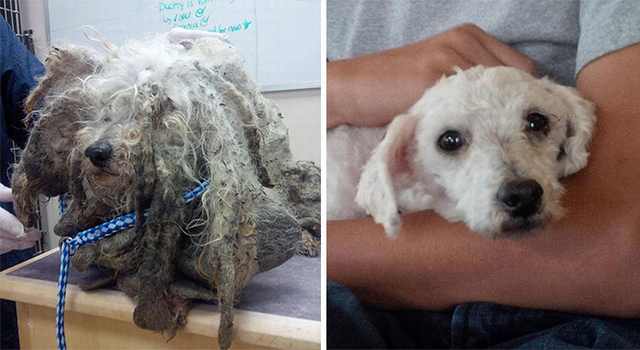 Source: Park Road Veterinary Clinic
Literally found in a trash pile, Miley's rescue story moved the internet a few months ago. She was found in a very bad state, with many injuries and barely walking. Now Miley has got a family that cares for her and a place she can call "home". (Rescue video below).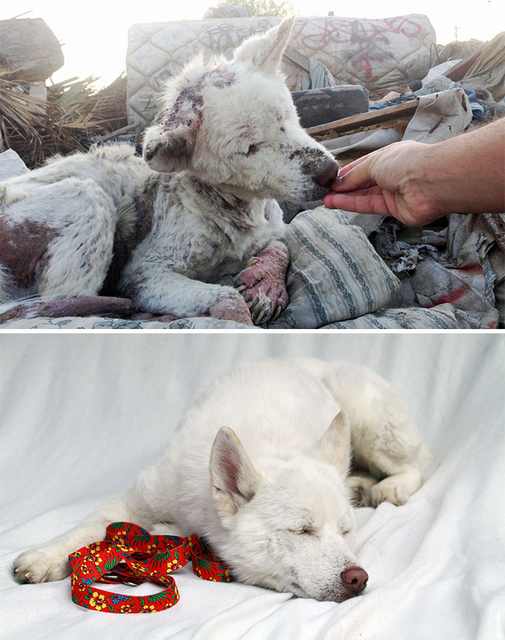 Source: Frank Bruynbroek
This little rascal was found as a matted ball of fur in an open-access rescue shelter. The Trio Animal Foundation took her, shaved her clumps of fur and out came am amazingly cute 2-year-old little thing that won the name Ellen. She's now ready to start a new life with a new family.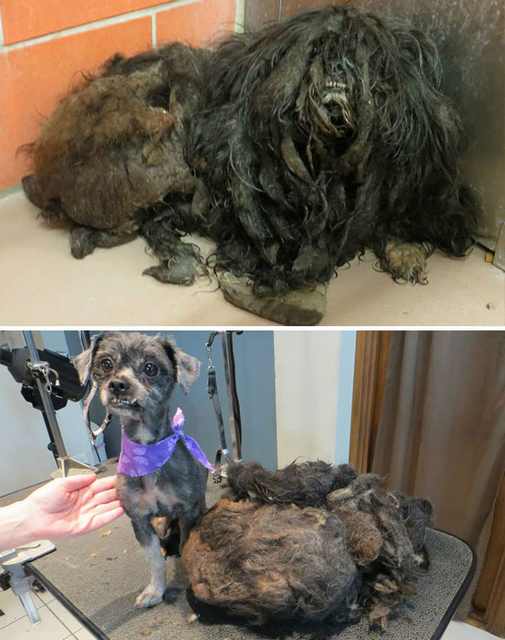 Source: Trio Animal Foundation
Abandoned by his owners when they moved away, Theo was left to wander the streets for over a year. Lucky for him, he was rescued and cleaned up. Look at his little bowtie!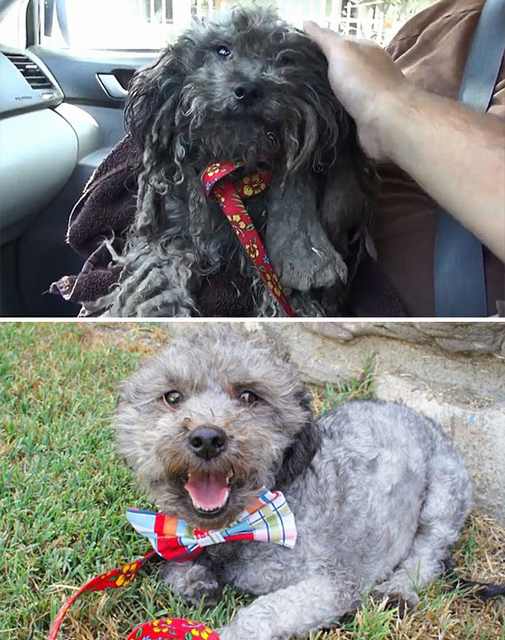 Source: Annie Hart
Originally found on the streets of Montreal, his rescuers could hardly believe his transformation! A former mess, Rasta is now a spunky little puppy.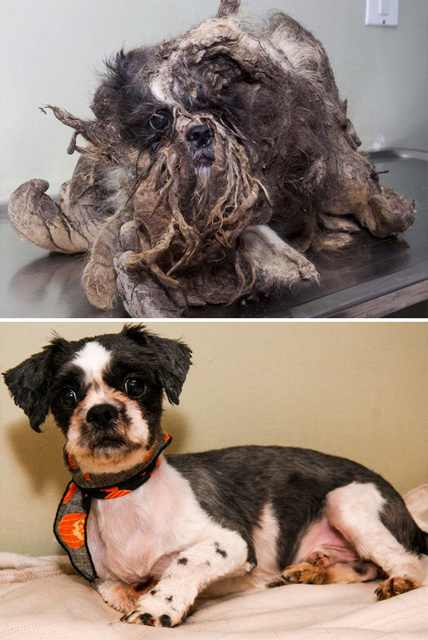 Source: Quebec Society for Protection Of Animals
After his owner had passed away, Woody was dumped on the street and ended up hiding under a house for months. When he eventually allowed the rescuers to get him out, they discovered that he was blind in one eye but all in all, in relative good health. With the love and care he needed, Woody now looks like a million bucks!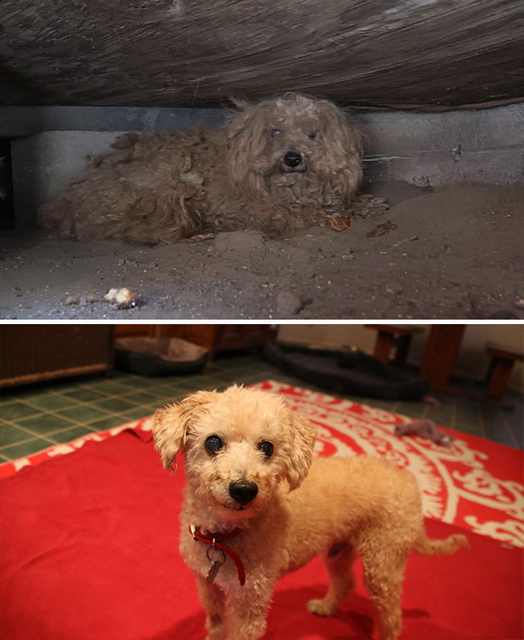 Source: Hope For Paws
Found on the side of the road, shivering, wet and smelling of urine, Boo here was washed and groomed to become the most adorable little thing I have ever seen!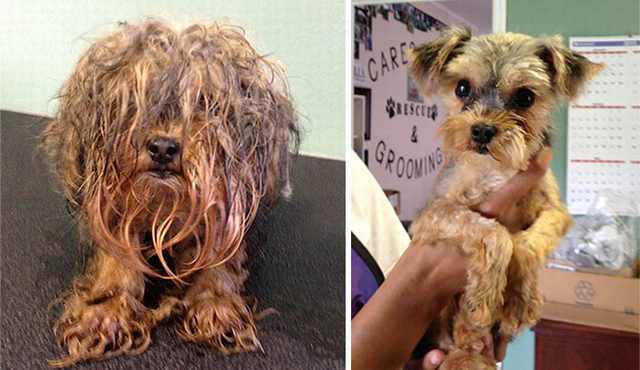 Source: onepicturesaves.com
Brought to a shelter in a terrible state, Alana had to be sheared to get vaccinated. Upon her mandatory grooming, she was discovered to be much younger than originally thought and a pretty little puppy at that. Now she has found a new home and is as happy as can be!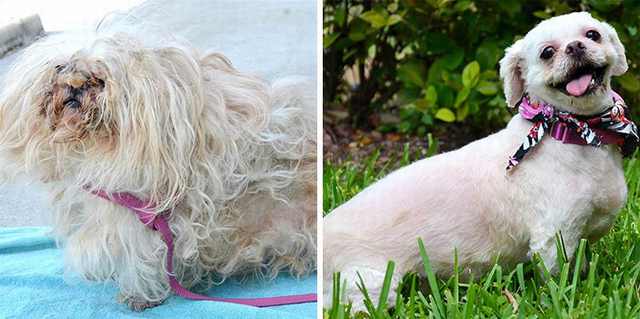 Source: onepicturesaves.com