In ancient times, and still - in the animal kingdom - losing a limb is a death sentence. Today, not only are some people enjoying the answers modern engineering has given to their handicaps, but thanks to modern engineering and 3D printing, many of these animal amputees get a second chance at life as well. And it warms my heart like nothing else.
Derby the dog
Born with severely deformed front legs, Derby the dog could not walk or even get around. While the custom wheelchair he had was helping him move around, it was still difficult for this adorable pooch to move about. As luck would have it, Derby's owner works for 3D printing giant 3D System, who constructed an innovative prosthetic for derby that allows him to run around freely.
Motala the elephant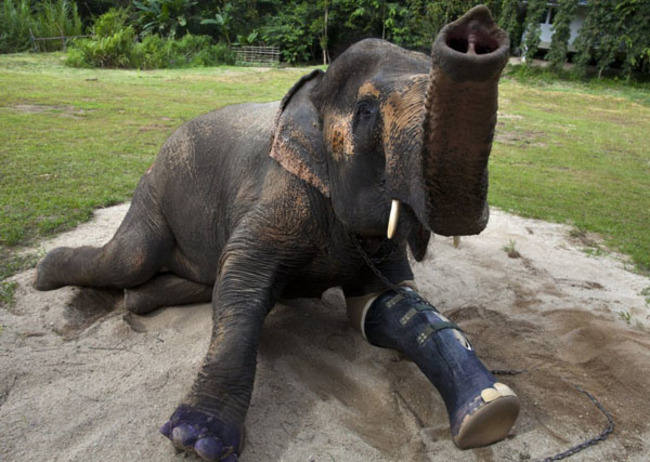 Source
Poor Motala was strolling through the jungle in 1999 when she stepped on a landmine left from the Thai-Burmese war. The explosion severed her front leg and left her severely disabled. In 2009, the fifty-year-old elephant got a prosthetic replacement and is back to walking around happily.
Chris P. Bacon the pig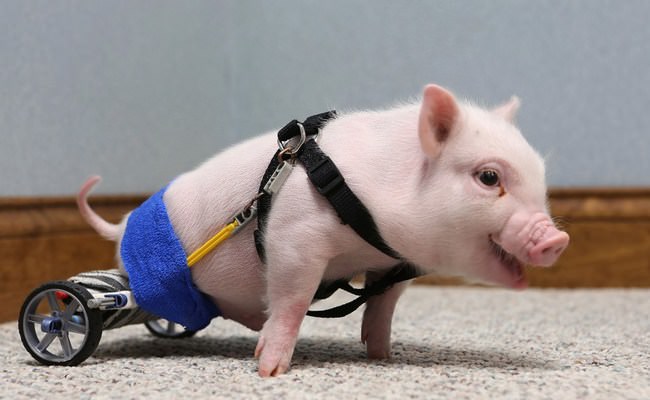 Source
Chris was born without his hind legs, but lucky for him, his owner was also a veterinarian who created a "wheelchair" for him from Kinex toy parts. He now helps children in wheelchairs cope with their condition, giving them inspiration and joy.
Beauty the bald eagle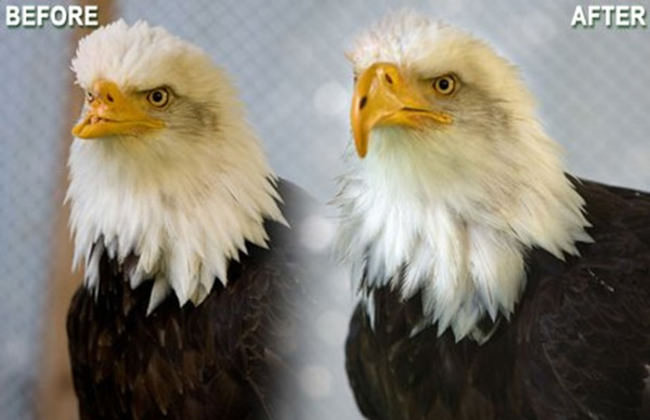 Source
Beauty was shot by poachers and nearly died. The majority of her beak was gone and she couldn't eat, drink and even clean herself. Jane Fink who rescued Beauty enlisted the help of Kinetic Engineering Group who 3D-printed a new beak for her and now it's almost impossible to tell she's had work done.
Oscar the cat
When Oscar was young, he lost his hind legs in an accident with a combine harvester. Lucky for Oscar, London veterinarian Noel Fitzpatrick did not give up on the little cat and with the help of a team of experts – gave Oscar new bionic legs!
Molly the horse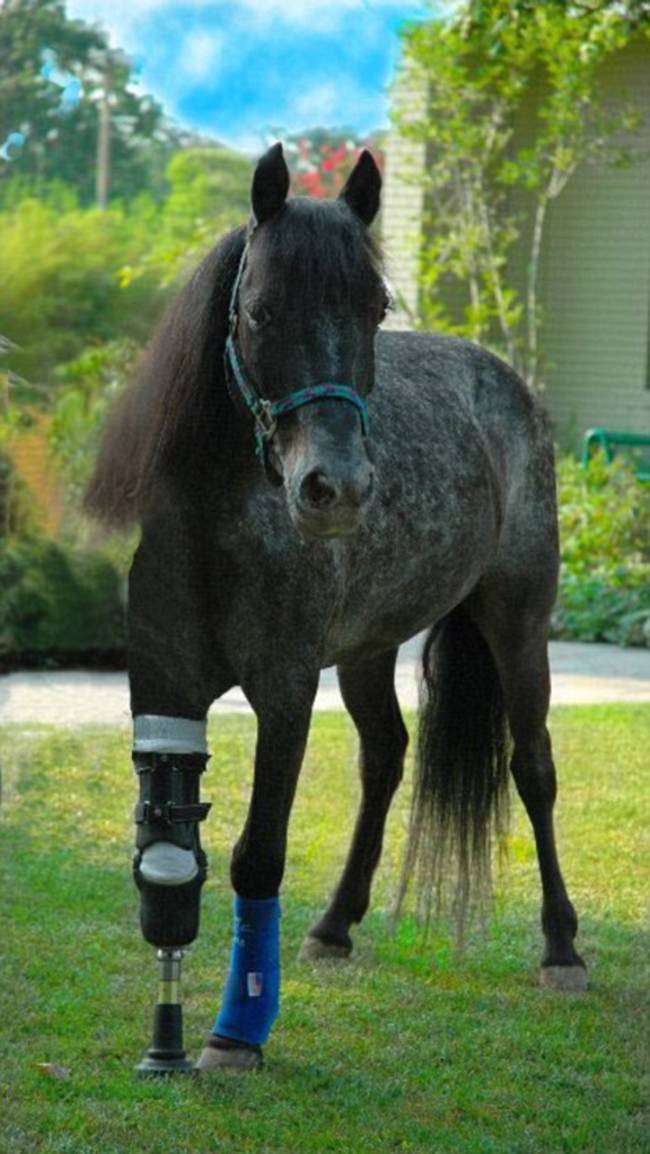 Source
Molly's leg was severely damaged when she was attacked by a dog. While usually, injured horses get euthanized, Molly's owners would hear nothing of it and instead opted for a prosthetic replacement. Now Molly helps the people of New Orleans remember that you can overcome most hardships life has to offer.
Stumpy the Kangaroo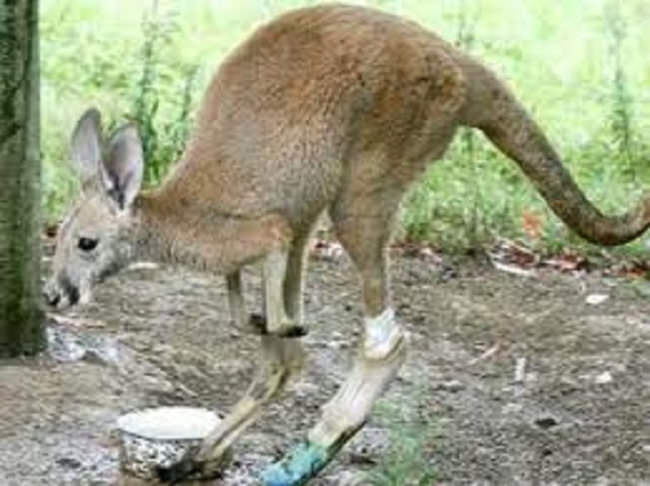 Source
Stumpy had to have a leg amputated, but since kangaroos cannot survive without 2 functioning hind legs, Dr. David E. Anderson and Richard Nitsch joined forces and created a new prosthetic leg for her. Now, outfitted with her bionic leg, Stumpy hops around freely in Ohio's Kangaroo Sanctuary.
Emma the miniature donkey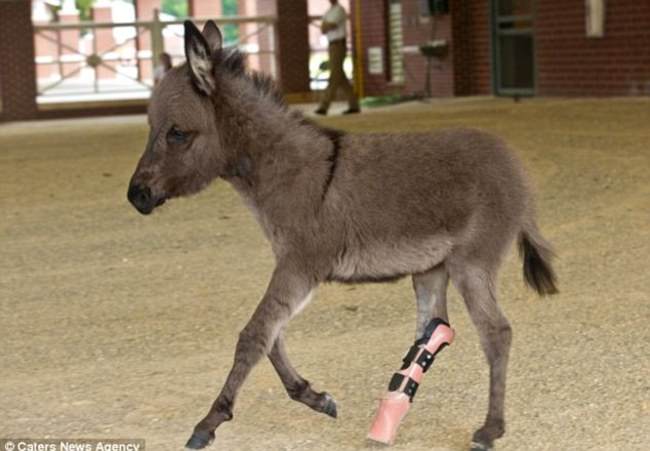 Source
When little Emma was born, a birth defect caused her leg to form incorrectly, leading to its amputation. Thanks to a local group of veterinaries, the little foal can now run, kick and play freely. Moreover, the development of Emma's leg can lead to advancement in prosthetics for other donkeys and horses in the future.
Dudley the duck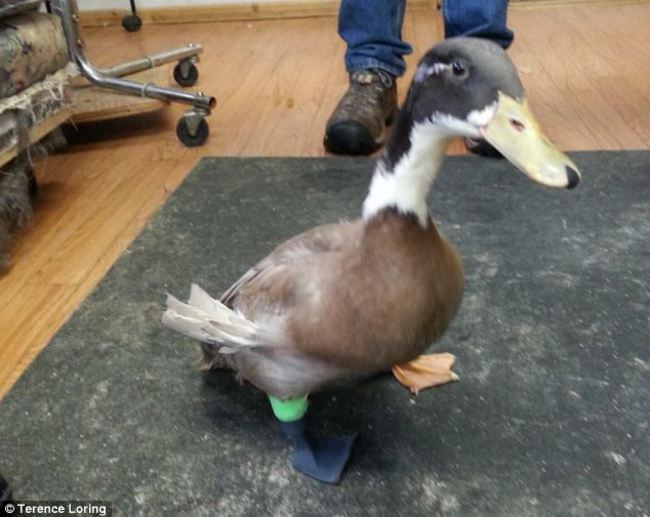 Source
Believe it or not, when Dudley was a duckling he was attacked by vicious chickens who tore off his leg. With the help of 3D printing company Proto3000, mechanical engineer Terence Loring constructed a prosthetic new leg for the happy duck. Terence also offers the printing plans to anyone who needs a prosthetic leg for their duck, for free.
Septimus the tortoise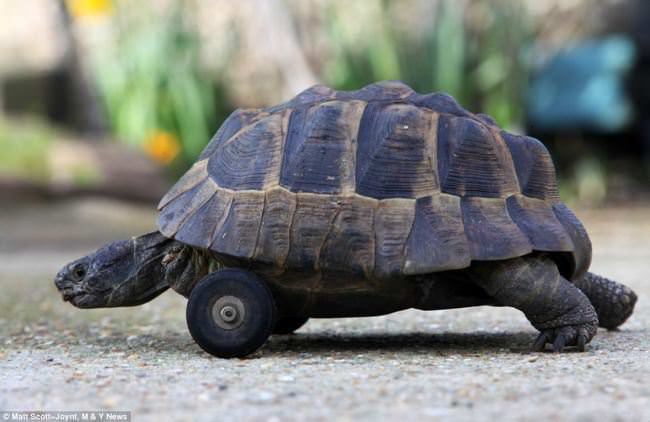 Source
During his hibernation, rats gnawed off Septimus' front legs. Lucky for him, Darren Strand found him on his porch and took him to the local vet. The vet had to amputate what was left of his front legs and installed a pair of model airplane wheels, turning Septimus into one of the fastest tortoise around!
Fuji the dolphin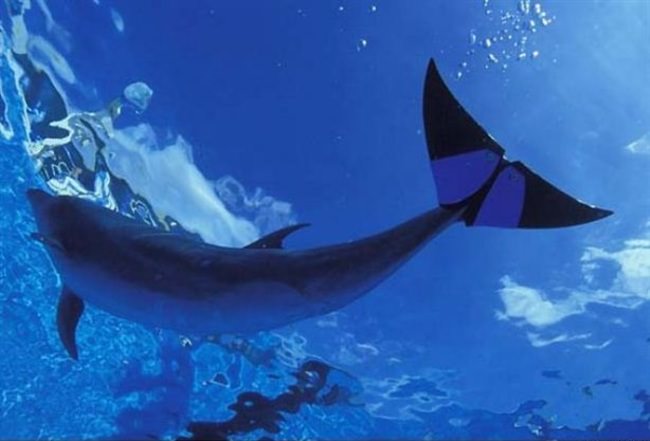 Source
Much of Fuji's tail was amputated because of a mysterious illness. Even though she was still able to swim, her caregivers knew that her happiness depends on having a 'normal' tail. The Bridgestone Corporation volunteered to help and created a tail made out of the same material used for Formula 1 cars.
Bunker the crane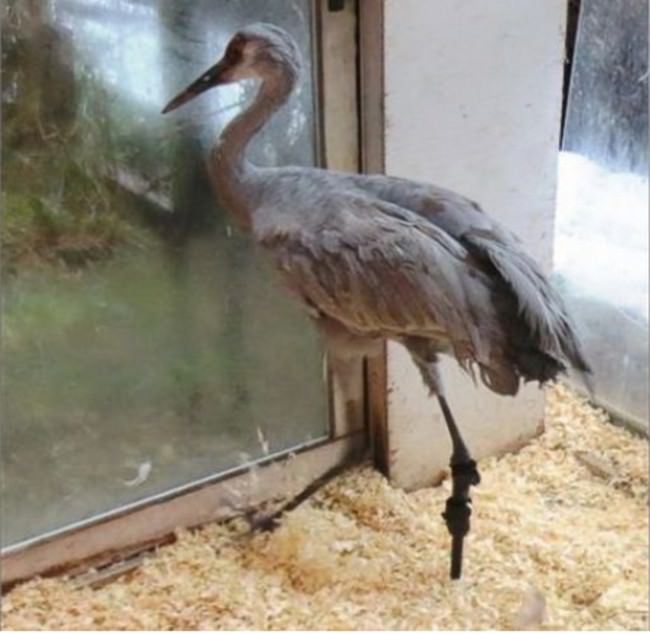 Source
The victim of an errant golf ball accident, Bunker's leg was severely damaged. Thanks to the experts from Orthopets in Denver, Colorado, Bunker now has a permanent prosthetic replacement that distributes his weight evenly on both legs. He might even be released to the wild soon.
Macho the horse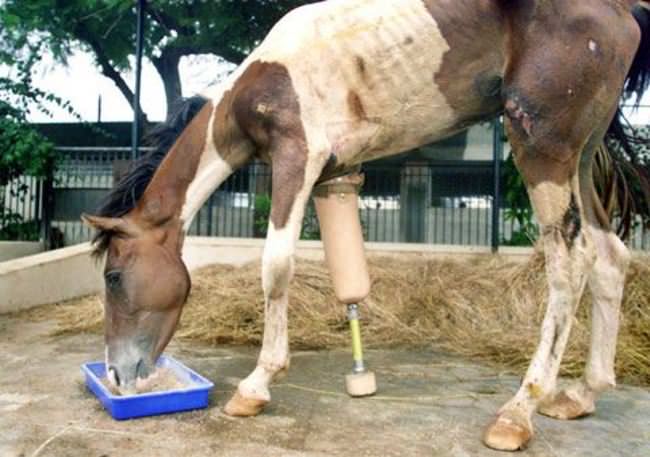 Source
Macho was left to die on a road in India. Malnourished and badly injured, Macho would have probably been euthanized, but thanks to the hard work of local veterinarians, Macho had his bad leg replaced by a prosthetic and is now happy and mobile again!
Nakio the dog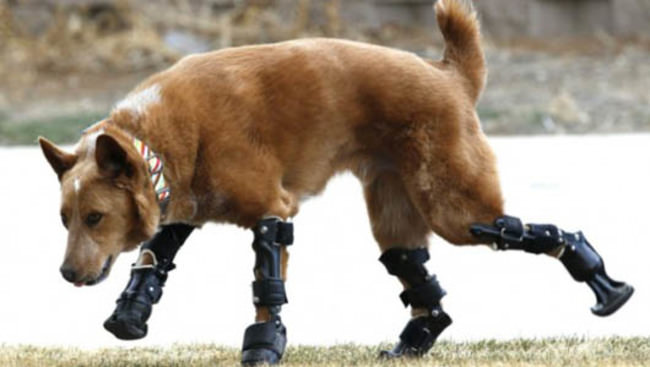 Source
As a very young pup, Nakio was found with his four legs frozen in a puddle of ice. Upon his rescue, the vet had to amputate his legs, tail and even a part of his nose. Lucky for Nakio, his new owner – veterinarian Christie Pace got the pup outfitted with prosthetic legs thanks to the guys at Orthopets – who covered the cost of the prosthetics.
Meadow the calf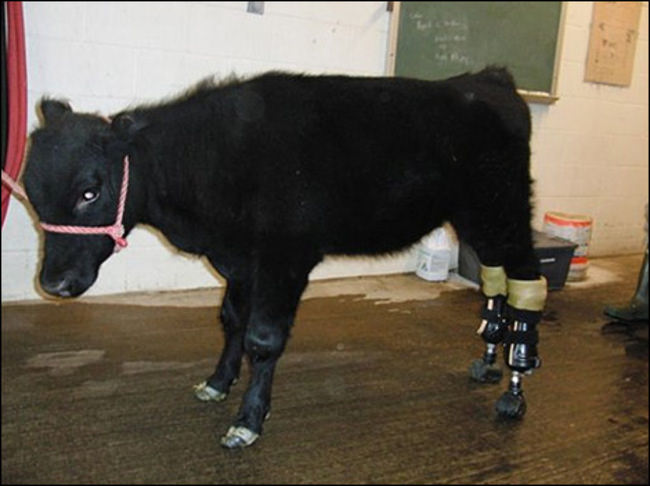 Source
Meadow the calf lost her hind legs to frostbite when she was found by Nancy Dickenson. Nancy bought the poor little heifer from her owners and took her to Colorado's state veterinarian, Dr. Robert Callan. Dr. Callan was surprised to hear that Nancy intended to outfit Meadow with prosthetics but now she enjoys her life and Nancy's family considers her part of the family.
Tripod the llama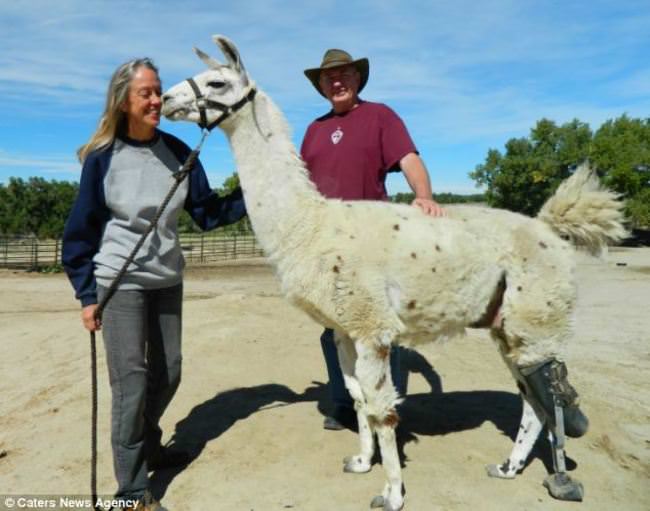 Source
When Sherry Hughes and Marc Field saw Tripod limping on three legs, they did not hesitate and took the poor llama into their care. Tripod's injured leg had to be amputated, but thanks to the people of Orthopets, Tripod now enjoys his days with the couple's other llamas and alpacas.
Yu Chan the turtle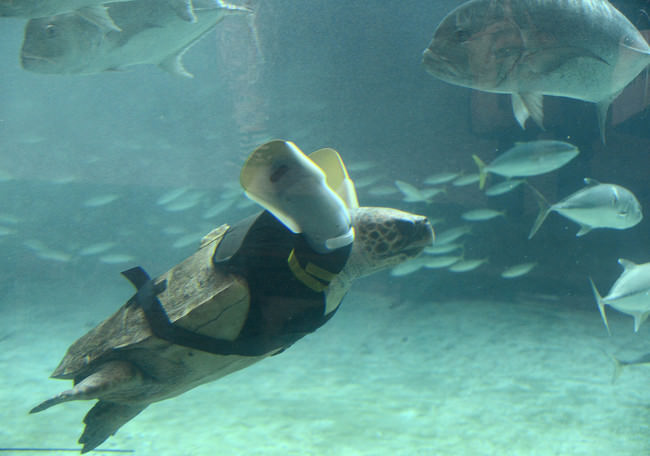 Source
Yu Chan lost both of his front flippers when he got tangled in a fishing net and was attacked by a shark. Most prosthetics didn't work for Yu Chan until prosthetic limb manufacturer Kawamura Gishi created a comfortable vest to secure his prosthetics to and is now swimming freely in Japan's Suma Aqualife Park.
Mr. Stubbs the alligator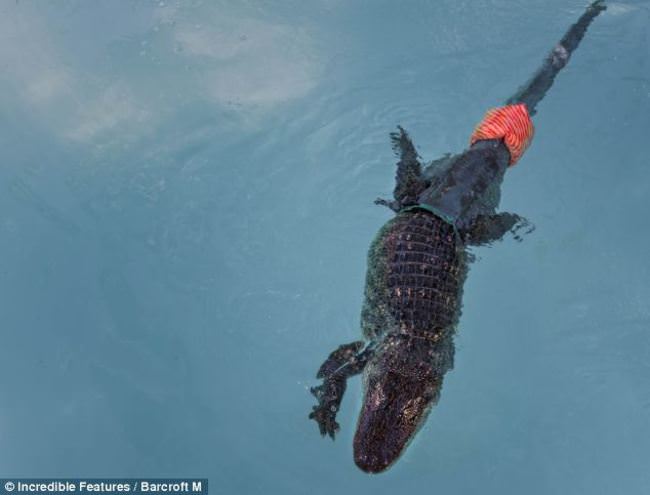 Source
Mr. Stubbs lost his tail in a fight with another alligator. Without it, the big gator couldn't swim and catch food. Lucky for him, the people in the Herpetological Society in Phoenix, Arizona manufactured Mr. Stubbs a new tail out of silicon and taught him how to swim with it.
H/T: distractify.com