The idea of eating right can be a bit daunting to some of us, because we are unfamiliar with putting together tasty dishes to replace unwanted foods in our diets. It is also a common misconception that making healthy food is expensive and complicated. I believe we can all prepare healthy meals with ease, without compromising on taste and flavor. Here are some great dishes to make in little to no time, they are as healthy as they are delicious.
Greek Yoghurt Porridge with Honey, Banana and Almond: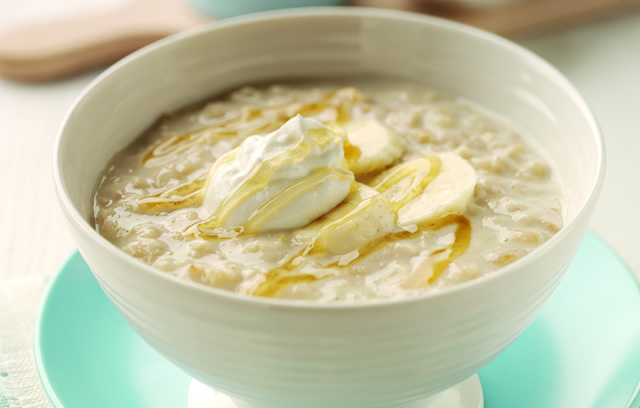 The time it will take: 6 minutes.
What You'll need: 1.5 oz porridge oats, 1 cup semi-skimmed milk, 1 tbsp low-fat Greek yoghurt, 1 tbsp honey and a handful of toasted flaked almonds
Put the oats and about 200ml of milk into a small saucepan and stir well, then place over high heat until the mixture begins to boil. Reduce the heat to low and stir for 3-5 minutes as the porridge thickens. Remove your mix from the heat and pour into a bowl. Top with a spoonful of yoghurt, a little honey, chopped banana and a scattering of toasted almonds.
Southern Italian Scrambled Eggs on Toast: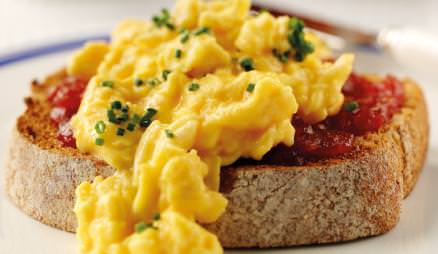 The time it will take: 10 minutes.
What you'll need: 4 egg yolks, 2 egg whites, olive oil, garlic powder, parsley, slice of thick whole-grain bread and tomato paste.
Place a non-stick skillet with a little olive oil on a burner and turn to a low heat. Separate your four eggs yolks from the white and keep two of the remaining eggs whites in a separate cup. Pour your 4 egg yolks into the skillet, stir for 1 minute then add the 2 egg whites. Add a pinch of black pepper and salt, your chopped parsley and garlic powder. Stir the eggs every minute or so until the eggs are mostly solid but moist and then stop heating. Toast your bread and spread the tomato paste on it evenly. Serve eggs on top with a bit of olive oil.
Berry and Yoghurt Smoothie: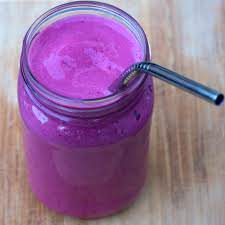 The time it will take: 2 minutes.
What you'll need: 1.5 oz raspberries, 1.5 oz blackberries, 3 heaped tbsp of low-fat natural yoghurt, 1 cup of skimmed milk and 1 tbsp of sugar free syrup.

Place all of your ingredients into a blender and whizz until smooth, sweetening the mixture with syrup as much as you like, but not too much! Serve in a chilled glass, with a bit of ice if it's a really hot day.
Ricotta & Walnut Baked Mushrooms: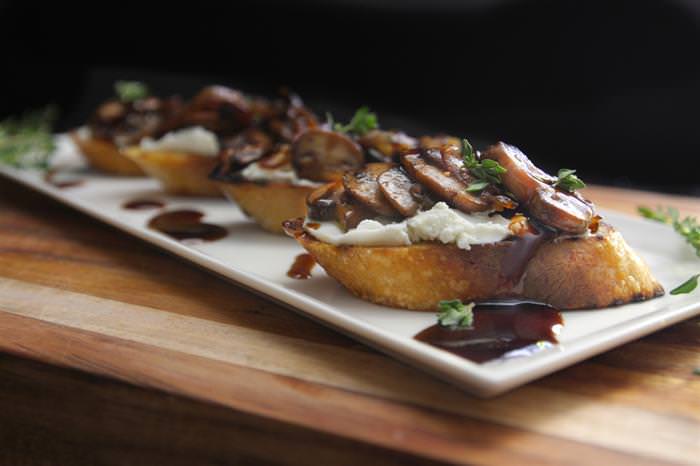 The time it will take: 10 minutes.
What you'll need: olive oil, 3 oz of baby mushrooms, sea salt and black pepper, 3 oz of ricotta, oregano, 0.5 oz chopped walnuts and 2 slices of multi-seed rye bread or brochette.
Heat the oven to 200 degree and line a large baking sheet with foil and brush it with a bit of olive oil. Place the mushrooms on the baking sheet and sprinkle with salt and pepper on top.
Mix together the ricotta, walnuts and oregano In a bowl and when you're done put a teaspoonful of the mixture on top of each mushroom. Drizzle a little olive oil on each mushroom and bake for 8 minutes, until mushrooms are tender. If you want, you can lightly toast the bread in the meantime, or just use it as it is and arrange the mushrooms on top of it.
Arugula, Avocado and Roma Salad: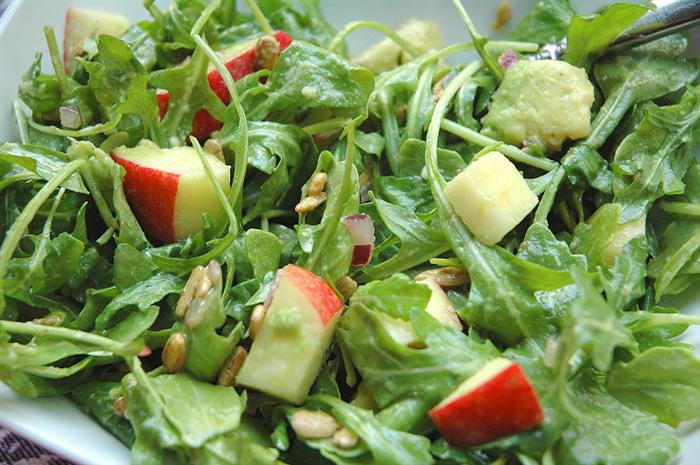 The time it will take: 10 minutes.
What You'll need: 1 bunch of arugula, sliced Roma tomatoes, half an avocado, olive oil and diced red apples.
Wash the arugula properly and dry it well with a towel, when you are done put it in a mixing bowl. Cut the Roma tomatoes into thin slices and add them to the bowl with some sea salt and pepper. Drizzle the olive oil, add the diced apples to the bowl and then mix it all with your hands. Peel the skin off your avocado, place it on a flat surface and cut it into squares. Place it on top of your salad and serve in the mixing bowl.
Herb Omelet with Cherry Tomatoes: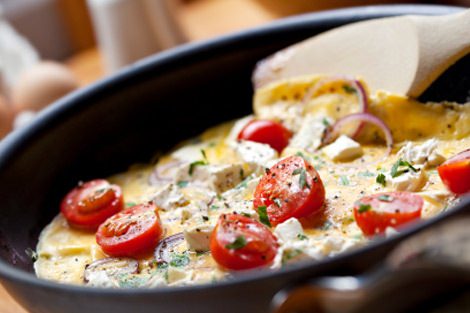 The time it will take: 8 minutes.
What you'll need: 6 cherry tomatoes, 1 tbsp olive oil, sea salt and black pepper, 3 large eggs and a handful of mixed herbs like parsley and chives.
Cut the cheery tomatoes into halves or quarters. Heat the olive oil on a non stick skillet and add the tomatoes with some salt and pepper. Fry on a medium heat for 1-2 minutes until the tomatoes are soft.
Meanwhile, beat the eggs in a bowl and add the chopped herbs over the tomatoes, then pour in the eggs. Quickly stir and shake the pan. When the omelet is almost set, remove it from the pan, slide onto a plate and serve.
Healthy Burger: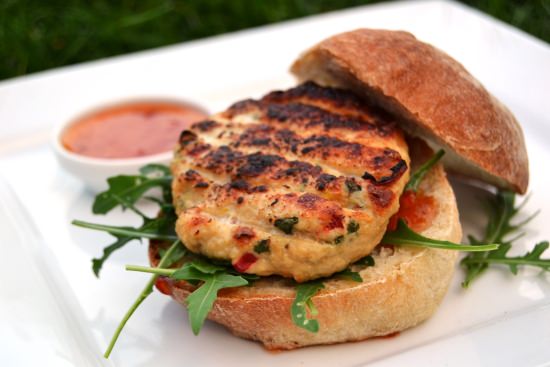 The time it will take: 10 minutes.
What you'll need: low fat ground turkey, black pepper and salt, 2 tbsp olive oil, garlic powder and a whole-grain seasoned bun.
Preheat a nonstick skillet with a dash of olive oil and meanwhile put all the ingredients into a mixing bowl and mix with your hands. When you are done mixing, mould the mince into a patty and place it on the skillet. Cook the burger for about 3 minutes on each side until nicely browned. Season the burger with some extra salt and pepper to fit your taste and serve on the bun with leafy greens.
Coconut, Vanilla and Lime Pops: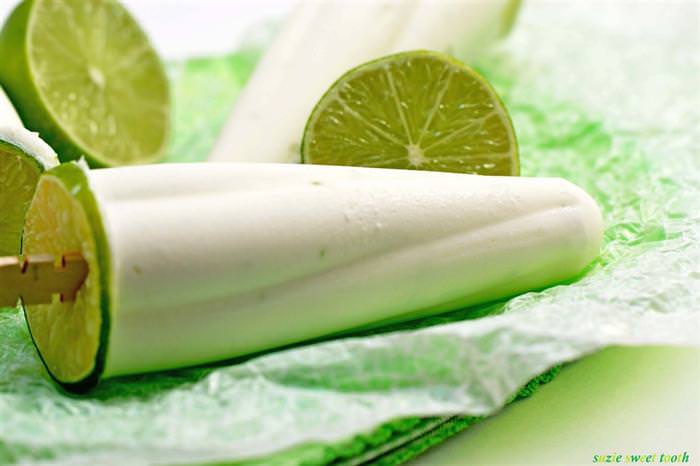 The time it will take: 5 minutes to make and about 6 hours to freeze
What you'll need: 2 cups coconut milk, honey 1 tbsp, 2 tbsp lime juice, 1 tbsp vanilla essence, lollipop freeze moulds and a pinch of salt.
Whisk together all of the ingredients In a large bowl until you get an even mix. Drizzle a little bit of honey into the bottom of the ice pop moulds and a few grains of salt. Pour the mixture into the moulds and place in a freezer for at least 6 hours.
Mixed Berry and Yoghurt Wraps:
The time it will take: 5 minutes.
What you'll need: mixed Berries of choice, low fat yoghurt (Greek if possible), whole-grain tortilla wrap and a tbsp of honey.
Use a spoon to spread the honey over the tortilla wrap evenly and add your mixed berries. Add the yoghurt on top and wrap, if you really want something sweet, you can add one more tbsp of honey.