Every dog owner will tell you that while having a dog is one of the best things that ever happened to them, it's also the source for many problems that are sometimes hard to deal with. To make life better for you and your dog, here are some great tips that I found very useful. They will teach you how to keep your dog healthy and happy, which is guaranteed to make you happy as well.

1) If you are having a hard time brushing your dog's teeth try this simple tip: Squeeze some enzymatic doggie toothpaste on a bone or rope toy your dog loves, and let them go to town on it.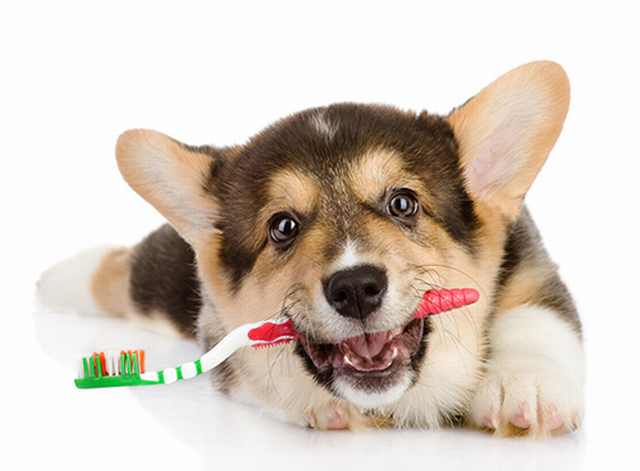 2) If you need to give your dog pills, try hiding them inside a teaspoon of natural peanut butter. Your dog will be so happy to get this treat they will never notice the pill inside.
3) A carabiner clip is a quick and easy way to tie your dog leash safely. Take one with you whenever you go on a walk in case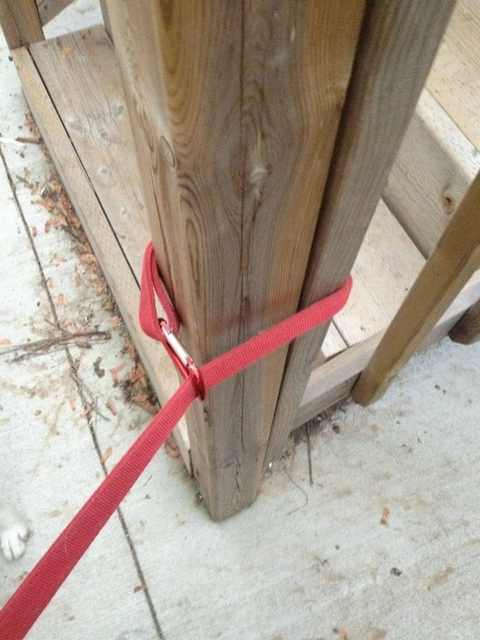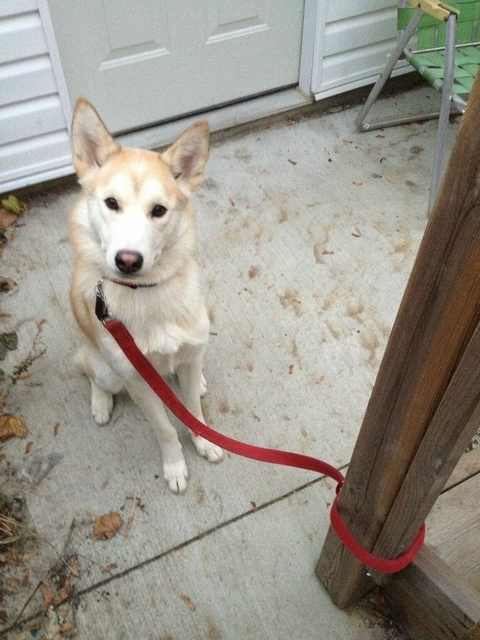 4) Got a lot of studying or work to do but your 4 legged friends want to play? Tie a toy to your leg with a rope and just move it around from time to time.
5) If your dog eats too fast try putting a ball in the food bowl. They'll be forced to move the ball around to get to all the food and at the meantime they will still chew.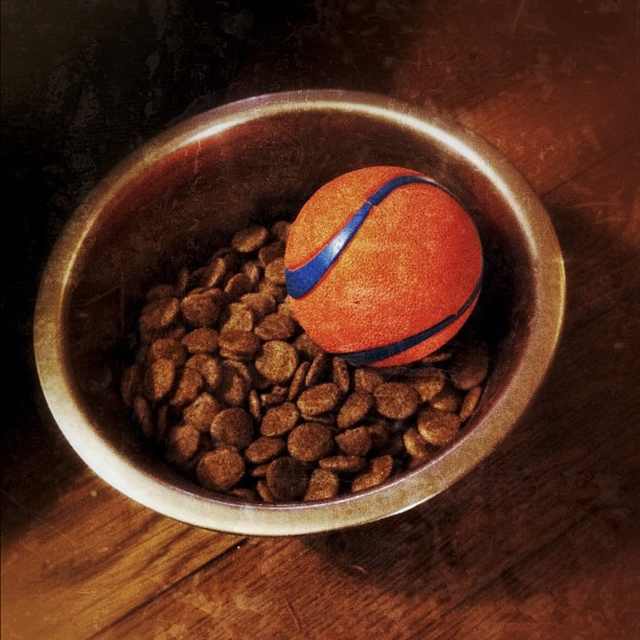 6) If you need to clean urine out of a carpet, but you don't have a good cleaning product for it, you can use baking soda. Pour it over the spot you need to clean, let it sit, and then sweep or vacuum it up.
7) If you have a dog who loves to tear apart stuffed animals and toys, this tip is for you. Take a Hol-ee rubber ball or a similar object, and fill it with scraps of fabric you don't need. When your dog will take it apart you can just put the scraps back inside.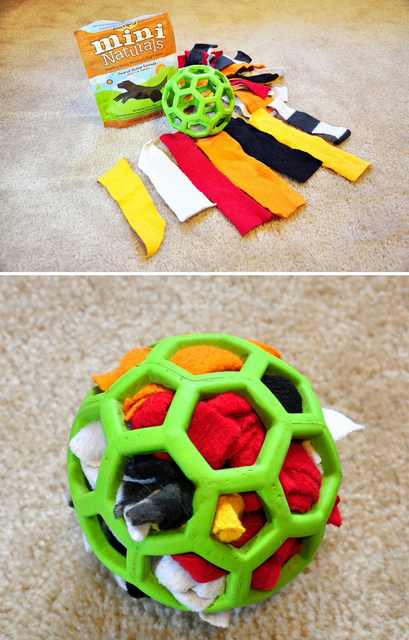 8) If you've got a teething pup who loves eating cords, here is what you need to do. Put some bitter apple spray or other bitter tasting liquids onto a paper towel and wipe the cords with it. This works well for all kinds of pets.

9) On hot days you can treat your dog to a frozen treat of toys, bones, and chicken broth made in a cake mold.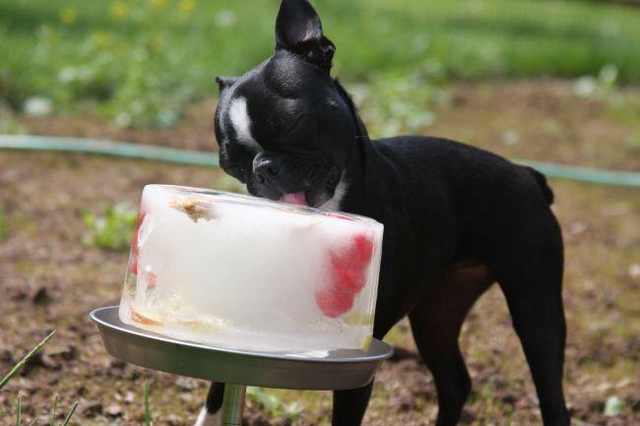 10) Speaking of food, you can use a plastic pitcher to store and dispense dog food. It's light and easy to use.
11) If your dog isn't feeling well, mix some low-sodium chicken broth in their drinking water. You might want to try doing this once before when your dog is feeling well, just to make sure they don't have a bad reaction to it.
12) If your dog gets nervous before a storm try running a dryer sheet over their fur. Chances are what's driving them mad is the static electricity built up.
13) A shower caddy makes a great storage solution for all your doggie things, from the leash to the food bags.
14) On hot summer days your dog will love nothing more than a dip in an inflatable pool with water and ice.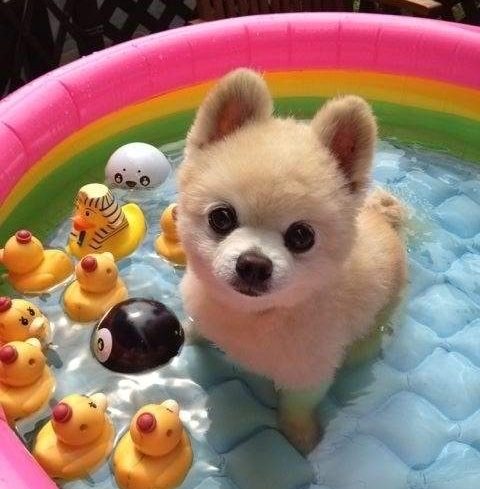 15) Always remember this list of food you shouldn't give your dog.
16) Cutting up a sausage roll into tiny pieces is a cheap way to make bite-sized training treats for small dogs.
17) Put sandpaper on a piece of wood in your house or garden so your dog will be able to file his or her own nails.
18) Add some parsley to your dog's food if they have a really bad breath.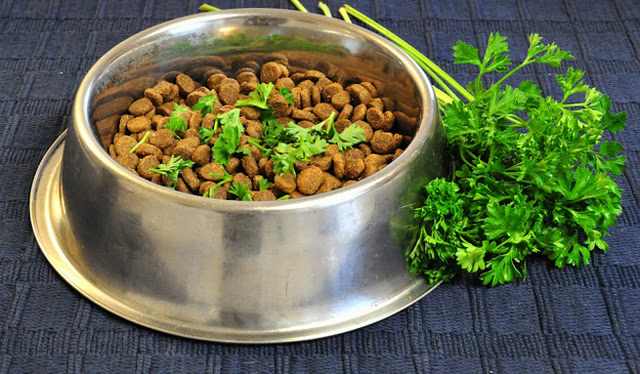 19) Take a pancake-syrup bottle full of water when you take your dog on long walks. It will make it a lot easier for them to drink it and less water will go to waste.

20) Don't forget that dog paws are just as sensitive to heat as human skin, and they have to walk barefoot all the time. On hot summer days try to walk your dog before 9 a.m. or after 8 p.m. If you can't walk them during those times than try to walk them only in shady or grassy areas.
21) Learn how to read your dog's body language.