A folly is not a real castle, but a building that was built for decoration only. However, to be a folly, it needs to look as if it has another purpose (like a castle, or a watchtower), and be so extravagant that it surpasses the decoration of the building it belongs to. These buildings actually serve no purpose, although some of them were built to help the poor and provide work for them during hard times.
Below is a collection of buildings that are famously considered as follies. There are many more that didn't make the list, and if this interests you, we recommend having a look at the full list found on wikipedia.
1. Broadway Tower – Worcestershire, England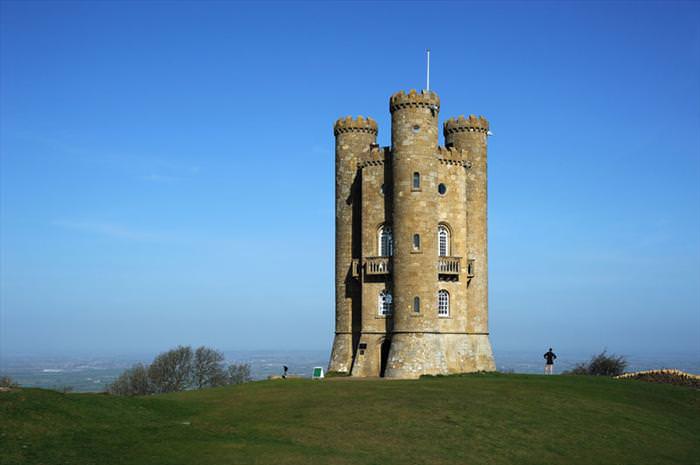 Broadway Tower is a folly built on the Broadway Hill, near the village of Broadway, Worcestershire. Its base is 312 meters (1,024 feet) above sea level, and the tower adds another 17 meters (55 feet) of height.
2. The Casino at Marino – Dublin, Ireland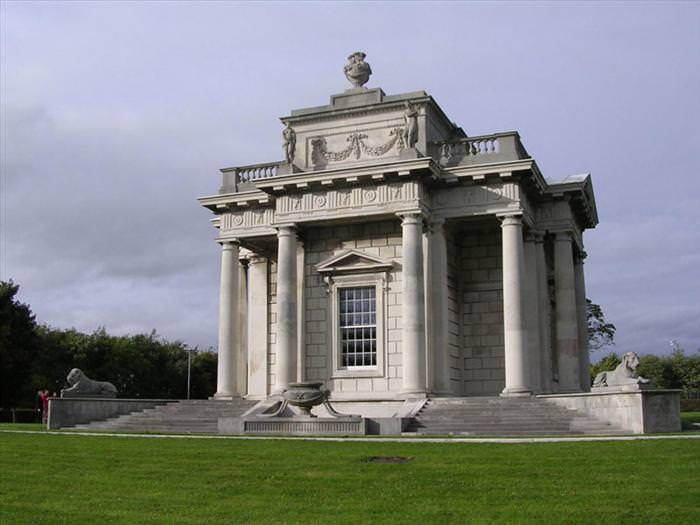 The Casino at Marino, near Dublin, Ireland, was designed by Scottish Architect Sir William Chambers for the Earl of Charlemont, James Caulfeild. It took 25 years to build (1750-1775) and is a classic example of the neo-classical style of building. It sits in the gardens of Marino House. The name 'Casino' may be misleading here, for it comes from the 18th century Italian word 'casa', which means 'house, and so 'casino' meant 'little house'.
3. Ballandean Pyramid – Queensland, Australia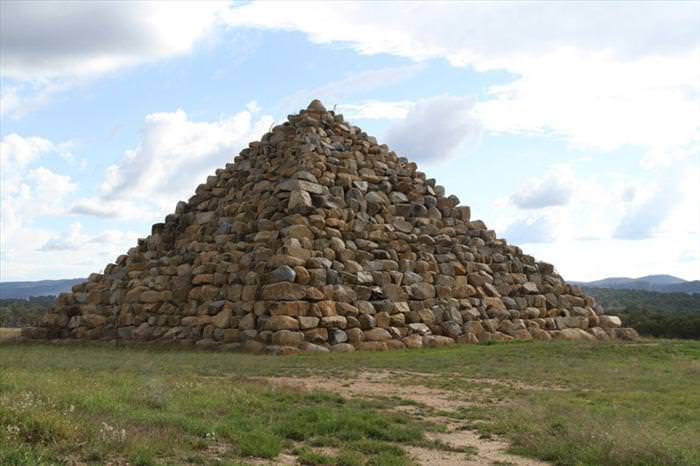 The Ballandean Pyramid refers to a pyramid made of individual rocks in Queensland, Australia. It is about 15 meters tall and the rocks are all granite. The ground the pyramid is on belongs to a local vineyard and was built by the previous land owner who was looking for something to do with all the rocks on his land. For the price of 100,000 Australian dollars and using an excavator and dump truck, the pyramid was born.
4. Conoly's Folly (The Obelisk) – County Kildare, Ireland
Conolly's Folly (also called the The Obelisk), is an obelisk in North Country Kildare, Ireland. It can be seen from 2.5 miles (4 km) away, as travelers approach the back of Castle-town. It is 140 feet (42 meters) high and made of several arches, adorned by pineapples and eagles of stone and topped by a huge pillar.
5. Freston Tower – Suffolk, England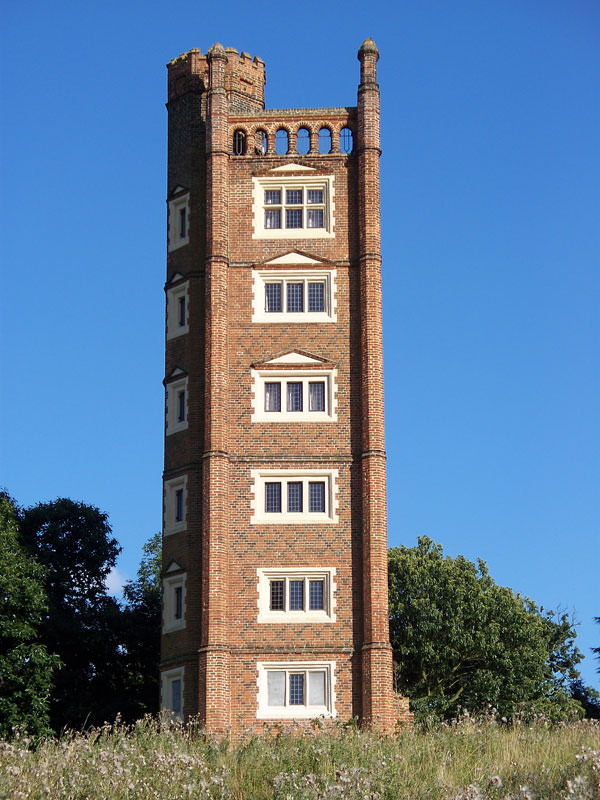 Freston tower is a folly built south of Ipswich, Suffolk, England. It has 6 stories and made of red brick. Some claim it is the oldest folly in England, with construction taking place somewhere between the 15th and 17th centuries. The company currently owning the folly claim it was built in 1578 by a wealthy merchant called Thomas Gooding.
6. Rushton Triangular Lodge – Northamptonshire, England
The Triangular Lodge was is a folly built between 1593 and 1597 by Sir Thomas Tresham, in Northamptonshire, England. It was built out of both light and dark limestone. This lodge was actually built by Tresham as a demonstration of his faith in the Catholic belief, after he spent years in prison for his refusal to become a protestant. The building has 3 floors, has 3 walls, is 33 feet long and has 3 triangular windows and 3 gargoyles on every floor. Why? Because this building was meant to symbolize the holy trinity of the catholic faith.
7. Clavell Tower – Dorset, England
Clavell Tower, also known as Clavell Folly, is a tower built in 1830 on the Jurassic Coast, Isle of Purbeck, England. It was built by a reverend as an observatory and as a folly. The style is Tuscan architecture. It is about 35 feet (11 meters) tall and sits on Hen Cliff which is already 330 feet (100 meters) tall. The tower has 4 floors, the first of stone and the other three of wood.
8. Peterson's Folly (Sway Tower) – Hampshire, England
Hampshire, New Forest National Park in England. A small village called Sway is home to the Sway Tower, a 200 foot (66 meter) monstrosity that is also known as 'Peterson's folly'. It was built by Andrew Peterson, on his private estate, between 1879-1885, and made use of concrete. It was influenced by follies Peterson saw in India. It reamins, to this day, the tallest non-reinforced concrete structure in the world.
9. The Swallow's Nest – Yalta, Ukraine
The Swallow's Next is a decorative castle built on the Crimean Peninsula in Southern Ukraine. Built between 1911-1912 on top of a 130 foot (40 meter) tall cliff. The design is Neo-Gothic, and the designer is the Russian architect Leonid Sherwood. The building is actually quite small, only 66 feet (20 meters) long and only 33 feet (10 meter) wide.
10. Sham Castle – Somerset, England
Sham Castle is a folly built in Bathampton. Sham Castle overlloks the City of Bath, in Somerset, England. It is actually a screen wall with a central arch, flanked by 2 three-story turrets, which extend sideways to a square tower at each end. It was probably designed in 1755 and built in 1762, to 'improve the prospect' of the view from the owner's town house in Bath.