The best gardens require more than money, they also require some creativity and imagination. But the VERY best gardens, in our opinion, are those that you create yourself, and if you can recycle at the same time - then we really tip our hat to you, because at these times of over consumption, recycling in creative ways are the best thing we can do for our environment, and what better place than the natural part of your house - the garden or yard.
Here are some creative and fun suggestions on how you can make your garden or yard more beautiful while also helping the environment!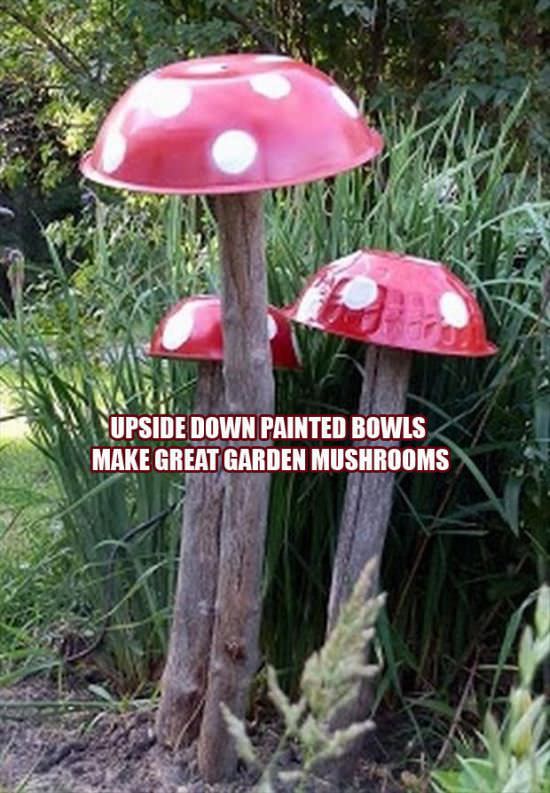 A few old bowls, a little paint and some wood poles - and you have beautiful mushrooms adding color and beauty to your garden or yard.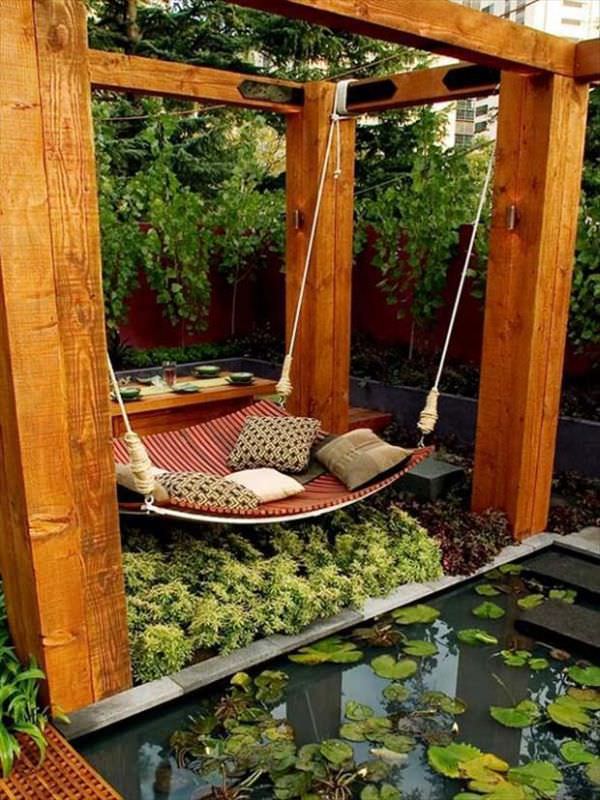 If you have some poles or trees in your yard, you can easily create an amazing resting place to enjoy, read a book or take an outside nap.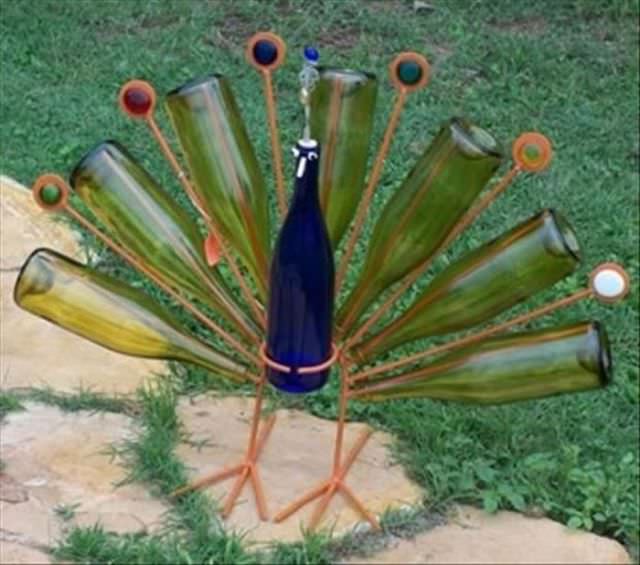 A little creativity and some old bottles can create a little peacock that is both cute and shows your skill at recycling old bottles and putting them to new use. While one such peacock may not look that snazzy, a few of them spread out across the garden can create a great, amusing feeling to it.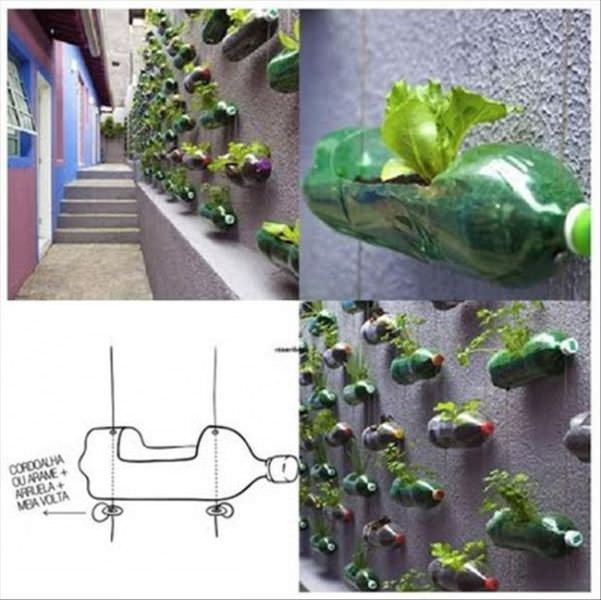 Why throw all your plastic bottles away? They are great habitats for young plants, and so light you can mount them pretty much anywhere. You can easily dye them different colors and enjoy a colorful natural display.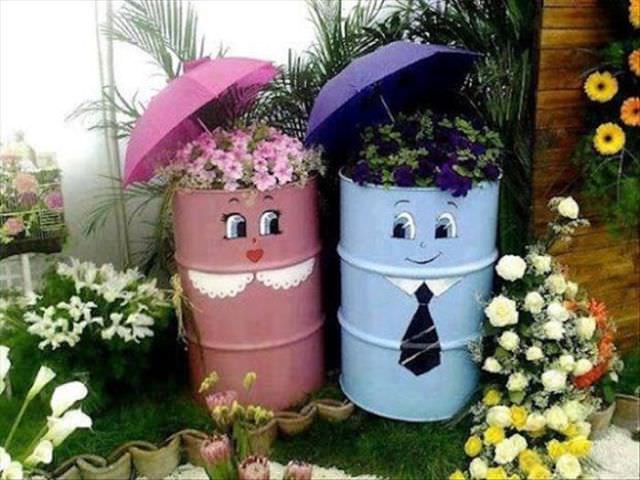 Old metal cans can be painted and used for larger plants, making a beautiful display out of something that used to be quite ugly. Now that's recycling!
Logs left unattended become a breeding place for insects and spiders, why not hollow it out, clean it up and use what was once living to bring new life and beauty to your yard? They are a great breeding ground for new flowers, last a long time and can be easily painted.
Old milk cartons are another example of a great opportunity for recycling, and a great place to grow your own herbs without having to buy them. Isn't self sufficiency fun?
A little pool of water can be such a calming and beautiful thing. But how to create one? You can use a number of techniques, from tires to simple rocks. You can cut tires to create a non-leaking floor as well!
Want to enjoy a cheap but fun little waterfall cascading down the steps in your yard? Just use a bunch of funnels at an angle, leave a slow running hose in the top one when people are coming to visit and voila! You have something to surprise them with! But don't waste the water, you can always use it to water your garden or supply drink any pets you may have but funneling it further.
If you're having guests over after dark and you want to add some magic and fun to your yard, why not place some glow sticks in a few plastic bottles. You can either spread them around to create a beautiful firefly-like display or group them together and play night-time bowling!
If you don't have soil in your yard, but only concrete, it doesn't mean you can't enjoy some grass! Use old tires and some wooden poles to make little flower and grass beds that you can arrange in any patterns you like, from animal shapes to geometric shapes, from spelling a name to make a small mosaic, the options are only as limited as your imagination!
A flowerbed alone is beautiful, but why not add a bit of creativity and whimsy by making them look as if they just flowed from an old can? It's good for recycling and definitely draws the eye!
Want to have a more magical garden? Ask a local carpenter to make you a little door and window, and use some round wooden blocks to make a magical munchkin trail and habitat. Just glue the tiny door and window on the tree and add the blocks. A good idea is to dig up a little moat of stones, and make a little bridge. You can also put flower beds on each side of the trail to mimic a little forest!
Bored of regular shaped pots that are heavy and expensive? Make a beautiful and creative pot in any shape you want with only stones, soil and a plastic net. You can use a bit of cement to glue the rocks together or build the net first and then fill it with the rocks to make an instant pot in lots of creative shapes!

A few metal bars hooked together and a plastic sheet can give you your very own greenhouse to grow amazing plants more quickly!
Old ladders, especially wooden ones, can turn from clutter to beauty as they provide a lot of shelf space to hang lights and other eye candy from. Paint them white, brown or green and put them against trees, and they'll look right at place while also giving you an easy solution for hanging lights.
If you have old cans, let your kids have some non-digital fun by going outside and playing. They can shoot at the target, try to get the stones in, or keep little things inside them that you'd rather they didn't bring into the house! If you want to go one step further, why not paint a bulls-eye on the cans and give points according to where they hit!
Another little game that's also pleasing to the eye only requires 9 flat stones and 10 smaller ones to represent X and O so you can play tic tac toe! But why stop there? If you have enough rocks, why not make a checkers field or even a chess one? It's much more fun than playing on a board and you get some sun while you're at it!

Want to create beautiful hanging flower beds? Use some plastic pipes or old poster canisters and cut them in half, each providing you with 2 great flower beds to use. Make sure to close off both ends and finish by tying them up in string or metal fiber. Hanging these off a tree limb creates a beautiful green look, but they can be hanged from anywhere you like.
As you've seen previously, stones can be used in endless creative ways, and they are easy to find. But to get some beautiful, silky smooth stones, visit the nearest beach and spend a day collecting the most beautiful and colorful pieces. Then you can create little artistic objects like these beautiful footprints.
Submitted by: Josh H.