Born in Toronto in 1929, Frank Gehry has proved to be a whirling storm of creativity when it comes to architecture. Starting with a furniture line in the USA, he began to transform his own house, thus becoming famous. What followed were decades of exquisite structural design for Gehry. Below are 15 of his most famous and celebrated works.
#1 Museum Of Pop Culture, Seattle, Washington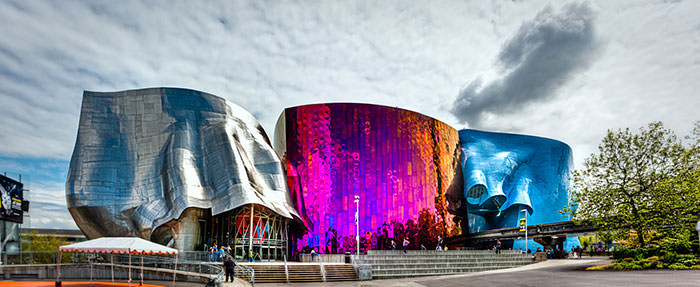 This huge building gives the impression that it is melting in the Seattle sun. The structure is covered by sheet-metal and was inspired by rock music and the energy it generates.
#2 Fred And Ginger, Prague, Czech Republic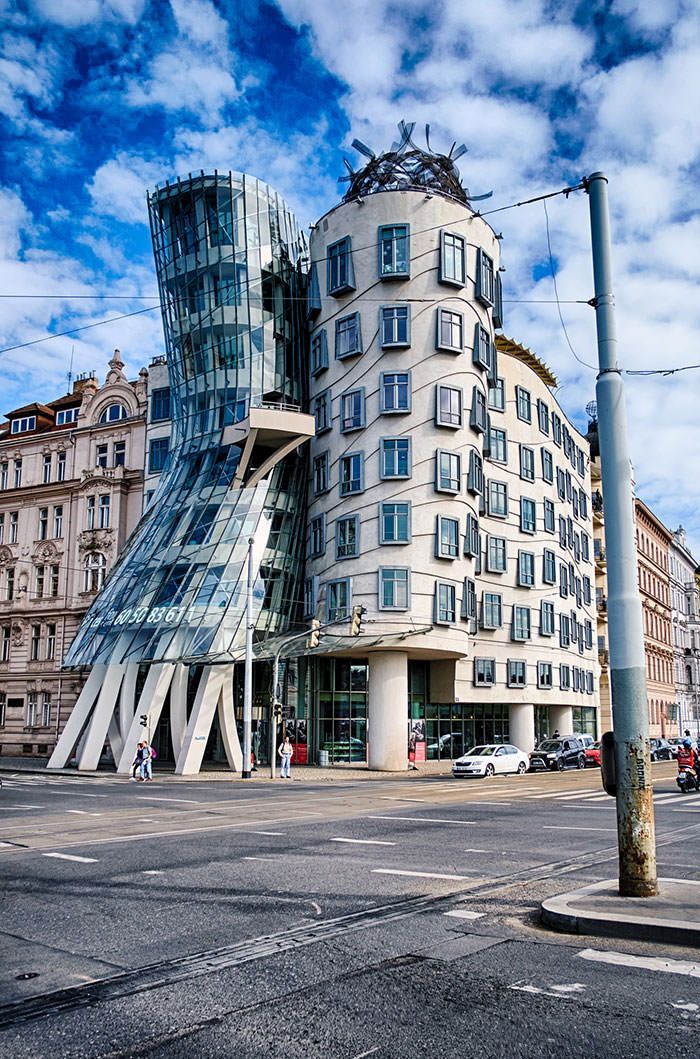 Named after the duo of legendary dancers Fred and Ginger, this building is also known as "The Dancing House". This was a very controversial work because the buildings are facing each other and are very different from the surrounding buildings.
#3 Lou Ruvo Center, Las Vegas, Nevada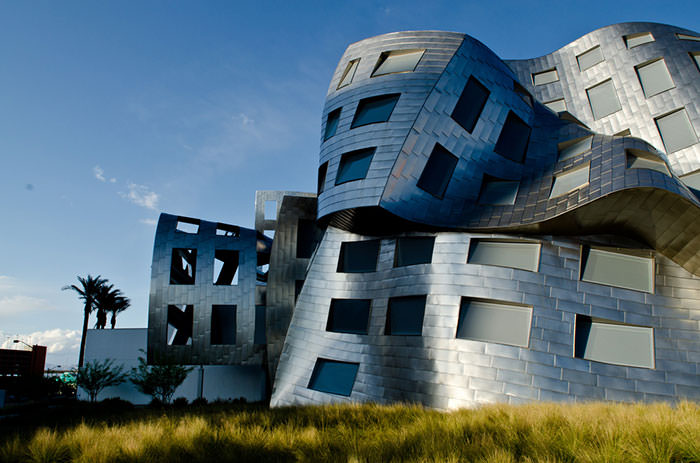 This center for brain health was named after Lou Ruvo, who lost his father to Alzheimer's and helped fund the construction.
#4 Marqués De Riscal Hotel, Elciego, Spain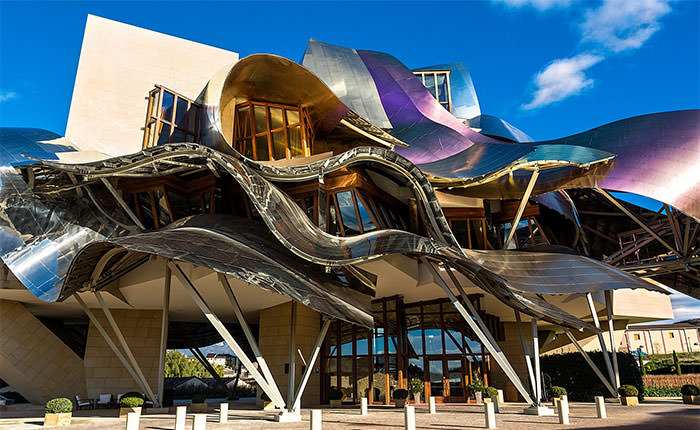 This small Spanish town is in a region famous for its wine, but this luxury hotel brings a lot more tourists these days, presenting something unlike anywhere else.
#5 Stata Center, Cambridge, Massachusetts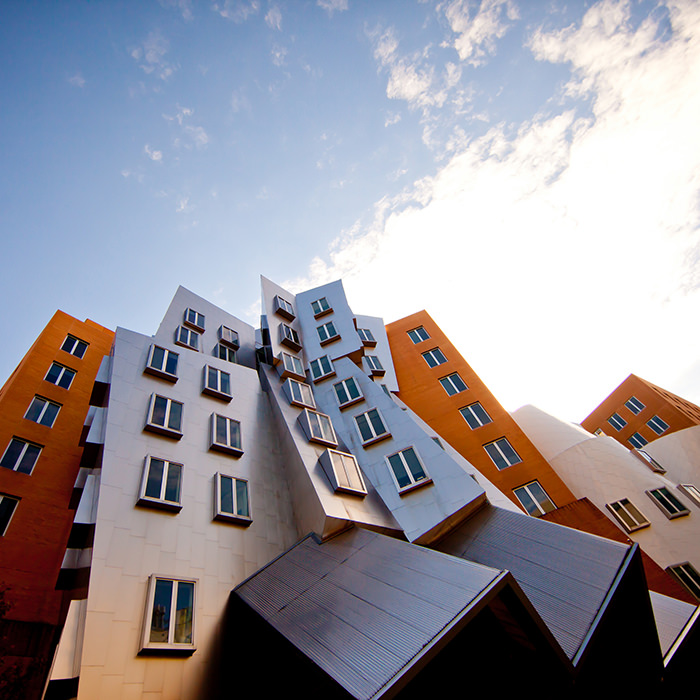 "The Ray and Maria Stata Center for Computer, Information and Intelligence Sciences" is the name of this fascinating building. It was designed for the famous learning center MIT in 2004.
#6 Dr. Chau Chak Wing Building, Sydney, Australia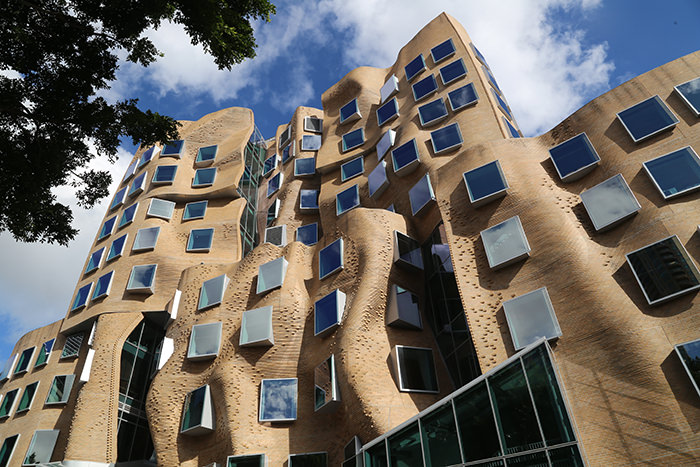 This was Gehry's first project in Australia, completed in 2015. This business school used about 320,000 custom-made bricks for construction.
#7 Vitra Design Museum, Weil Am Rhein, Germany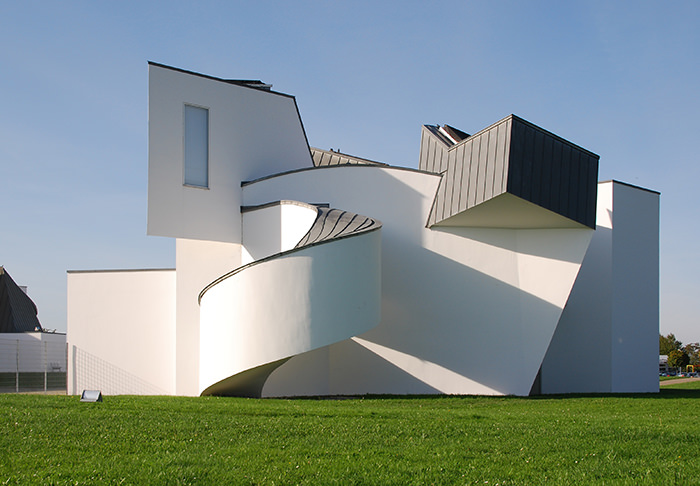 the first of his buildings in Europe, this museum shows interior design pieces, yet the building itself gets most of the attention. This was also the first use Gehry made of curved forms in his buildings.
#8 Biomuseo, Panama City, Panama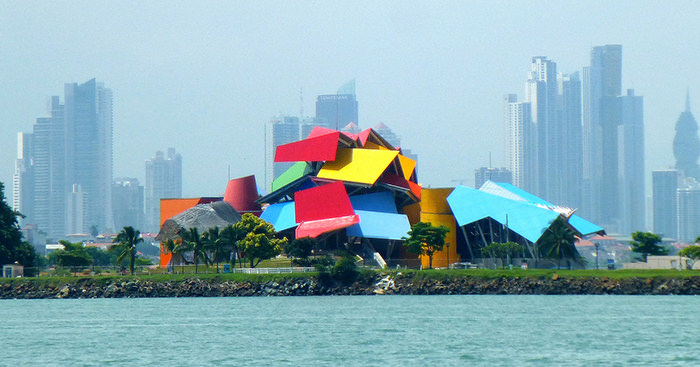 This building may look like a bunch of colorful tents collapsed, but this is actually an ecology museum. An early project for Gehry in Latin America. The bright colors are not part of his usual style, and yet he chose to honor the requests of Panamanian politicians to make it more colorful and thus better fit the rich culture and style of Panama.
#9 Walt Disney Concert Hall In Los Angeles, California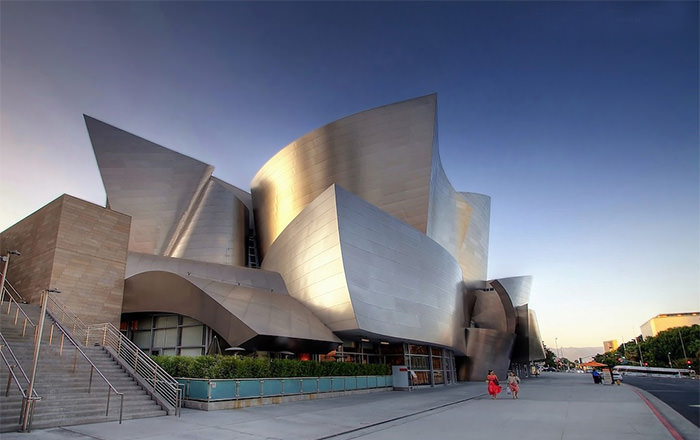 Taking 15 years to create, the Walt Disney Concert Hall was finished in 2003, costing a whopping $274 million. However, critics and travelers both agree that it was worth both the wait and the expense. It has become an essential part of the city and brings a lot of tourists to see this fascinating building, which almost seems to be in motion.
#10 Guggenheim Bilbao, Bilbao, Spain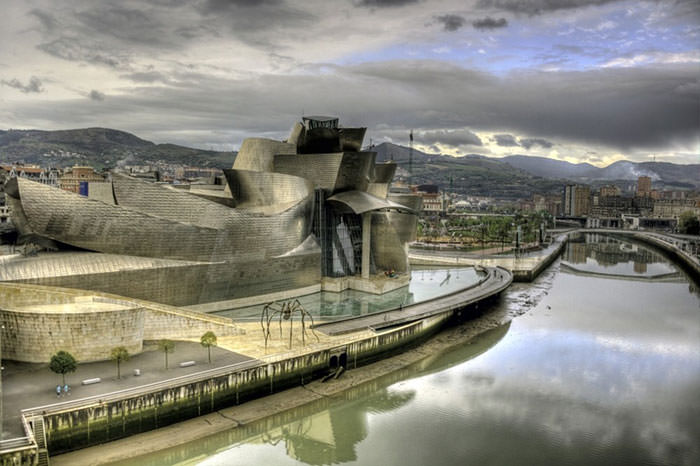 Guggenheim Bilbao serves a big purpose - it's a museum of modern and contemporary art. However, the building itself is part of the art. This building has been named as one of the most important works of architecture in recent decades and has drawn many tourists to the city of Bilbao, generating over $160 million for the local enterprises. The effect of the building was SO successful, in fact, that the phenomenon even got a name - The Bilbao Effect.
#11 Binoculars Building, Venice, Los Angeles, California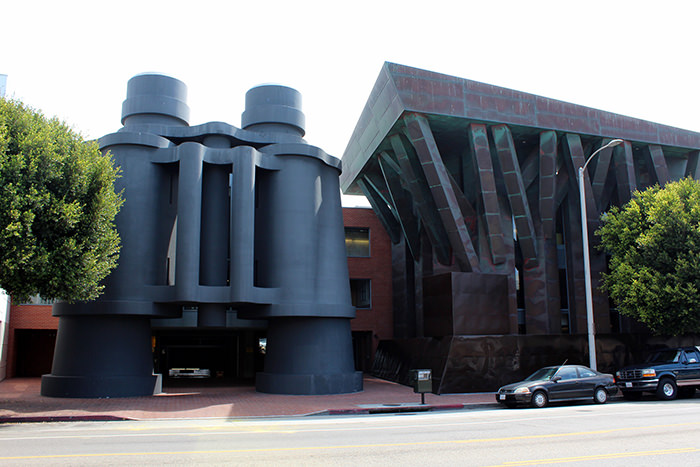 Even though its original name was the Chiat/Day building, it didn't take long for people to start referring to it as "The Binoculars building." Can you really blame them? The giant binoculars, however, are not a structure but an art piece by Claes Oldenburg and serve as an addition to the structure itself.
#12 Weisman Art Museum In Minneapolis, Minnesota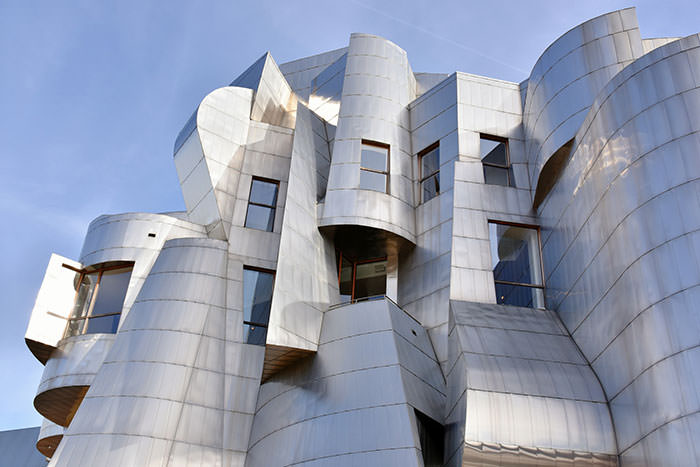 It's rare to find an abstract piece of art based in the physical world, but this fascinating construction is located at the University of Minnesota campus and in an expression of that art style.
#13 Art Gallery Of Ontario, Toronto, Canada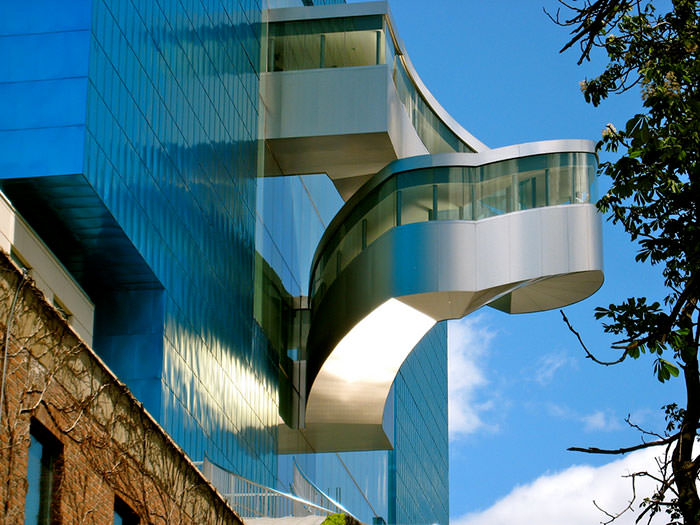 Frank Gehry was 79 in 2008, the year he finally finished his first-ever Canadian project, and in Toronto, the city he was born in.
#14 Foundation Louis Vuitton, Paris, France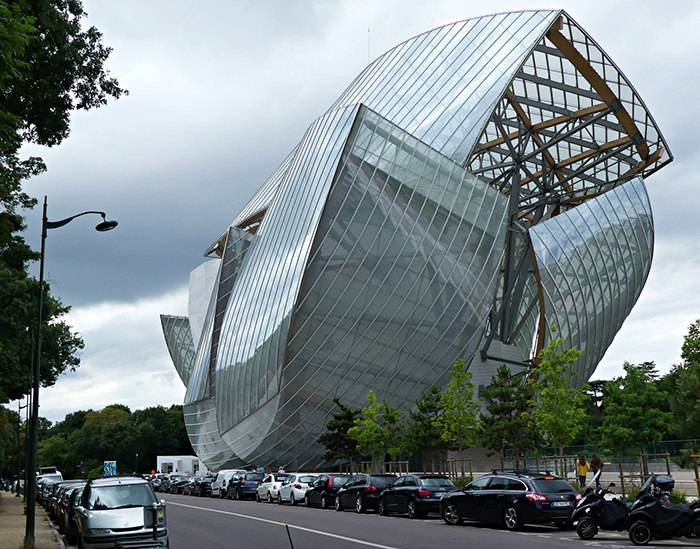 The Louis Vuitton Foundation is both a museum and a cultural center that resides in Paris. This master structure took 3,600 glass panels and 19,000 concrete panels to for this almost ship-like structure.
#15 Richard B. Fisher Center, Annandale-On-Hudson, New York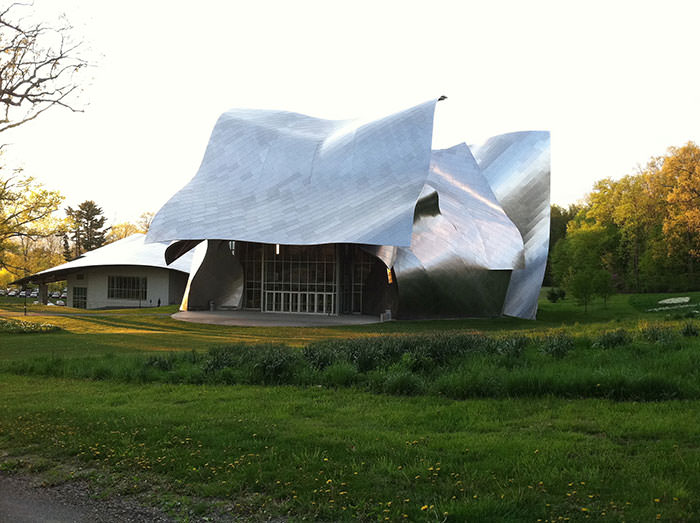 This metallic looking center has been described as the "best small concert hall in the United States." Even though it may look quite small from the front, it actually contains 2 theaters and several rehearsing sound studios. The building is also very green, built to demand the minimum of power and not to rely on fossil fuels.