Murals are a great way of expressing one's thoughts, emotions and opinions through art that is out in the open for everyone to behold. Artists continue to use murals to speak their mind in ways that can rarely go unnoticed. Murals showcase what artists feel about political issues, social issues and world problems, while also illustrating their mesmerizing art at the same time. Some people may think of murals as a form of vandalism, which is in fact just another art form we need to appreciate. Below are 10 stunning murals from around the world that will undoubtedly leave you spellbound.
1. Eduardo Kobra paints David Bowie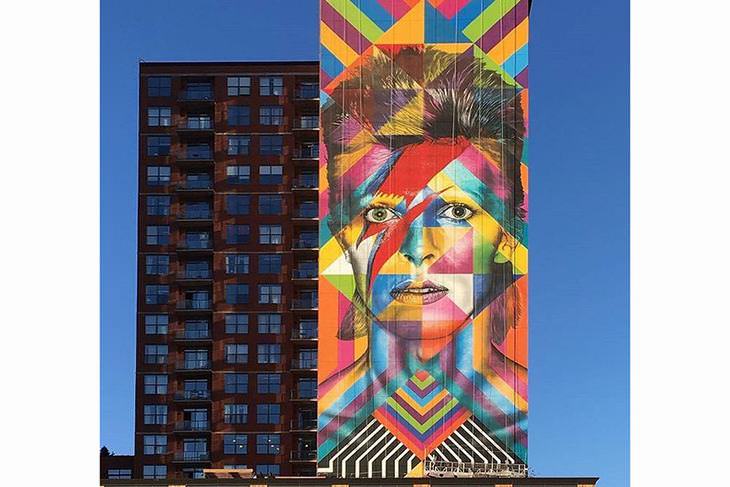 In this mural, Brazilian artist Eduardo Kobra paints a stunning portrait of the late David Bowie as depicted from his Ziggy Stardust days in New Jersey. While the recognizable orange lightning bolt is still there in its original color, everything else is painted in Kobra's colorful geometric style - with a touch of black and white.
2. Guido van Helten's Salt of the Earth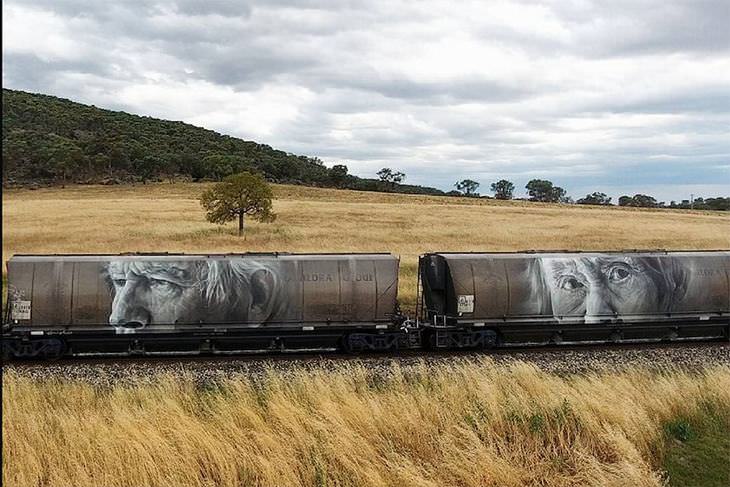 This beautiful piece was painted on train cars and features the artist's signature portraiture of two elderly people.
3. Bordalo II for Castelo de Artes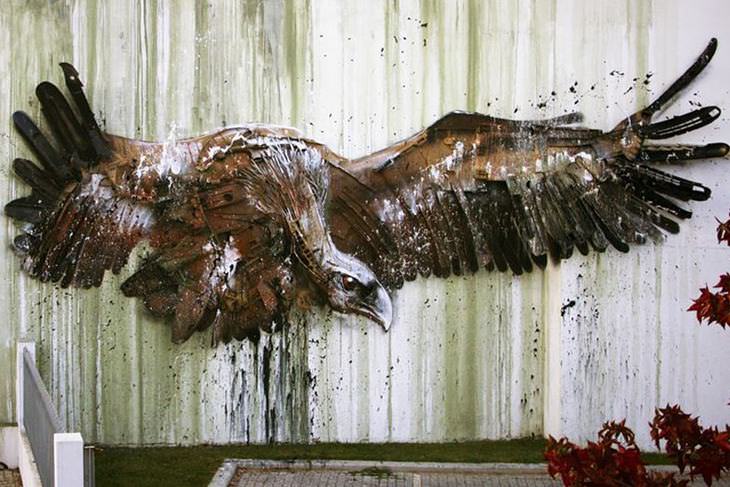 Bordalo II is known for his incredible murals created out of trash. The mural is said to be an homage to CERAS, a local NGO which received hurt animals and takes care of them until they're well enough to go back into the world.
4. Lonac creates Nitpicking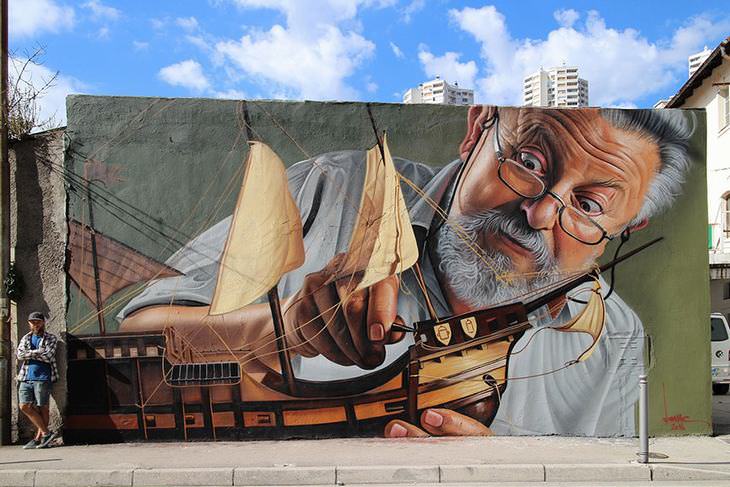 This is possibly one of the most beautiful murals. It belongs to Croatian creative Lonac, who authored this masterpiece for MMSU Rijeka Spajalica festival in his homeland. This work of art is a breathtaking portrait of a man focused on the model of a ship.
5. WD Wild Drawing in Athens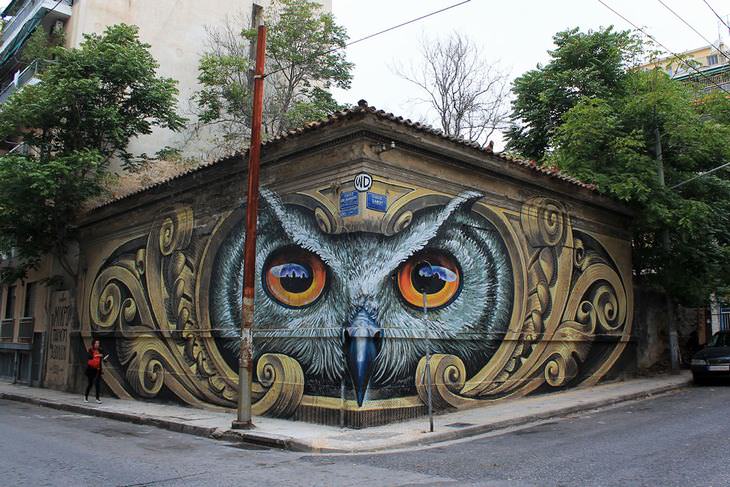 This drawing covers two walls in Athens and is an absolutely remarkable mural of an owl. It was made during Petit Paris d'Athènes festival. It pays homage to the bird as the symbol of wisdom and the goddess Athena.
6. Fin Dac paints Resurrection of Angels
This work of art can be seen in Venice, California. Artist Fin Dac portrayed Nicole Wu against a pitch black background on a building, giving her wings. He is best known for his portraiture of women. He tends to mix things up with elements of local culture.
7. Fintan Magee paints a Young Girl in Limbo, in Amman, Jordan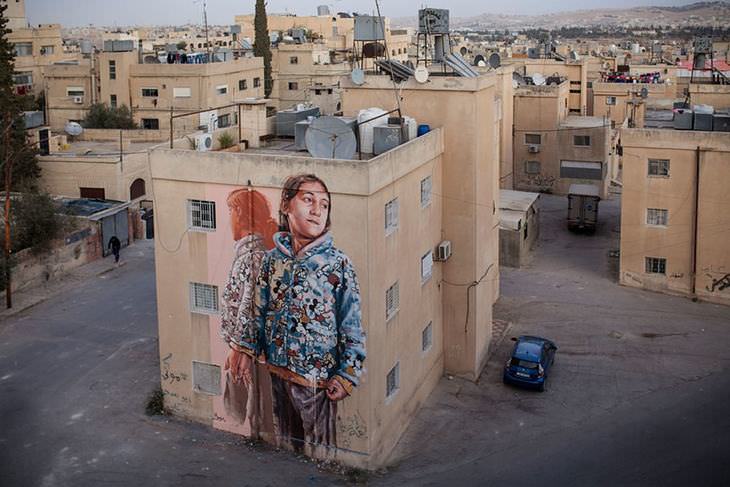 This portrait, painted by Fintan Magee, shows a young girl in limbo, she is torn between two worlds. It can be found in a predominantly Palestinian neighborhood. The girl's image in the foreground is looking outwards towards an uncertain future. Meanwhile, her background reflection is looking back, towards the world she left behind.
8. Bansky creates Spy Booth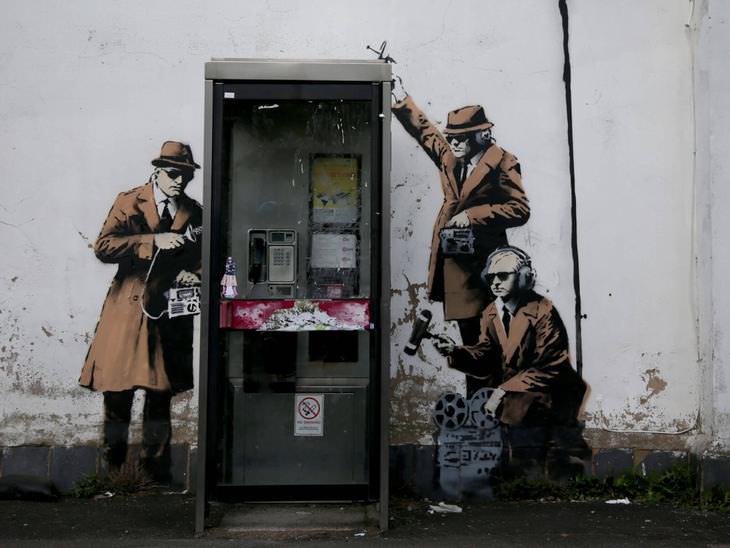 One of the world's most famous murals creator is Bansky. This design, which was also one of the most popular murals on the pages of Widewalls was made in Cheltenham, UK. The design depicts three people trying to spy on a telephone call.
9. Millo creates Everyone is Searching For It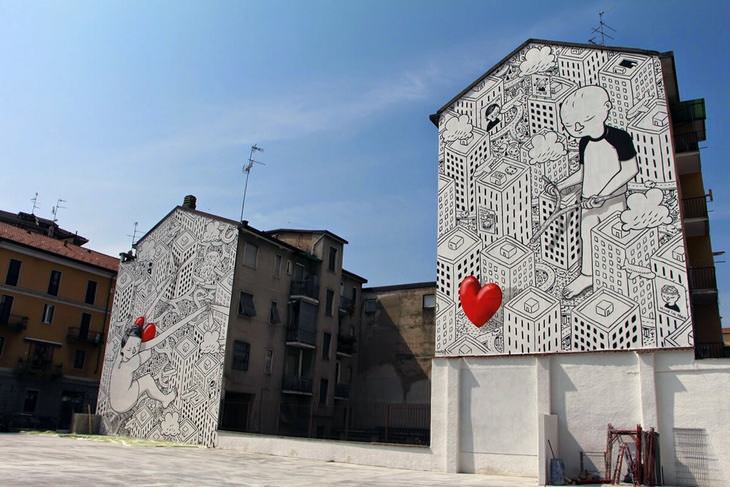 Located in the city of Milan, this mural depicts the story of love, hope, and loneliness in Millo's signature red, black and white hues.
10. Nychos creates Dissection of a Polar Bear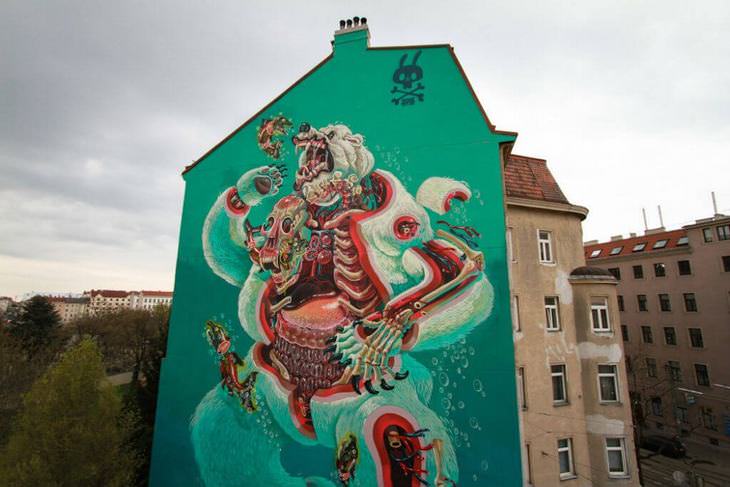 Nychos is one of the most beloved artists who creates stunning works of art. He stays true to his signature depiction of dissected animals. This mural was created by him to celebrate the 10th anniversary of the Rabbit Eye Movement. It is also the largest street art piece in Vienna.