One of the most common pieces of advice most of us have received throughout life is not to judge a book by its cover. However, when we want to buy someone we love a gift, a lot of effort also goes into wrapping it. A beautiful wrap can stir, delight and make an impression on the person receiving the gift even before they open it, but that does not mean that you have to waste a lot of money or time on it.
The following ideas include simple, easy and quick tips for upgrading your gift wrapping, with each one being beautiful and unique. Choose your favorite and surprise your loved ones!
1. Green Wreathes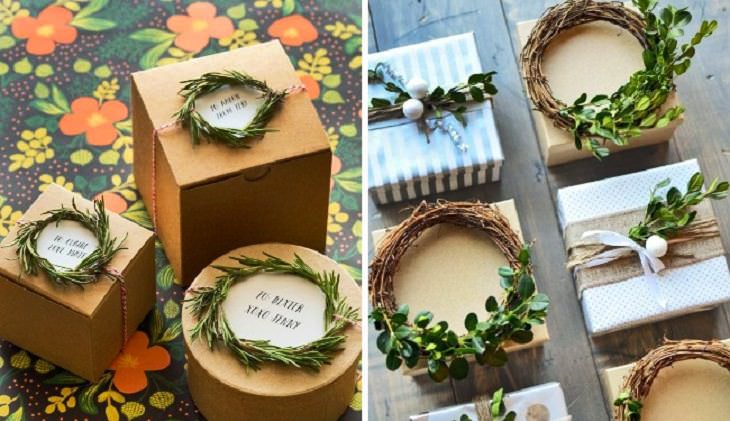 If the box you're giving your gift in is plain and brown, a great way to offset it and add some life and color is by adorning it with some green leaves and branches turned into a wreath. In the center of the wreath, you can add the name of the recipient, write greetings, and so on. If you don't have time to make a wreath, tying a few beautiful leaves and taping it on the top will do the job as well.
2. Happy Monster Gift Bags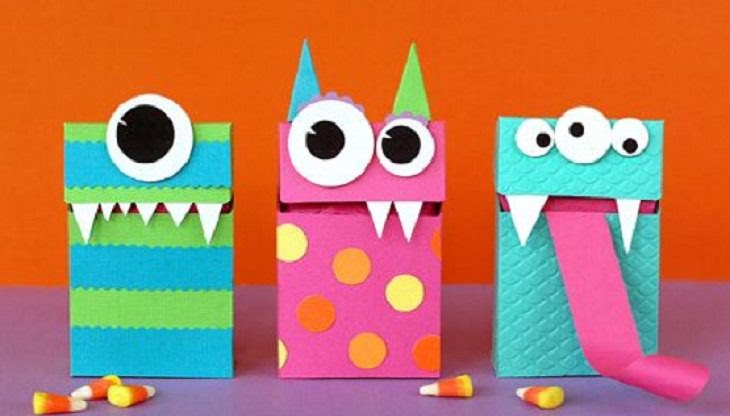 Any colorful box can be turned into a scary monster! Just add triangle teeth, googly eyes (or eye) and anything else that your imagination can come up with. Children and adults alike will be very amused by the result!
3. Hint Packaging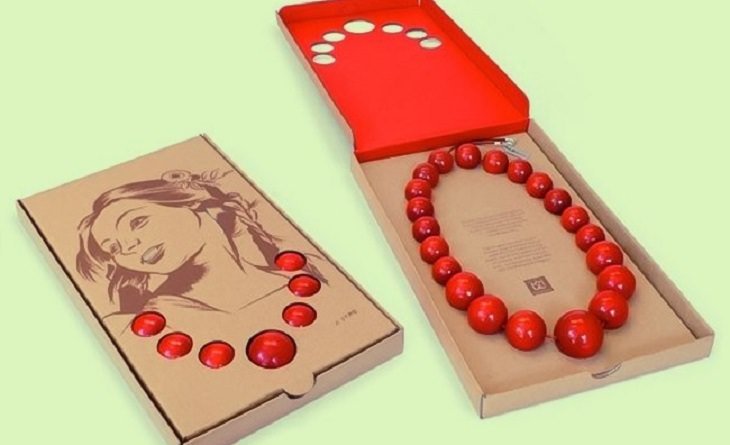 If your gift has an interesting shape or texture, why not hint at it before it needs to be opened? By cutting small holes on the packaging you can grab the attention of the receiver from the very first moment. If you have drawing skills, you can also add an illustration that will fit well with the opening, such as in the necklace above.
4. Paper House Gift Bag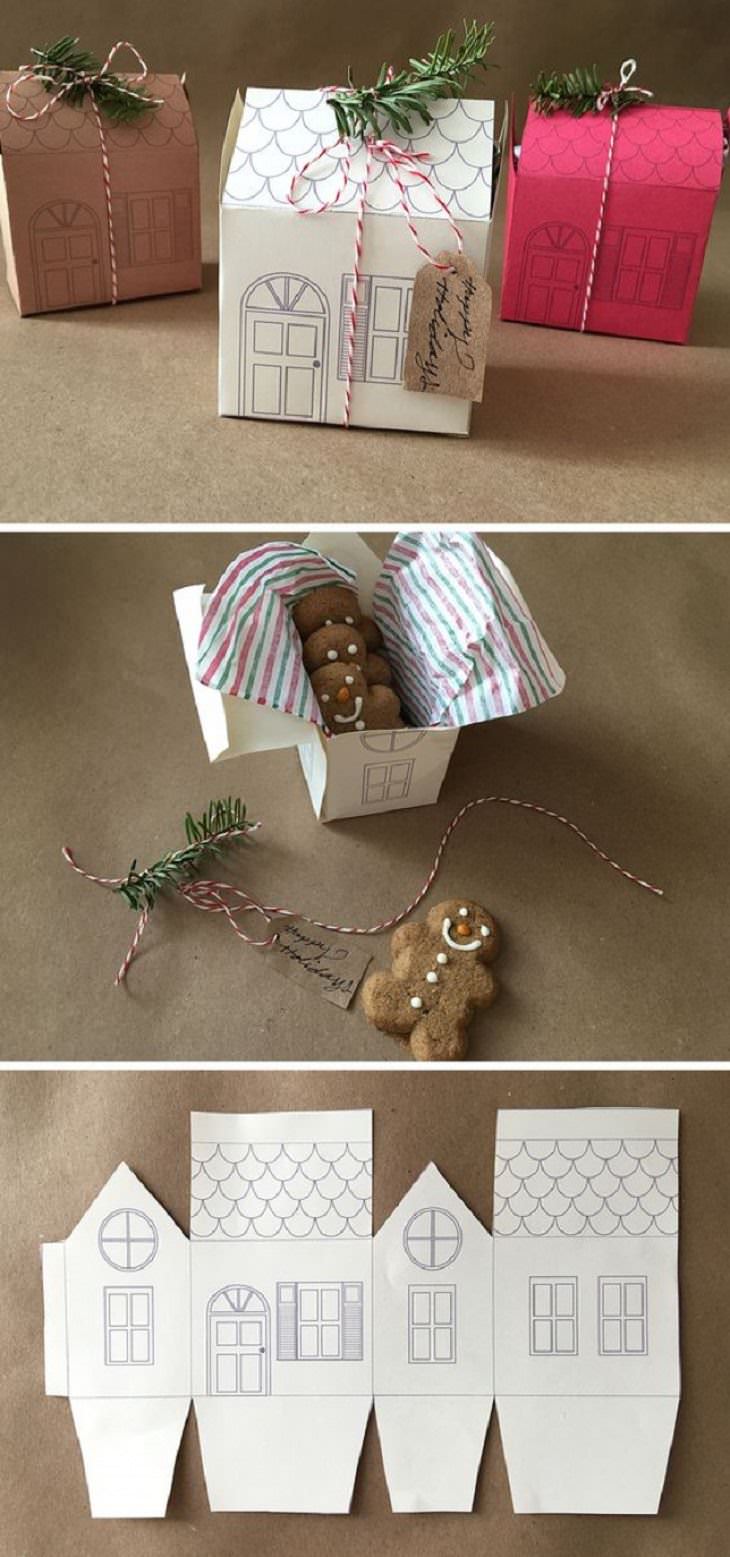 This gift bag is really easy to make, all you need is cardboard or thick Bristol paper. Trace the outline of the house on your choice of paper, cut it out and put together. This gift bag is great for making something simple, like homemade cookies, into something magnificent.
5. Postcard Gift Wrap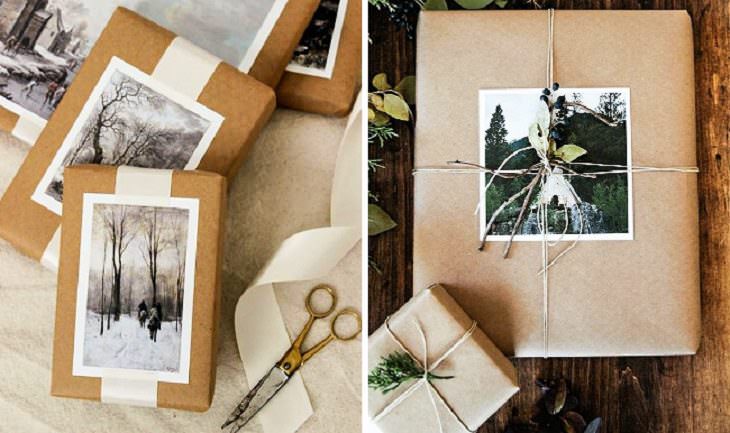 Buying a book as a gift? Make the wrapping more interesting by gluing a postcard that you like, a picture of the recipient of the gift or one that hints at the contents of the book. This addition doesn't require much time or effort and turns plain wrapping into something really special.
6. Nutshell Box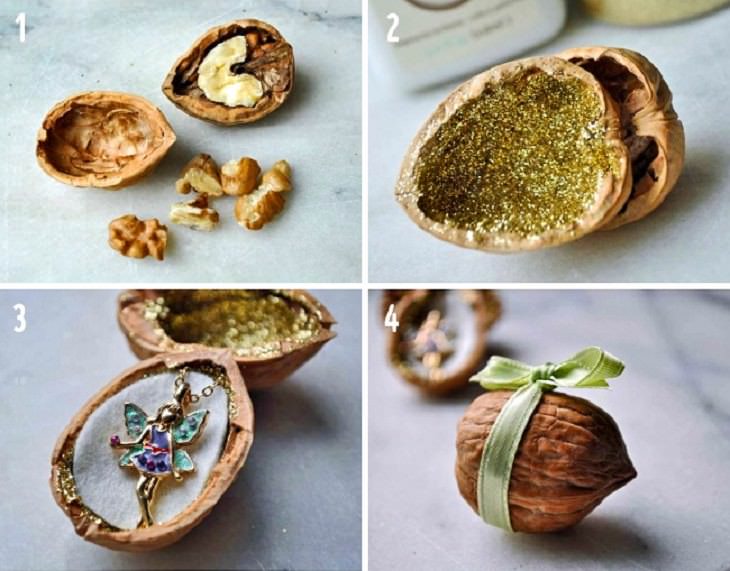 Repurposing walnut shells into a gift box is really thinking out of the box. Decorating it with some glitter and ribbon, and placing a small piece of jewelry in it makes fairytales come true for the recipient.
7. Gift from the movies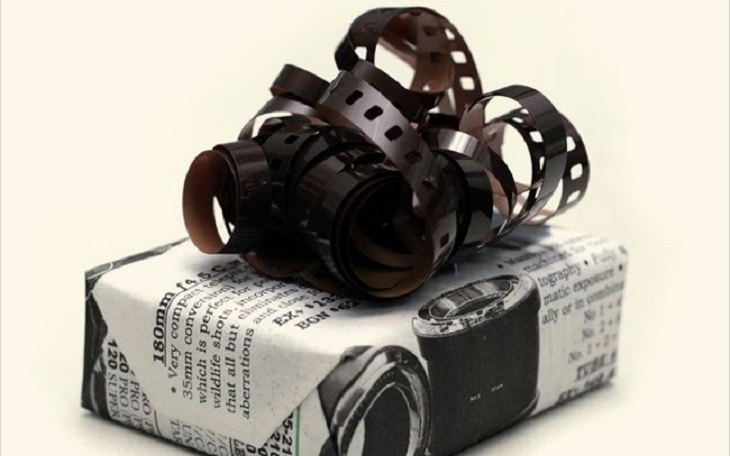 Buying gifts that relate to the world of cinema in any way, from a DVD to movie theater subscriptions, gives you the opportunity to add some silver screen flare to the wrapping! If you have some unused film roll lying around, unroll it, turn it into a bow, and top your gift off with a wonderful little movie inspired touch.
8. Cone-Shaped Gift Box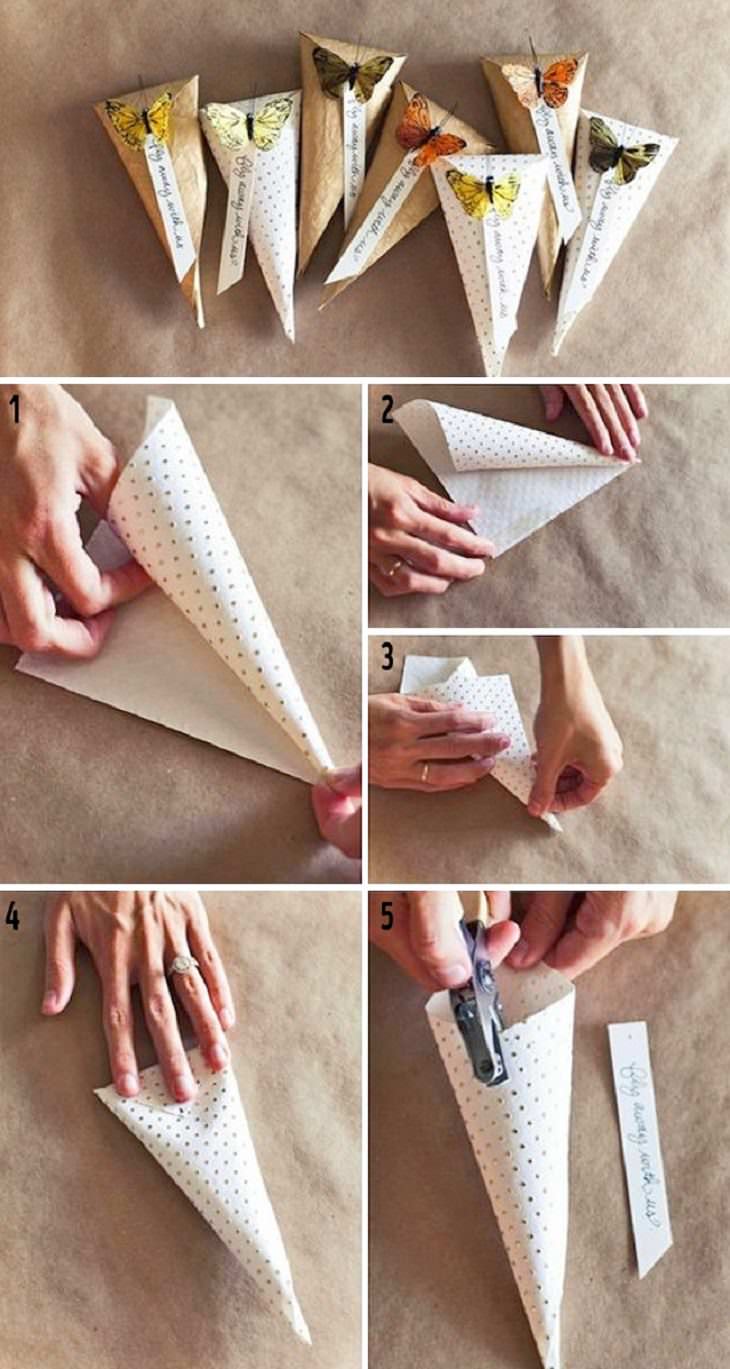 Who decided that gift boxes need to be square? Smaller gifts can be better wrapped using this next cone-shaped gift box! Just roll some wrapping paper into a cone shape, tape the edges together, put the gift into the cone, and close the open part like an envelope, that's it!
9.

Yarn

Decor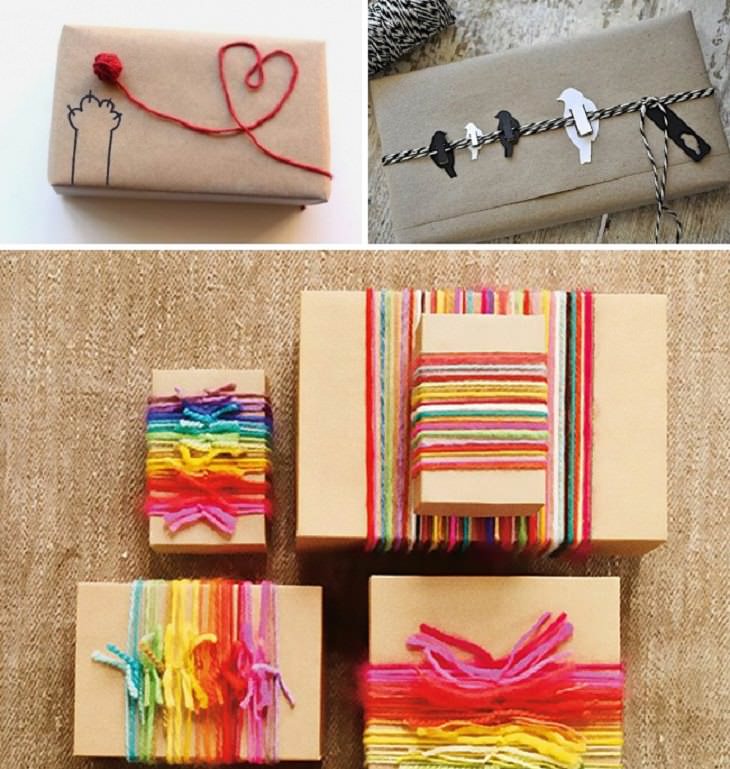 Different colored yarn can make your wrapping especially exciting, and since this is a very easy material to glue, shape, and change, the possibilities are endless.
10. Buttons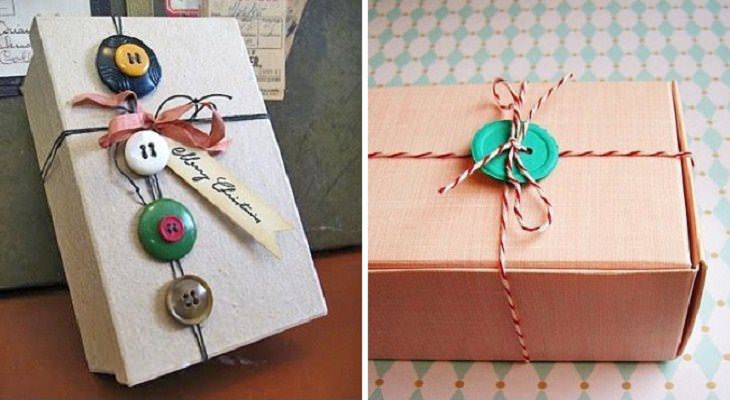 The next idea is not only beautiful but also perfect for those who find it difficult to tie ribbon perfectly around boxes. All you have to do is thread a button on your twine or string and tie! You can thread a few buttons through the string if you want to make it extra special, but one button will do the trick.
11. Emoji and Fruit Gift Wrap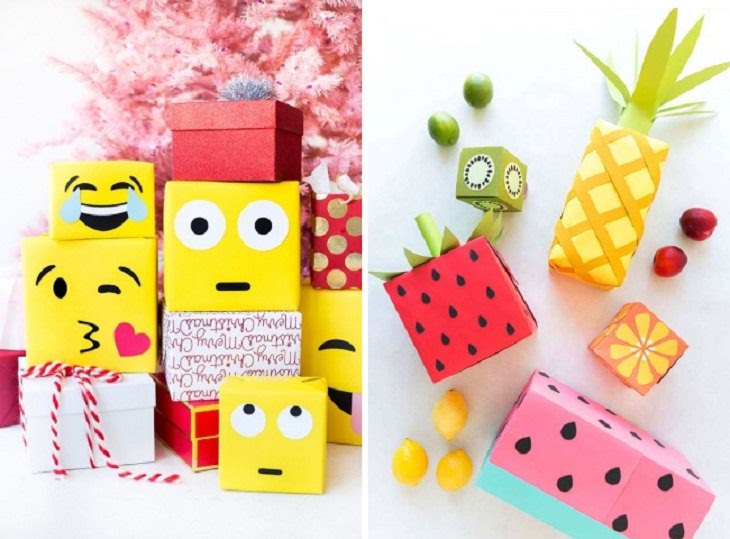 Is your box yellow, red or green? Make it a base for a cute emoji or appetizing fruit. All you need is colored markers, Bristol paper, scissors and glue, and of course a little imagination. The result is sure to delight all!
12. Mini Flags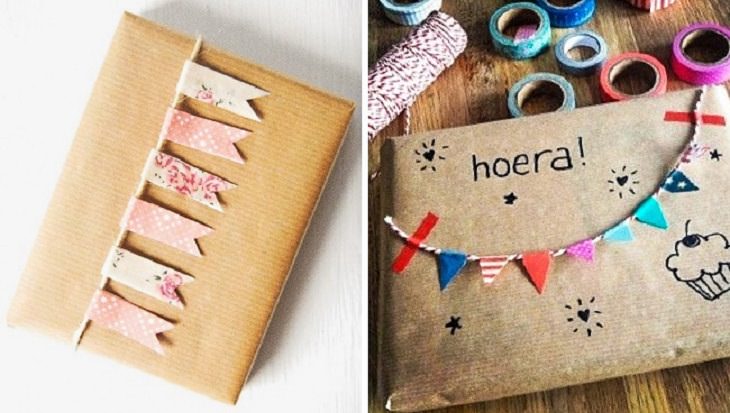 Adding flags to your wrap will turn any gift into a real celebration!
13. White on white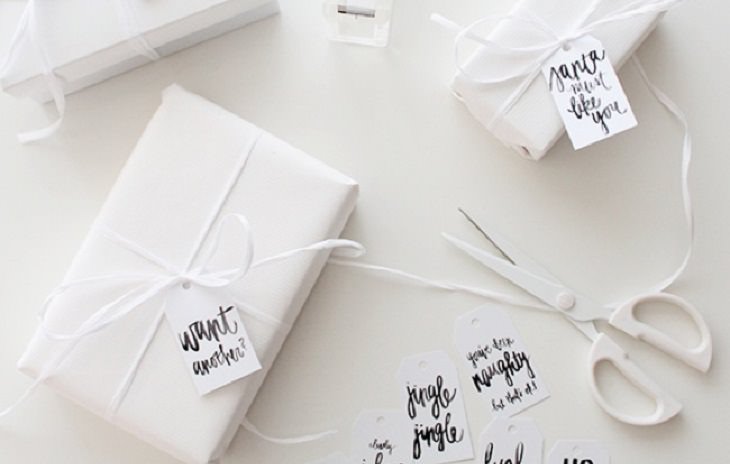 And what about those who want solid wrapping? Sometimes the choice of white can create the desired impression, and what is important to be careful in such a case is to make sure the ribbon, paper, and card are the same color. This idea is great for weddings or other official events.
14. Bottle elves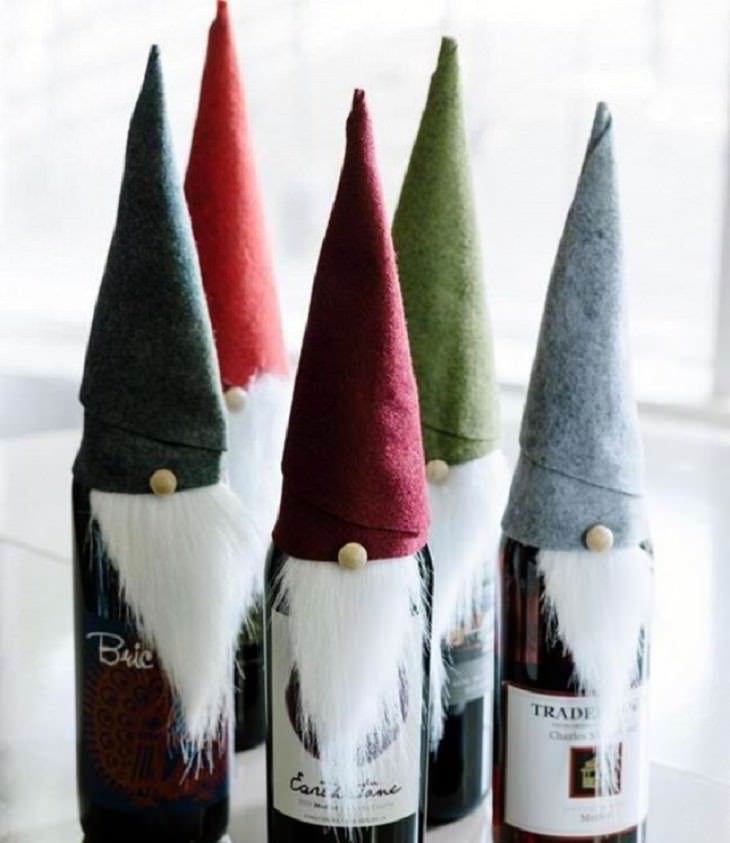 Among the items we all give as gifts but have trouble wrapping, of course, are wine bottles. A bottle of wine is a great gift, but how can you change up its look? Making a hat by rolling fabric into a cone-shaped, and gluing on a beard and a cute little bead nose can turn your bottle into an adorable little elf in no time. No doubt your guests or hosts will be very happy to discover such a surprise on the holiday table.