Donuts or doughnuts, depending on where you happen to come from, are the ultimate treat. There is much debate over the correct spelling of this popular sweet snack, but, I think we can all agree that they are absolutely delicious - even more so when you have taken the time to make them yourself. This recipe will guide you through the steps of how to make classic strawberry jam doughnut/donuts.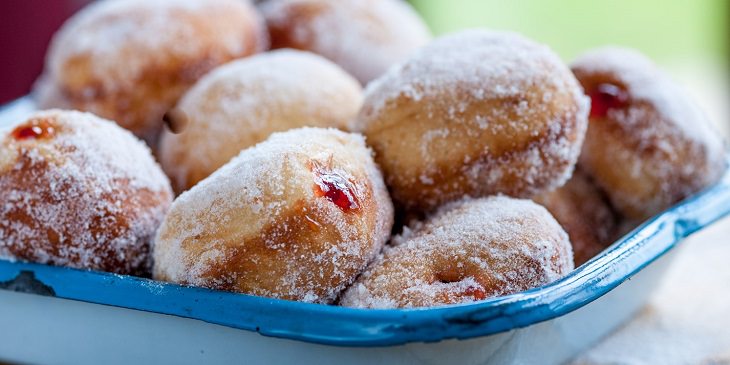 Strawberry Jam Doughnuts/Donuts (Makes 18)
Ingredients
• 1 1/4 tsp dried yeast
• 7 2/3 fl oz of milk, warm
• 8 3/4 oz of caster sugar
• 16 oz of strong bread flour, white
• 1 large egg
• 2 tsp vanilla essence
• 1 oz of butter, thinly sliced
• 1/2 tsp salt
• 2 1/8 pints of vegetable oil, for frying
• 12 2/3 oz of strawberry jam, for filling
Method
1. To activate the yeast, combine with warm milk and 50g of sugar and bring it to 38 °C. Leave in a warm place until it begins to foam.
2. Mix the flour, egg, salt, and vanilla in a food mixer with a dough hook attachment.
3. Once the yeast mixture is foaming, pour it into the flour mixture and continue to knead until a soft dough has formed.
4. Turn out onto a lightly floured surface and knead for around 5 minutes in order to strengthen the dough.
5. Place the dough in a large plastic container and spread the thinly sliced butter over the top. Cover with a damp tea towel and leave somewhere warm to proof - until it has doubled in size.
6. Knock back the dough and ensure the butter is mixed in evenly.
7. Separate into doughnut/donut shaped balls, approximately 20g each, and knead until smooth and round.
8. Place on a baking tray lined with baking paper. Leave plenty of room for them to proof. Cover with plastic wrap and leave them somewhere warm to proof again.
9. Heat a deep fat fryer to 190°C. Once the balls have doubled in size, carefully place them (one by one) into the fryer.
10. Once the underside has turned golden brown, gently and carefully turn them over. Continue to fry until they have become evenly colored.
11. Remove from the oil and shake off any excess. Roll the doughnuts in caster sugar until they are evenly coated. Leave to cool on a wire rack.
12. Once cool, make an incision in the side of each one and pipe in a small amount of strawberry jam.
Source: greatbritishchefs