At this time of year, I enjoy nothing more than a warm, hearty bowl of soup. This time of year is also a great time to experiment in the kitchen and stay warm by the hot stove. So, next time you decide to serve up a soup try this delicious and filling baked potato soup. Take a look:
Ingredients
• 4 slices bacon, finely diced
• 2 tbsp. flour
• 1 cup chicken broth
• 3 cups milk
• 2 large russet potatoes, peeled and diced
• ½ cup sour cream
• ½ cup cheddar cheese, shredded
• 3 green onions, finely diced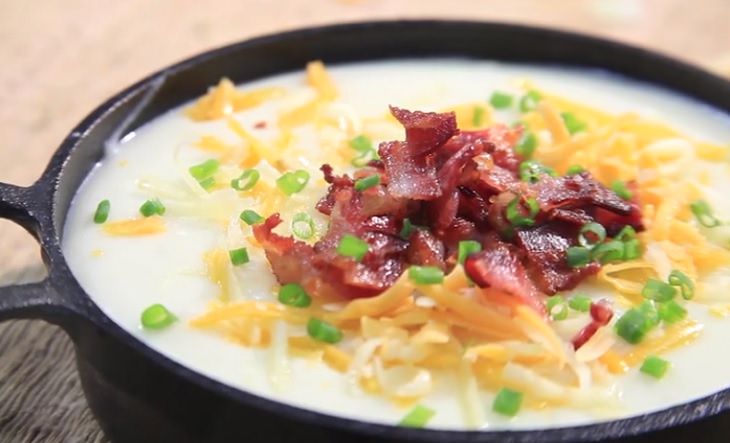 Directions:
1. In a soup pot or Dutch oven, cook bacon on medium high heat until it has become crispy.
2. Remove bacon and set aside. Add flour.
3. Whisk until flour mixture becomes slightly brown, about 1 minute.
4. Add the chicken broth, milk, and potatoes. Bring mixture to a light boil.
5. Reduce heat to medium low. Cover and simmer until potatoes are thoroughly cooked; about 20-25 minutes.
6. With an immersion blender, puree soup until consistent.
7. Add the sour cream, cheddar cheese, green onion, and cooked bacon. Season with salt and pepper.
8. Heat over medium heat, constantly stirring until the cheese is melted.
9. If the soup is too thick, thin it out with a bit more broth.
10. Garnish with cheddar cheese, cooked bacon and green onion.