Dog and Tina - 1985/2015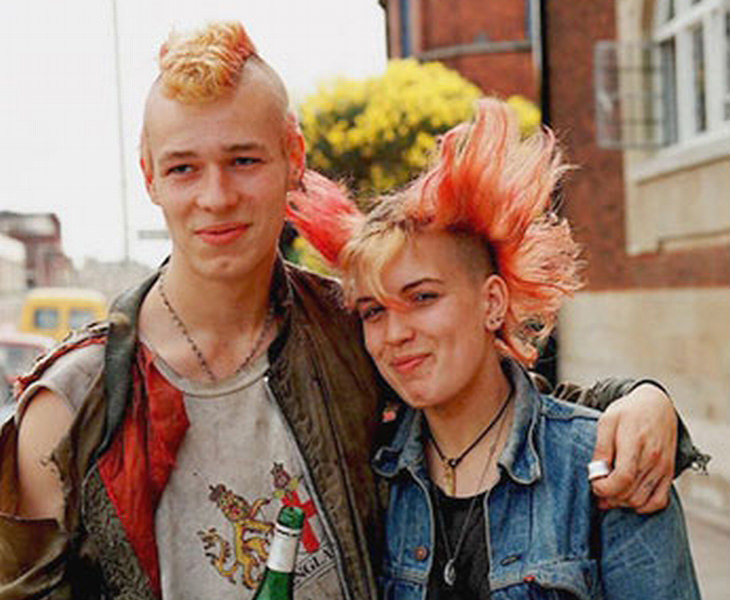 Punks Tina Parr and her partner Dog were spotted near Peterborough Cathedral when Tina was just 18. The couple went on to have twins but are no longer together. Tina now lives in Dorset, a southern county in England, whereas Dog now lives in South West Wales. While Tina reminisced about what a "brilliant time" it was in her life, Dog lamented the loss of his punk hair in the intervening years between the two photos.
Five Boys Running - 1980/2016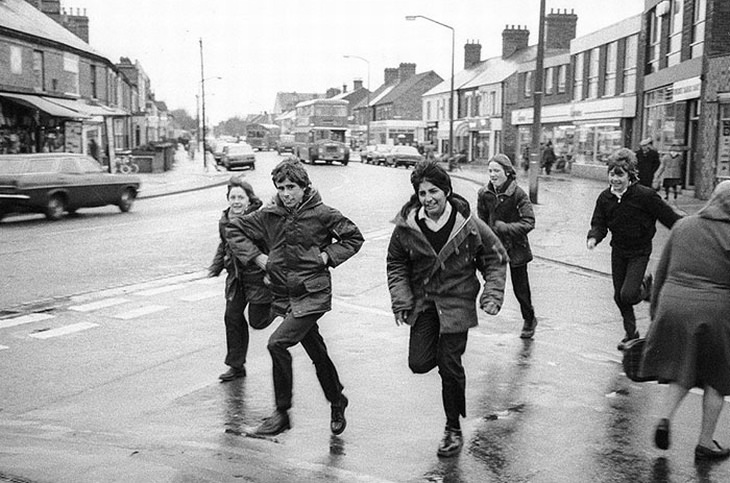 Left to right, Andy Jackson, Richard Hillson, Devinder Singh, Tony James and Aaron Meadows can be seen running to the chip shop during school recess before going on to the local record store to play on the arcade games there. Nearly 40 years on, all the friends have families, and work in and around the city.
Pink Mohican - 1985/2016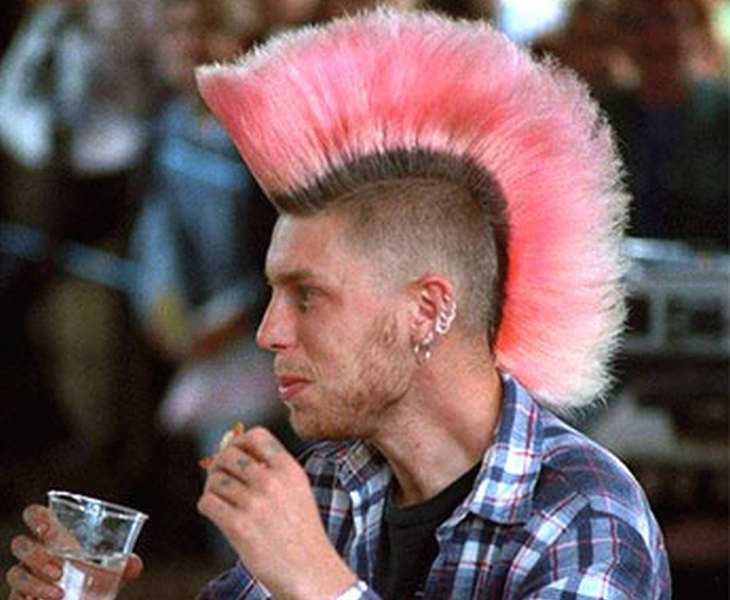 Punk Badger Farcue was photographed aged 20 at a local pizza eating contest. He was working as a laborer at the time. Five kids, three decades and one move later, it's nice to see that he hasn't lost any of his signature punk style over the years. He has lived in Somerset since 1991.
Out From Behind the Curtains - 1980/2013
Twin sisters Shehnaz and Rukshana Begum, together with their older sister Itrat, were originally photographed in the window of their home in Peterborough's Cromwell Road. The sisters recounted how it was a common activity for them to sit and watch passers-by in their road. All three still live in the area, still see each other regularly, and have families of their own.
Good Friends - 1980/2015
These four friends were photographed when they were around age 12 and, more than 35 years later, all still live in the area and remain friends to this day. One of the men, named Mr. Medler, who is now 47, said how it was surreal for them to retrace their steps after all this time.
Metal Mickey - 1980/2016
Metal Mickey, real name Steve Osborn, got his nickname because of all the metal plates and bolts he received in his limbs as a result of having numerous accidents on his beloved motorbikes. Nowadays, he uses walking sticks to get around. He resides in Lincolnshire with his wife, and is the father of four children. He has also risen over $25,000 for the National Association of Bikers with a Disability by playing guitar in various bands.
Jewelry Assistant - 1990/2015
Vicki Gracey, nee Frost, was photographed during her two-year stint working as a sales assistant at a jewelry store in Peterborough's Queensgate Shopping Center. While she has long since left that job, she says she has always enjoyed working with people in the time since. She still lives in this city, and has two children.
Friends - 1982/2011
The passage of time inevitably takes some of our loved ones with it, and this is evidenced by the recreation above. In the original image, a girl named Penny, three sisters named Sarah, Louise and Carole, with Juliette on the far right, were photographed under the Guildhall in Peterborough's Cathedral Square. Sadly, Juliette passed away in the years since, and as a result was replaced by her sister in the recreation.
Pin Badges - 1970/2013
Punks Pippa Hodgson, Ade Lawrence, Gary Beckett and John Church were photographed in Peterborough's Cathedral Square way back in 1970. John and Ade are still friends and play in a band together. Gary had emigrated to Australia many years ago and Pippa now lives in Spain.
The Family (before and after dates unknown)
A family photographed 40 years apart. Further details unknown.
Ian Medler and Peter Yates - 1980/2010
Teddy boys (it was a popular English subculture that, among other things, involved young men and women dressing in clothing that drew inspiration from Edwardian times) Ian Medler and Peter Yates are still friends and still live in Peterborough some 30 years after their first photo was taken.
Eating Chips - 1983/2016
Martin Coulson and Andy Randall have been friends since school. As young boys, they're pictured eating fries from the local chip shop, which has since been replaced. Nowadays, Martin is currently re-training for a different career following many years as a warehouse manager. He is married with two children. Andy is a telematics engineer and is married with three children.
Flute Player - 1986/2015
A homeless man named Neil was a fixture in Peterborough town center for many years. He was often seen playing a flute outside the Co-op bank in Westgate. Sadly, he seems to have disappeared following his recreation photo.
Hairdressers' Shop - 1980/2016
Sandra Burford is pictured going into a hairdressers in her original photo. Some 36 years later, a chain salon is now in place of the local hairdressers she used to go to. She is a retired former factory worker who is widowed. She has a daughter and three grandsons.
Trudi and Dave Talbot - 1980/2010
Married couple Trudi and Dave Talbot are seen enjoying a can of Vimto, an English soda, with their first dog back in 1980. They recreated their photo 30 years after their original.
Ice Cream Seller - 1980/2014
Genesio Borillo emigrated to England from Italy back in the late 1970s, and in his early years in his adoptive home, had an ice cream van that he used to sell ice cream to Peterborough's younger residents during the summer months. He set up a pasta shop in the city in 1992 and still runs it to this very day. He is married with three children and four grandchildren.
Butcher - 1980/2015
Richard Price was pictured outside the butcher's shop trying to sell his boss' wares aged about 17. He worked there for three years after leaving school aged 15. He still lives in the city today and works as an entertainer. The butcher's shop is long gone – it's now a café.
Star Road - 1982/2014
Half-Hungarian sisters Maria and Annamarie Plavecz were first photographed in Star Road way back in 1982. They both still live in the area, and they both work as carers for those in need in the local community.
Five Boys - 1980s/2011
In the original photo, you can see Phillip Boardman sitting on the windowsill of an abandoned house, with Stuart Beach in the window behind him. Martin Bridges, the boy wearing sunglasses, could not make the reunion shoot. Ricky Clarke is the boy next to Martin, and the boy in the doorway, Christopher Jackson, has sadly passed away since the men were boys.
Queuing for the phone - 1981/2016
John Morris, Paul Barnard and Andrew Pollard were photographed queuing up to the use the phone in Cattle Market Road. It was a common occurrence for the three friends to ride into the city center on their bikes on the weekends. An ATM machine now lies in the place of the telephone box. Andrew expressed his delight at being reunited with his old friends - he had moved to Essex to be with his wife when he got married, and thus hadn't seen the other two for approximately 32 years.