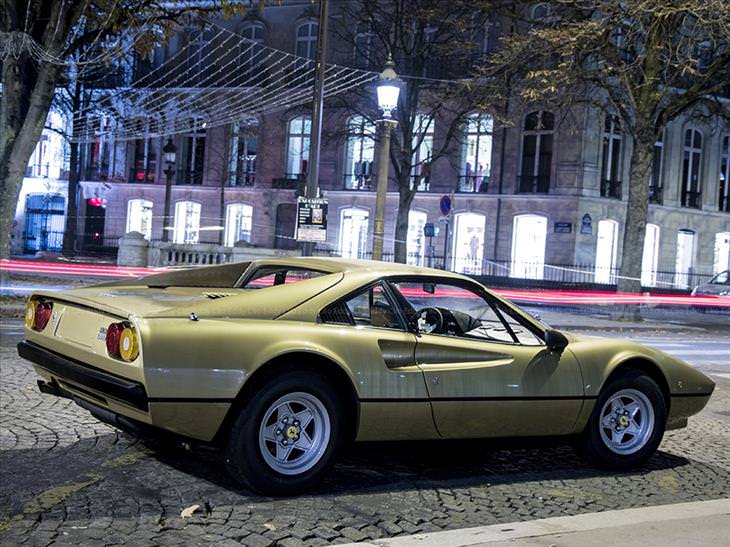 Models: GTB (berlinetta), GTS (targa top)
Engine Capacity: 2.9 liters
Power Output: 240 bhp
This is the car that represents the very start of modern V8 Ferrari lineage. This car was styled by Leonardo Fioravanti, who styled other legendary Ferrari models such as the Dino, Daytona and F40. It shot into pop culture infamy when Thomas Magnum drove a Rosso Corsa (red) 308 GTS in the much-loved 1980s American crime drama, Magnum PI. Latter quattrovalvole versions of the GTS and GTB models are the most collectible 308s of all. More than 12,000 of them were built in the model's 10 year production run. The example pictured is a 308 GTB finished in Vente Artcurial.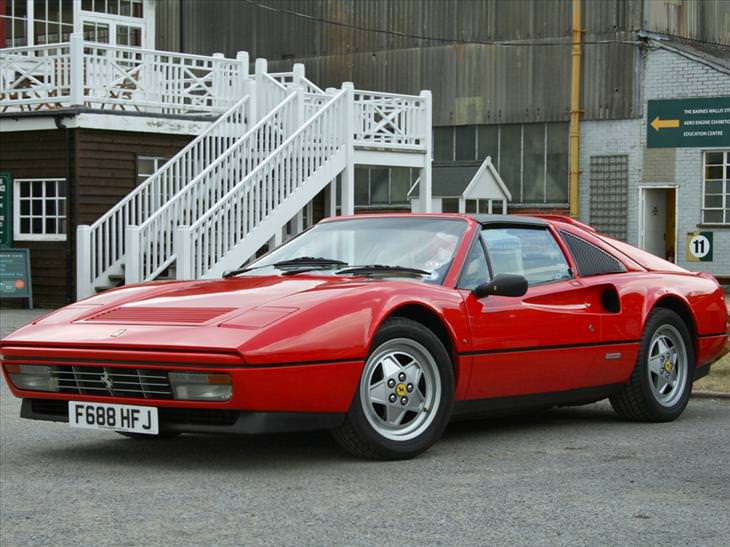 Models: GTB (berlinetta), GTS (targa top)
Engine Capacity: 3.2 liters
Power Output: 270 bhp
From 1985 onwards, the 308 evolved into the 328, and that meant a larger engine capacity, more power and (inevitably) more speed. Admittedly, it isn't quite as pretty to look at as the car it succeeded, but it's still a Ferrari! Some 7,400 328s were built over a four-year period prior to the introduction of the 348, meaning that it's a relatively common model. The example pictured is a 328 GTS finished in Rosso Corsa.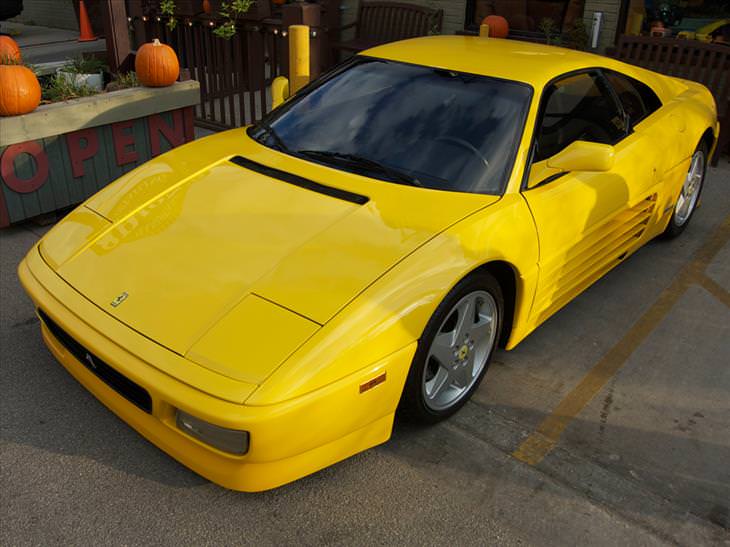 Models: tb (berlinetta), ts (targa top), GTB (berlinetta), GTS (targa top), Spider
Engine Capacity: 3.4 liters
Power Output: 300 bhp
Although it was primarily in production during the 1990s, this is probably the Ferrari that screams "1980s" like none other. The side strakes down each side of the car are a nod to its big brother, the Testarossa. It has to be said that this is one of the least loved V8 Ferraris, but that makes them a bargain relative to the other models.
With regard to the models listed above, the tb, ts, are all pre-revision cars. In 1993, Ferrari revised the 348 to correct some ill-handling characteristics that early cars exhibited. It also received some minor styling changes and a little more power. What's more is that the convertible version, the Spider, was introduced. The example pictured is a 348 GTB finished in Giallo Fly.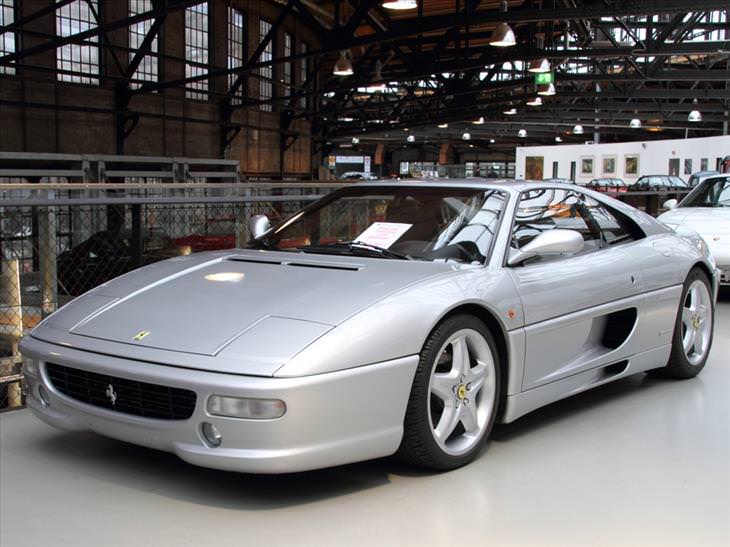 Models: Berlinetta, GTS (targa top), Spider
Engine Capacity: 3.5 liters
Power Output: 375 bhp
This beautiful car is credited with reversing Ferrari's flagging fortunes during the mid-1990s, and it is regarded by many to be the last truly pretty Ferrari ever made. It's also home to one of the best-sounding engines in the world.
A particularly noteworthy point with this model is that it marked the start of Ferrari's famed "F1" gearboxes, which feature paddle shifters either side of the steering wheel in the same vein as a Formula 1 car. This model has a top speed in excess of 180 mph. The example pictured is an F355 GTS finished in Argento Nurburgring.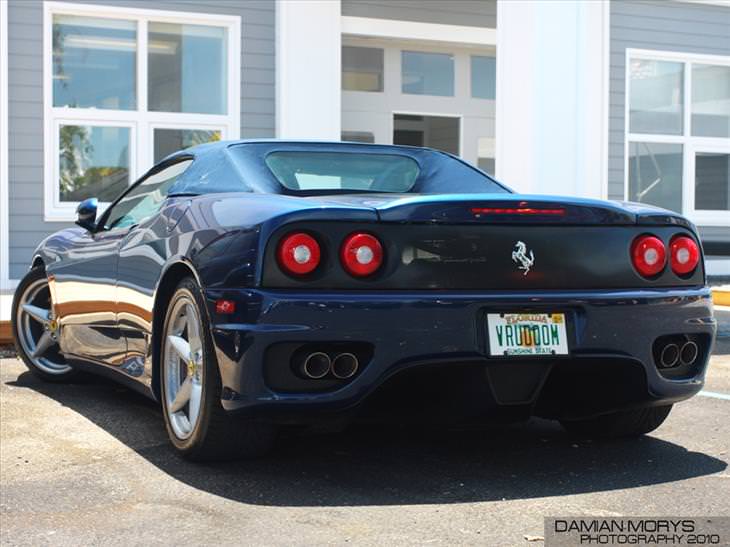 Models: Modena (berlinetta), Spider, Challenge Stradale (berlinetta)
Engine Capacity: 3.6 liters
Power Output: 394 bhp (420 bhp for Challenge Stradale)
The 360 is much more round than previous V8 Ferrari models, and was also the first one to feature underbody channels to counter aerodynamic lift when being driven at high speed. While it wasn't a model that enthusiasts cared for when it was first released, all that is gradually changing.
The most sought-after version of the 360 is the Challenge Stradale, which is a hardcore, lightweight, track-focused version of the regular 360 Modena. They are currently changing hands for between $250,000 and $300,000. The example pictured is a 360 Spider finished in Blu Pozzi.
Models: Berlinetta, Spider, 430 Scuderia (berlinetta), Scuderia Spider 16M
Engine Capacity: 4.3 liters
Power Output: 491 bhp (503 bhp for Scuderia and Scuderia Spider 16M)
In 2004, the curvy 360 made way for the F430. While the car is an evolution of the outgoing model, it marks a night-and-day leap forward, both in terms of its styling and its performance. The car's engine capacity was 0.7 liters greater than the outgoing model, and it also had nearly 100 horsepower more.
It's also replete with electronic trickery, such as an electrically-adjustable differential, and a manettino switch on the steering wheel to change the car's driving characteristics while out on the road. The car has a top speed of 196 mph, however, the limited edition 430 Scuderia and Scuderia Spider 16Ms are even faster. The car pictured is an F430 Berlinetta finished in Nero Daytona.
Models: Italia (berlinetta), Spider, Speciale (berlinetta), Speciale Aperta (spider)
Engine Capacity: 4.5 liters
Power Output: 562 bhp (597 bhp for Speciale and Speciale Aperta)
Even though the 458 has only been out of production for a year, it has already become an icon. It is significant for many reasons. The first is that it was the first V8 Ferrari to do away with a conventional manual gearbox altogether, meaning that you could only buy one with paddle shifters. What's more is that it is the last V8 Ferrari that will have an engine larger than its predecessor. Further innovations included moving most car controls, as found on stalks in most conventional cars, onto the steering wheel, and active aerodynamics.
Motoring journalists raved about how good it is to drive on its launch, and it's also not half bad to look at. In its later production years, the 458 model lineup was bolstered by the Speciale, a more powerful, lightweight version of the Italia, and the Special Aperta, a more powerful, lightweight version of the Spider. The example pictured is a 458 Italia finished in Bianco Avus.
2015-present: Ferrari 488
Models: GTB (Berlinetta), Spider
Engine Capacity: 3,9 liters, twin-turbocharged
Power Output: 661 bhp
Most high-end sports car manufacturers are downsizing engine capacity and increasing efficiency in their engines to reduce greenhouse gas emissions, and Ferrari is no exception. In fact, the new model's engine is 0.6 liters down in capacity over the outgoing 458, but that doesn't mean it's down on power - it has a whopping 99 bhp more than the 458.
The car achieves this thanks to the addition of twin turbochargers. So what is the result of 40 years of evolution? Well, the car can go from 0-60 mph in less than 3 seconds, reach 125 mph in 8.3 seconds, and will not stop accelerating until it's traveling north of 205 mph. Not bad for an entry-level model, is it? The example pictured is a 488 Spider Blu Abu Dhabi.