If you're a Snickers or Mars fan and happen to be in Europe at the present moment, you might want to heed this warning – Mars Inc. has issued a very large recall of products manufactured at a plant in the Netherlands due to the possibility of them containing plastic.

Although the recall initially covered just Germany and the Netherlands, it has now spread to 55 countries. It includes all Mars and Snickers products, Milky Way Minis and Miniatures, as well as Celebrations gift boxes, with expiration dates falling between June 19th, 2016 and January 8th, 2017.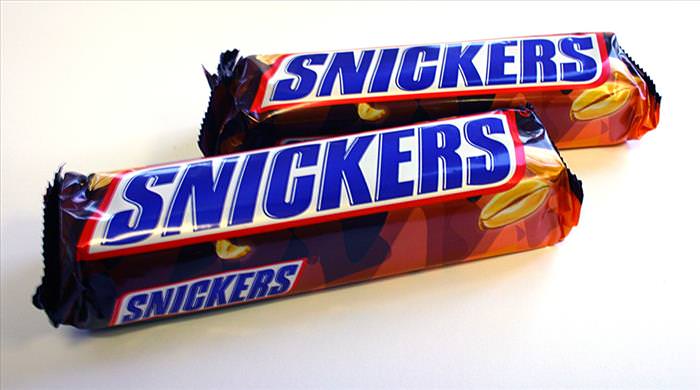 Affected countries include the UK, Germany, Spain and France. Note that affected products must be labeled "Mars Netherlands" - products manufactured in other nations are not affected.
List of Affected Products
This is the full list of recalled products, sold in Germany and the Netherlands:

Celebrations Bonbonbox 100g (Best before date: 06.27.2016, 06.28.2016, 30.06.2016, 03.07.2016)

Celebrations Box 190g (BBD: 06.26.2016, 03.07.2016, 07.17.2016, 07.24.2016, 07.31.2016, 07.08.2016, 08.14.2016, 08.21.2016, 08.28.2016)

Celebrations Box 277g (BBD: 07.10.2016, 07.11.2016, 07.24.2016, 08.14.2016, 08.21.2016)

Celebrations can 1,5kg (BBD: 06.19.2016, 06.26.2016, 03.07.2016, 07.17.2016, 07.24.2016, 07.31.2016, 08.21.2016, 08.28.2016)

Celebrations metal tin 320g (BBD: 06.26.2016, 03.07.2016, 07.24.2016, 07.08.2016, 08.14.2016, 08.21.2016, 08.28.2016)

Celebrations Easter Egg 246g (BBD: 06.19.2016, 06.26.2016, 07.17.2016, 07.08.2016, 08.21.2016, 08.28.2016)

Mars Duo Pack 6 x 70g (BBD: 07/08/2016)

Mars Duo Pack 70g (BBD: 04.09.2016, 09.11.2016, 09.18.2016, 09.25.2016, 09.10.2016)

Mars mini bag 250g (BBD: 04.09.2016, 09.18.2016, 09.25.2016, 02.10.2016, 09.10.2016)

Mars mini bag 333g (BBD: 04.09.2016, 09.11.2016, 02.10.2016, 09.10.2016)

Mars Mini Box Catering (BBD: 04.09.2016, 09.11.2016, 09.25.2016 ,, 02.10.2016, 09.10.2016, 10.16.2016)

Mars Miniatures bag 130g (BBD: 04.09.2016, 09.18.2016, 09.25.2016, 02.10.2016, 09.10.2016)

Mars Bar 10 x 45g (BBD: 09.11.2016, 09.18.2016, 09.25.2016, 10.16.2016)

Mars Bar 12 x 45g (BBD: 09/10/2016)

Mars Bar 5 x 45g (BBD: 09/10/2016)

Mars Bar 51g (BBD: 04.09.2016, 09.11.2016, 09.18.2016, 09.25.2016, 09.10.2016)

Mars bars 6 x 50g (BBD: 04.09.2016, 09.25.2016, 09.10.2016, 10.16.2016)

Mars Bar 7 x 45g (BBD: 04.09.2016, 09.11.2016, 09.18.2016, 09.25.2016)

Mars Bar 8 x 35g (BBD: 04.09.2016, 09.11.2016, 09.18.2016, 09.10.2016, 10.16.2016)

Milky Way Mini bag 250g (BBD: 04.09.2016, 09.18.2016, 02.10.2016)

Milky Way Mini Bag 330g (BBD: 04.09.2016, 09.18.2016, 02.10.2016, 01.08.2017)

Milky Way Mini Box Catering (BBD: 04.09.2016, 09.18.2016, 02.10.2016, 01.08.2017)

Mixed mini bag 1130g (BBD: 07.17.2016, 08.14.2016, 08.21.2016, 09.11.2016)

Mixed mini bag 1425g (BBD: 07/17/2016, 04/09/2016)

Mixed mini bag 400g (BBD: 07.17.2016, 07.08.2016, 08.21.2016, 08.28.2016, 04.09.2016, 09.11.2016)

Mixed Miniatures 3kg (BBD: 07.10.2016, 07.24.2016, 07.08.2016, 08.21.2016, 09.11.2016)

Snickers Duo Pack 6 x 80g (BBD: 06.19.2016, 07.17.2016, 07.19.2016, 08.21.2016, 08.28.2016)

Snickers Duo Pack 80g (BBD: 07.10.2016, 07.17.2016, 07.24.2016, 07.31.2016, 07.08.2016, 08.14.2016)

Snickers mini bag 250g (BBD: 07.17.2016, 07.31.2016, 08.14.2016)

Snickers mini bag 333g (BBD: 07.10.2016, 07.17.2016, 07.31.2016, 08.14.2016)

Snickers Mini Box Catering (BBD: 07.17.2016, 07.31.2016, 08.14.2016)

Snickers Miniatures bag 130g (BBD: 07.10.2016, 07.17.2016, 07.24.2016, 07.31.2016, 07.08.2016, 08.14.2016)

Snickers bars 12 x 50g (BBD: 07.08.2016, 08.14.2016, 08.21.2016)

Snickers bars 3 x 50g (BBD: 07/10/2016)

Snickers bars 5 x 50g (BBD: 07/24/2016)

Snickers bars 50g (BBD: 07.10.2016, 07.17.2016, 07.24.2016, 07.31.2016, 07.08.2016)

Snickers bars 6 x 50g (BBD: 07/10/2016, 07/24/2016)

Snickers bars 7 x 50g (BBD: 03.07.2016, 07.10.2016, 07.17.2016, 07.31.2016, 07.08.2016)

Snickers bars 8 x 35g (BBD: 07.10.2016, 07.17.2016, 07.24.2016, 07.31.2016, 07.08.2016, 08.14.2016, 08.21.2016)
Source: Daily Mail