The United States is blessed with diverse geographical beauty, with some places that stand out among the rest, as true works of natural art. People have different ideas of who the artist is, but these 16 locations are true masterworks of topography, drama, and unforgettable vision.
1. Lake Tahoe, California/Nevada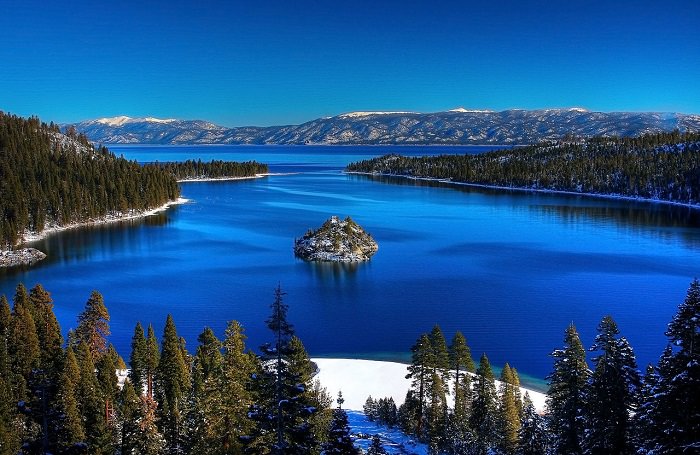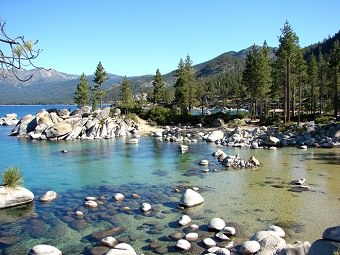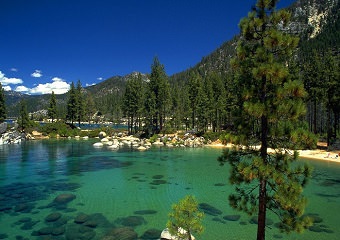 Michael ,Christian Abend, Don Graham
This picturesque lake holds several titles, including the largest alpine lake, second-deepest, and sixth largest volume of fresh water in the United States. It is located in the Sierra Nevada range, at an elevation of 6,225ft (1,897m). Experts believe that it formed around 2 million years ago, and nowadays it is a popular tourist attraction.
2. Maroon Bells-Snowmass Wilderness, Colorado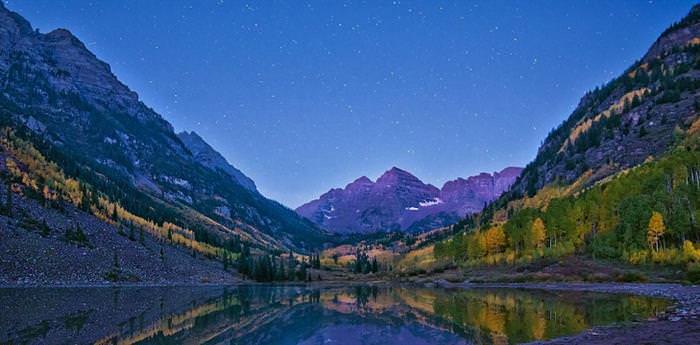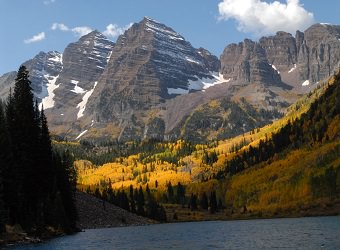 USDA, W.G. Dayton, John Fowler
Colorado's untamed nature can be experienced here at its finest, in an area that spreads across 181,500 acres, with 100 miles (160km) of paths, meandering between snow-covered peaks, lakes, and woodlands. The area is named after the two peaks known as "Maroon Bells" and Snowmass mountain.
3. Watkins Glen State Park, New York
Justin, Matthewjs007, Peter Rivera
An enchanted place, filled with dozens of shaded areas, covered by creepers and vines, with the constant babble of water flow and the roars of waterfalls. This beauty-filled forest spreads across nearly 1,000 acres, and is an ideal spot for camping and hiking.
4. Horseshoe Bend, Arizona
cactuskicker, Frank Kehren, Jiashiang
Named for obvious reasons, Horseshoe Bend is also the most photographed place in Glenn Canyon National Park. Both the bend, as well as the surrounding area offer a contrasting combination of ancient desert land and the powerful Colorado River.
5. Grand Prismatic Spring, Wyoming
Brocken Inaglory, Clément Bardot, Michael Gäbler
Yellowstone National Park is packed with spectacular views, but one of it's most unique natural attractions is this gorgeous spring, with its rainbow-colored rims, thanks to a specialized bacteria that lives in it. It is the United States' largest hot spring and the third largest in the world. If you were thinking of taking a dip, think again - the average temperature is 158°F (70°C)...
6. Thor's Well, Oregon
Jon Martin, Ryan J. Zeigler, Bill Young
Thor, the Norse god of thunder, is the namesake of this unique natural phenomenon that can be described as a natural water fountain. Thor's Well is located in an area called Cape Perpetua, and the powerful currents from the Pacific Ocean turn it into a spectacle, particularly an hour before and after the high tide.
7. Yosemite Valley, California
King of Hearts, Chase Lindberg, David Prasad
All of Yosemite Park deserves a lot of attention, but the valley is the prettiest part of it. The ancient glacial valley was formed by ground erosion caused by melting glaciers. These 8 miles (13km) of granite walls and pine woods, are riddled with paths that seem to call to hikers to travel them, and experience the waterfalls and pools that are abundant.
8. Badlands National Park, South Dakota
Evan Kane, Matthew Paulson, Jerry and Pat Donaho
One cannot ignore the unique topography of this place, which explains why it has over a million visitors every year. The rocky hills and mountains, with their red and orange stripes, used to be the hunting grounds for Native Americans, and now are a very popular destination for fossil hunters.
9. Carlsbad Caverns, New Mexico
Daniel Mayer, Wally Miller, PumpkinCanada
The Carlsbad Caverns Park is home to hundreds of caves, filled with stunning stalactites and stalagmites. The area was discovered and explored by a young boy called Jim White. Jim tried to tell people about his amazing discovery but many thought he was lying. In the 1980's, the writing "J. White, 1898" was found on the wall of one of the caves, confirming White's story.
10. Sequoia National Park, California
Albert de Bruijn, Jim Bahn, John Fowler
Home of the world's tallest and largest trees, Sequoia National Park spans across 404,000 acres (1,635 km² ), and is dotted with many great boulders, underbrush, and waterfalls. One of the place's most special trees is "General Sherman", which is the largest tree in the world, standing at 275ft (84m), and is estimated to be between 2,300 and 2,700 years old.
11. Hamilton Pool, Texas
Dave Wilson, Lars Plougmann, Dave Wilson
Thousands of years ago, an underground river flowed in a cavern until the ceiling collapsed, forming this incredible pool. Hamilton Pool is just a short way away from Houston, TX, and attracts many visitors, especially during the hot Texan summer.
12. Oneonta Gorge, Oregon
Jeff Jones, Bill Young, Jonathan Mueller
The Columbia River flows between creeper and moss-covered walls, giving the beautiful place a sense of magic. The cool air and shade turn this place into a pleasant escape during summer months, and the many waterfalls make the site a must-see.
13. Devils Tower, Wyoming
David Kingham, Wendy, Holly Hayes
This mighty tower with its ominous name was carved by nature. It may seem familiar to you since it was featured in Steven Spielberg's "Close Encounters of the Third Kind". The tower is the result of volcanic activity from 200 million years ago, and rises to 5,114ft. (1,559m) above sea level. Devil's Tower is a focal point for many folklore and legends by local Native American tribes.
14. Smoky Mountains, Between N. Carolina and Tennessee
Miguel.v, Tom Bricker, Tom Bricker
This mountain range is so mesmerizing that the national park named after it is the most visited tourist location in the United States. The area is packed full of forests, hills, rivers, lakes and rich wildlife, all of which are spectacularly colorful and vibrant. The rolling mists, the green paths sneaking through the valley - everything here is an ode to the glory of nature.
15. Bryce Canyon, Utah
Luca Galuzzi, Shanthanu Bhardwaj, Luca Galuzzi
Believe it or not, this is still Earth, even though the landscape in Bryce Canyon looks like nothing you've ever seen before. This unforgettable view comes from thousands of elongated red rocks with a unique shape called Hoodoo. It may look like a desert, but at winter time the weather is very cold and snowy. This is one of the most breathtaking places in the United States, and in the world.
16. Nā Pali Coast State Park, Hawaii
Justforasecond, Jmblanco74, Arjunkrsen
The green, towering cliffs with their red rocky feet dipping into the Pacific Ocean can be one of the most astounding views a person can see in his lifetime. The island's lush forests paint every nook and cranny green, giving it a tropical atmosphere. The combination of the blue and turquoise water, with the green and red hills can render people speechless.