Dumbbells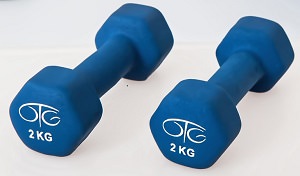 You'll need a 3-5 pound weight for this exercise. Begin by placing one knee on a sofa, bench or table and pick up the light weight in your opposite hand. Bend forward slightly with your back flat and in a row motion pull the arm back straight. Contract your upper back and let your elbow skim the side of your body as your arm moves. Do a set of 12 of these exercises and then another 12 with the other arm.
Rows and weights
This exercise will also require a 3-5 pound weight. Get into plank position, with your arms positioned directly beneath your shoulders, while squeezing your buttocks and pulling in your abs towards your spine. In each hand hold a weight and using one arm at a time, pull the weight backwards, in a row movement. This exercise will engage both the upper back and the deltoids.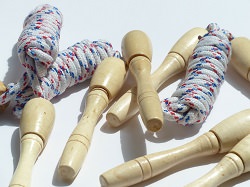 Jumping rope
While it seems like more of a shoulders-oriented exercise, jumping rope, exercises your back muscles. You don't need to belong to a gym to do this and it's also a fantastic cardio workout, and burns fat all over your body.