There are few treats I enjoy more in life than a delicious dessert, but I don't always have time to whip up a complicated mixture. That's why I was delighted to discover that there are a whole load of delicious cake recipes you can make using just a mug, a microwave, a handful of ingredients and a few minutes of your time! These microwaveable mug cakes are so easy to create, and make for delicious desserts or snacks you can enjoy time and time again. Try them for yourself!
1. Gooey Chocolate Mug Cake
I am so glad I came across this incredibly simple recipe - it's perfect for a Friday night treat after a long week, or for treating the kids/grandkids when they have been well behaved! And best of all, it only needs three ingredients, a mug, a microwave and a couple of minutes to transport you to chocolate heaven!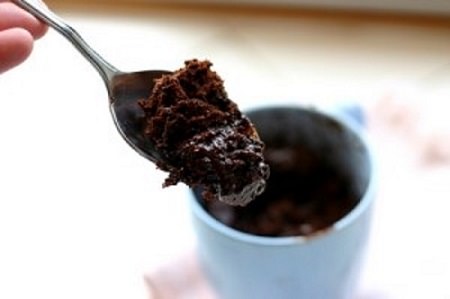 Image & Recipe - babble.com
Ingredients:
1 egg

1/4 cup of powdered sugar

1-2 tablespoons of cocoa powder (whether you use 1 or 2 depends on how chocolatey you want the cake to be)
Instructions:
Crack the egg open into a normal sized coffee mug.

Add the sugar and cocoa powder.

Use a small whisk to whip the ingredients until they are well mixed (if you don't have a whisk small enough, improvise with a spoon or fork).

Microwave on a standard setting for 50-60 seconds until the cake is thoroughly cooked. Ensure you don't overdo it and burn the cake.

Top as you wish with a dollop of ice cream, a squirt of cream or hot fudge. Finish with chocolate chips, chocolate buttons or pieces of fruit.

Enjoy your tasty treat!
2. Apple Cinnamon Mug Cake
This recipe takes 10 minutes to put together from start to finish, but it's time well spent (the icing is actually optional, and if you don't create your own, the cake will take less than 5 minutes to make). The delicious combination of apple and cinnamon makes for a fantastic mug cake that's perfect for the fall season.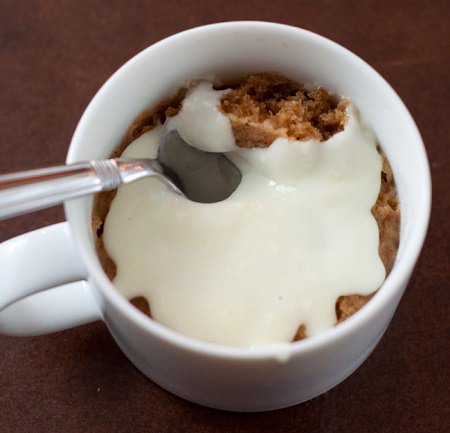 Image & recipe: thehungryhedgehog,com
Ingredients for the cake:

3 tablespoons of flour

1 heaped tablespoon of brown sugar

1/2 teaspoon of ground cinnamon

1/8 teaspoon of baking powder

1 tablespoon of apple sauce

1/2 tablespoon of vegetable oil

1/8 teaspoon of vanilla extract
Ingredients for the icing:

1 tablespoon of room-temperature cream cheese

2 tablespoons of powdered sugar

1 teaspoon of milk
Instructions:

Prepare the icing first, by whisking the ingredients with a fork until they have a smooth combined texture. Set the mixture aside.

Take a medium sized mug and add the dry ingredients for the main cake. Make sure you mix them together well.

Add the apple sauce and fold into the dry mixture to create a thick, sticky base.

Add vegetable oil, milk and vanilla. Stir them in until the mixture is wet, then stop. It's important not to over-mix.

Microwave on a high setting for around 45 seconds.

Top with your icing and enjoy. If you don't make the icing yourself, add whipped cream.
3. Banana Mug Cake with Coffee Ice Cream
This delicious mug cake uses two ingredients that can provide an energy boost, so it's great at breakfast time, or for a mid-afternoon snack when you are starting to lag. It's a moist, dense and delicious treat that's well worth trying.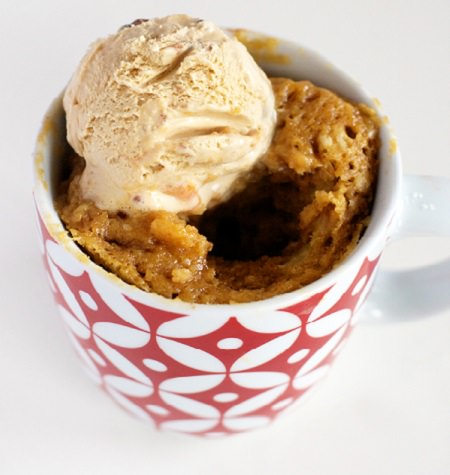 Image & Recipe - loveswah.com
Ingredients:
1 tablespoon of butter (or flavorless oil)

1 egg (lightly beaten)

1 tablespoon of milk

1 ripe banana

3 tablespoons of plain flour

3 tablespoons of brown sugar

1/2 tablespoon of baking powder

1 scoop of coffee ice cream to serve
Instructions:

Add the butter to a normal sized mug and microwave it for 10 seconds until it melts.

Remove the mug, add in the egg and milk and beat lightly with a fork to combine the ingredients.

Mash the banana, and add it to the mug mix. Continue stirring until thoroughly mixed.

Add the remaining dry ingredients and beat to combine.

Microwave for 1 minute on a medium heat setting.

Check the pudding, when it's done it should have risen, while being slightly gooey and moist in the middle. If it's undercooked, keep microwaving it in 10 second intervals until it's ready.

Serve with a generous scoop of coffee ice cream and enjoy!
Continue the article on Page 2