There is something very special about the south-west of the USA. This incredible landscape full of giant red rock monoliths, yawning canyons, hidden waterfalls and desolate desert has enchanted travelers for centuries. The states of Utah, Arizona, Nevada and California are home to some of the most incredible scenery on the planet and this backwater country is ideal for a spectacular road trip. Just don't forget your camera!
1. Mesa Arch, Arches National Park - Utah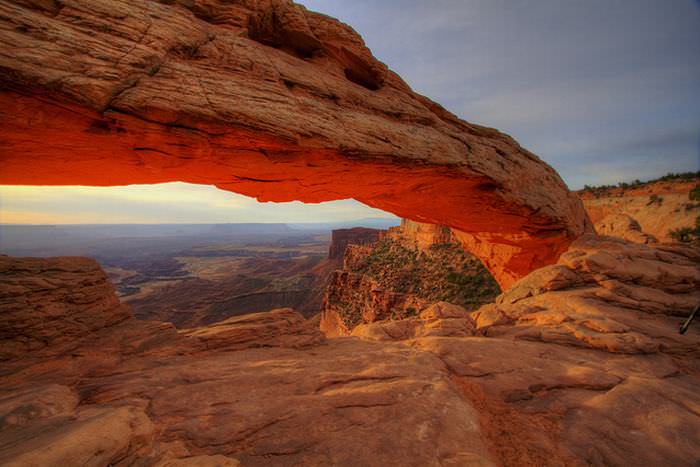 2. Havasu Falls, Arizona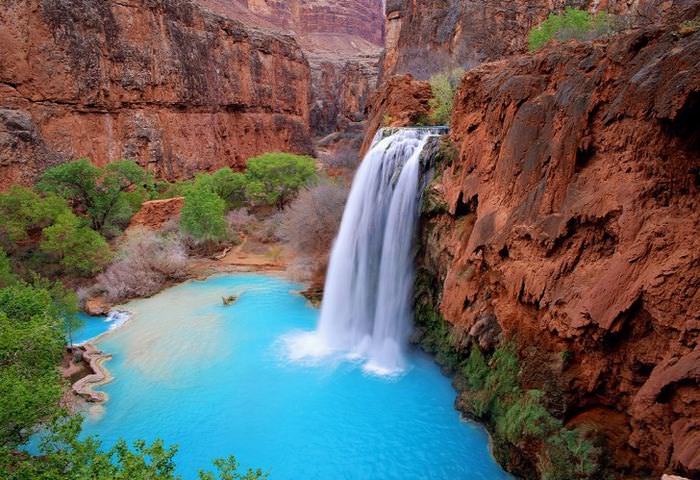 3. Antelope Canyon, Arizona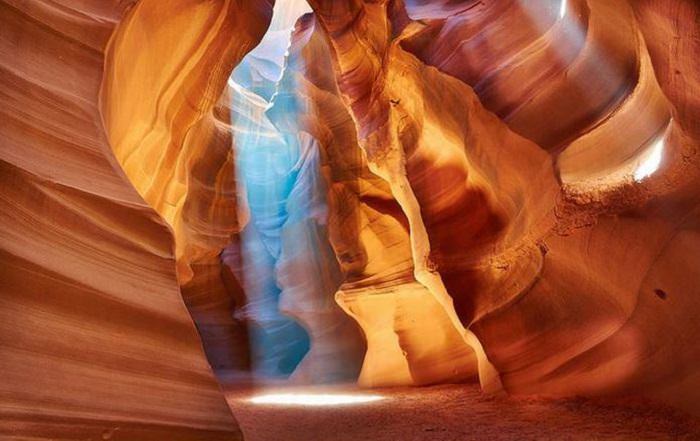 4. Sand Dunes at Death Valley, California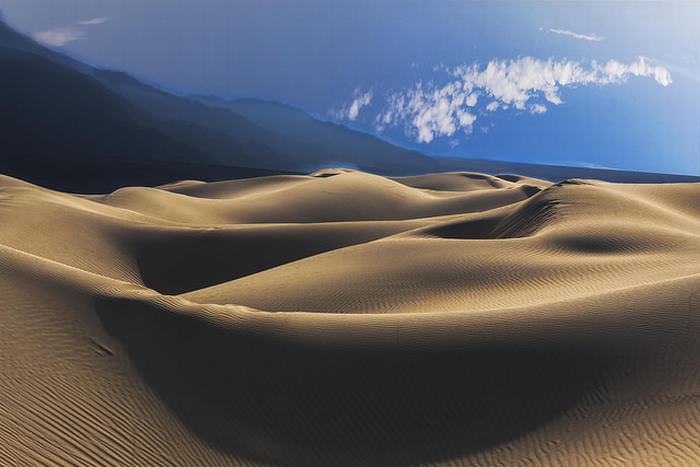 Imagine exploring these badlands before they were discovered, mapped and connected by roads! You would find yourself faced with endless stretches of inhospitable desert and barely traversable canyons. Our ancestors faced such hardships. Death Valley was given its name by a group of pioneers known as the 'Lost 49ers' who were stranded there between 1849 and 1850. As they finally climbed out of the valley, one of the men is reported to have turned and said 'Goodbye Death Valley'.
5. The Wave, Arizona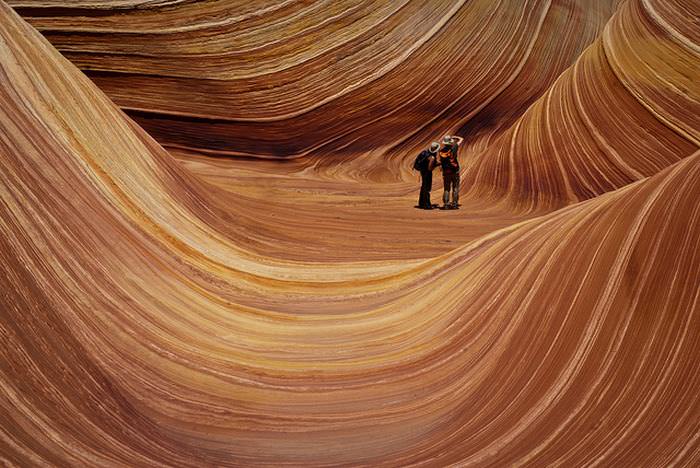 6. The Watchman, Zion National Park
The stunning scenery of the south-west has ensured that it is a favorite setting for film makers, and many of the landmarks featured in this list have appeared in well known films. A number of scenes from Star Wars were filmed in Death Valley, while much of the stunning natural scenery from Butch Cassidy and the Sundance Kid came from Zion in Utah.
Arches was the setting for much of Indiana Jones and the Lost Crusade, but Monument Valley is the most famous of all, having appeared in countless films over the years including many John Wayne Westerns. A plaque has been erected overlooking the valley, denoting the place where Wayne used to sit and enjoy the spectacular views.
7. Horseshoe Bend, Arizona
8. Joshua Tree NP During Meteor Shower, California
9. Rainbow over Canyon de Chelly, Arizona
The area is home to a large proportion of national parks, with Utah hosting five on its own (Bryce Canyon, Zion, Arches, Canyonlands and Capitol Reef). There are also countless state parks and national monuments which many consider to be equally spectacular and any hiking around the red rocks of the south can be rewarding - you can frequently stumble across a spectacular sandstone arch or hidden waterfall. These quiet spots away from the crowds can be a fantastic way to experience the wilderness of the area.
10. Mirror Lake, Utah
11. Hoodoos at Bryce Canyon, Utah
Mormon farmer Ebenezer Bryce gives his name to Bryce Canyon after discovering it while searching for his lost castle. His reaction was amusingly low key and he simply remarked: 'it was a helluva place to find cows'.
12. Lower Calf Creek Falls, Utah
13. Badwater, California
14. Canyonlands, Utah
15. Monument Valley, Arizona/Utah State Border
The south-west is home to the largest concentration of Native American tribes in the United States. Arizona hosts huge reserves which provide a home for tens of thousands of Navajo, Apache and Hopi people whose ancestors have worked the lands for decades. They produce extensive collections of beautiful art, including pottery, clothing and jewelry, most of which features spiritual or symbolic flourishes. The color turquoise is considered sacred, and is frequently used to decorate jewelry.
16. Dead Horse State Park, Utah
17. Navajo Falls, Arizona
18. Capitol Reef Park, Utah
Exploring the south-west at any time of year is rewarding and visitors can expect to find extremely hot day time temperatures for nine months out of the year. Indeed, Death Valley holds the record for the highest temperature ever recorded on Earth, 56.7 °C (134 °F) in 1913. However, because many of the regions sites sit at elevated altitudes, temperatures can drop markedly at night, catching people by surprise. Winters bring snow to the highlands, covering the likes of Bryce Canyon with a light white blanket that provides a new perspective for budding photographers.
19. Lake Powell, Arizona
20. Zabriskie Point, California
21. Grand Falls of the Little Colorado, Arizona
22. The Grand Canyon, Arizona
Of course, this picture list would not be complete without the mighty Grand Canyon, one of the natural wonders of the world and a famous landmark known throughout the continents. Over 270 miles long, 18 miles across at its widest point and a mile deep, yet still intricate and detailed with changing colors when viewed up close, it has enraptured visitors of all ages and nationalities for many decades. There is nothing quite like a Grand Canyon sunset:
"The Grand Canyon is carven deep by the master hand; it is the gulf of silence, widened in the desert; it is all time inscribing the naked rock; it is the book of earth."
~Donald Culross Peattie, The Road of a Naturalist, 1941