Skin problems
6. Treat acne - Get rid of unpleasant skin blemishes with tea tree oil without any ill side effects. Many treatments for acne use peroxide, which dries the skin. Tea tree oil doesn't strip the natural oils from the skin so you won't experience dryness. Apply the oil to a cotton ball and use this to treat acne or pimples.
7. Relieve the suffering caused by boils and blisters - Reduce the period of time you suffer from these uncomfortable skin problems with some tea tree oil. When applied daily, this essential oil speeds up the recovery time and can offer soothing relief. Dip a cotton ball in the oil and apply this directly to the boil or blister. You can repeat this treatment 3 to 5 times a day. The oil's antiseptic properties also reduce your chances of the blisters or boils becoming more infected.
8. Get rid of warts - Warts are uncomfortable and embarrassing. Luckily you don't have to live with them. Apply two drops of the oil directly on the wart, once in the morning and once before bed. You can cover the area with a bandage to ensure the oil stays in place.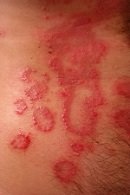 9. Relieve symptoms of ringworm - Ringworm is another skin ailment that causes intense itching. Use tea tree oil to relieve the itching sensation. Apply a couple of drops directly to the affected area and do this three times a day. If you have sensitive skin, mix the tea tree oil with clove oil. The oil's antifungal and antibacterial properties can also fight this bacterial skin infection.
10. Soothe sunburn - Sunburn is an unfortunate pain that just won't quit. Sooth the stinging sensation it causes with this natural relief. Create a paste of 1 drop tea tree oil with 1 tablespoon of coconut oil, and massage onto the burning area. The tea tree oil helps remove the sting, and can reduce any blistering or peeling.
11. Soothe psoriasis - This itchy skin condition can be treated with prescription medication, but sometimes these fail to fully keep the irritating symptoms from making life uncomfortable. You can soothe the scratching sensation with a tablespoon of clove oil mixed with 10 drops of tea tree oil. Gently massage this mixture into your skin. Apply three times a day to help reduce the painful itching.