Do you remember when your parents told you not to play with food? These incredibly talented artists weren't paying any attention to what their parents said. You won't believe how surreal these edible masterpieces are. You might develop quite an appetite after viewing some of these delicious works of art.
1) Carl Warner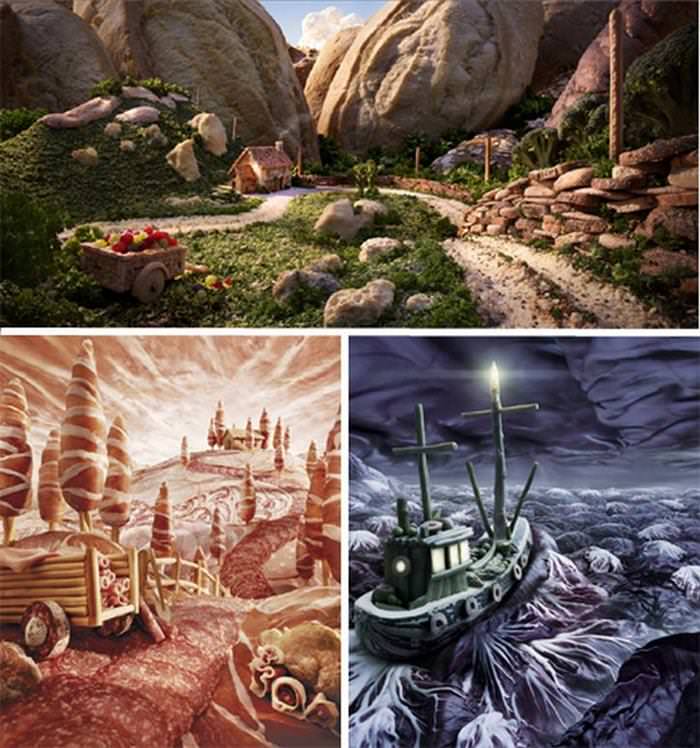 source
Warner sketches out the scenes and then uses pins and super glue to hold his creations together. Each piece takes a few days to complete. Warner's creations are called Storm in a Teacup, A Meat Treat, and Sugar Loaf Mountain. The masterpieces were made from such foods as, crackers, cheddar cheese, baguettes, breadcrumbs, sausages, asparagus, and purple cabbages.
2) Mike McCarey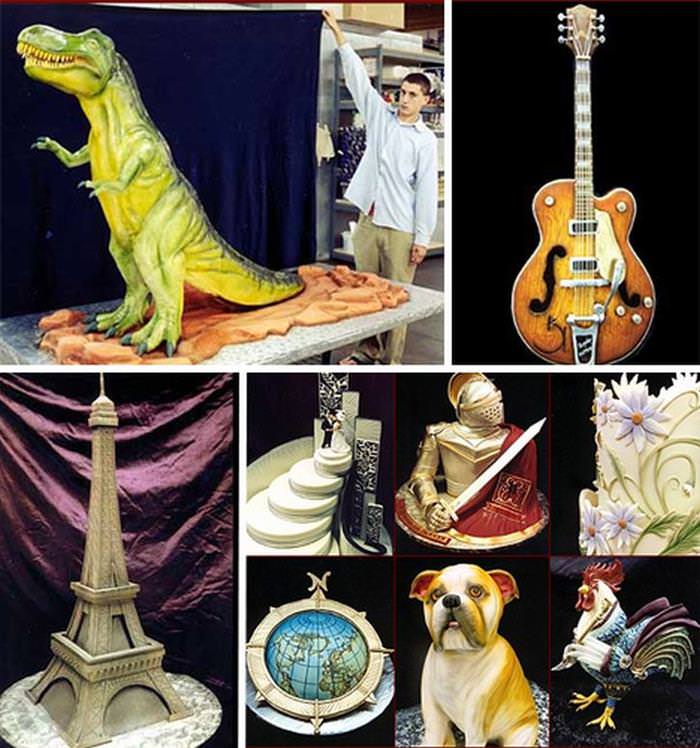 source
At first glance, you'd think that you're staring into a featured exhibit at the museum, but you're looking at edible pieces of art. Renowned pastry chef, Mike McCarey, creates surreal sculptures of a dinosaur, a guitar, a royal knight, and even a cute, lovable dog, all out of sugar and flour. Mike makes all types of birthday designs and specialty cakes for all occasions, but you might want to take a few photos before digging in.
3) Christel Assante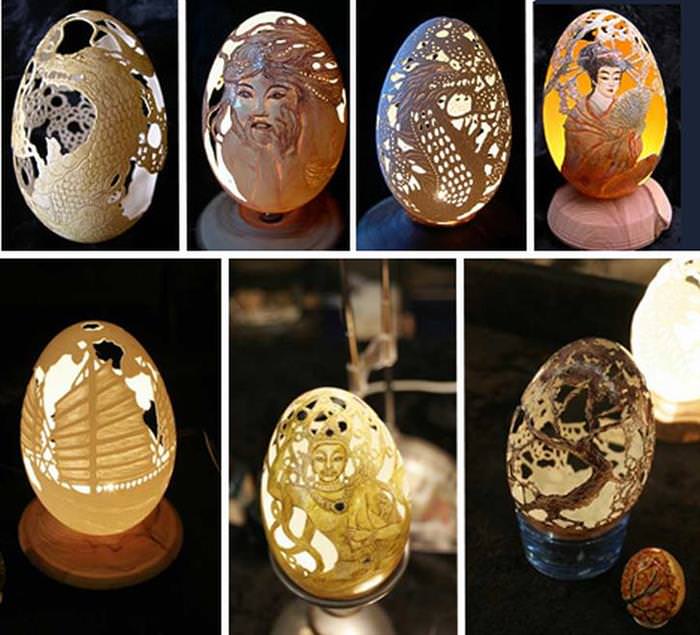 source
No, those aren't Fabergé eggs you're staring at, they are, in fact, designs made from eggshells. The incredible creations belong to French artist, Christel Assante. Each egg is hand-crafted with precision, taking around 3 to 4 days to complete. The eggs give off a glow from the tiny bulbs placed inside.
4) Jason Mecier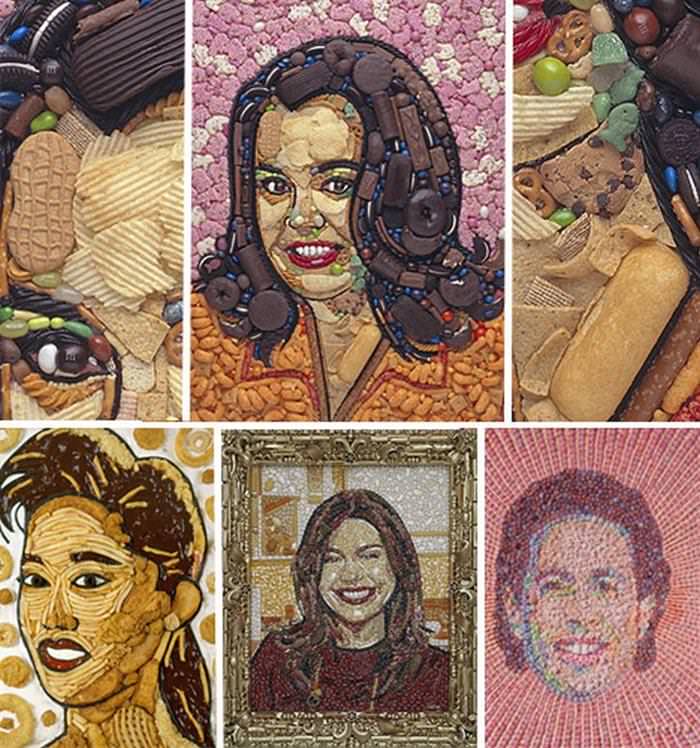 source
Jason creates his celebrity portraits entirely out of junk food that he puts together. The Jerry Seinfeld portrait is made entirely out of breakfast cereals; Rachel Ray was made from various beans that are glued together and a macaroni Martha Stewart masterpiece. There is even a portrait of Kevin Bacon on his website. You can probably guess what he used to make that design.
5) Robin Antar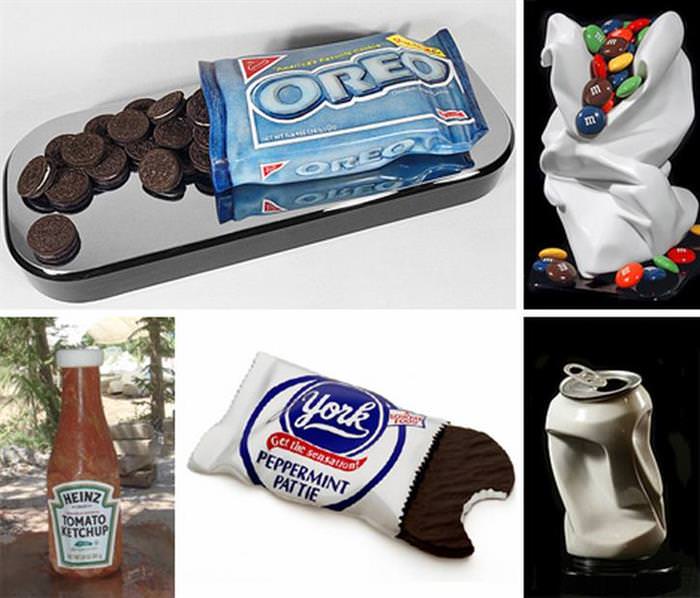 source
Robin Antar is unlike any of the artists on this list, for a very simple reason, her works of art are sculpted strictly out of stone. You might have to get a closer look at your screen to believe it is real. She has sculpted Heinz Ketchup bottles, York Peppermint Patties, and even an aluminum tray full of Oreo's. The Brooklyn-based artist has won numerous awards for her incredible works.
6) Prudence Emma Staite
source
What looks like a stone or clay replica of the Colosseum is sculpted entirely out of chocolate. Among Emma's creations is Pope Benedict XVI, made out of enough pizza dough to make 500 pizzas. She put a lot of effort into the design of the Pope, which was on display at the Museum of London. Emma has used chocolate to create jewelry, paintings, and even entire rooms.
7) Davin Risk
source
The iPod you're looking at was made by using a sculpted banana, a few apple slices as earbuds and spaghetti noodles as the cords. The edible little iPod was designed for the "Make a Meatspace Shuffle" competition. Davin's little musical creation netted him first prize, which was a real iPod.
8) Giuseppe Arcimboldo
source
Italian Renaissance painter, Giuseppe Arcimboldo, replicated the surreal mosaic portraits in the form of fruits and vegetables. Although he didn't use fresh produce during his exquisite masterpieces, he had relied on them for inspiration.
9) James Parker
source
When it comes to carving out watermelons, you might not find a more talented artist than James Parker. Parker's produce creations have appeared on The Food Network, even earning him a gold medal in the Fantasy Fruit Sculpture challenge. Parker's company is called Veggy Art.
10) Tamás Balla
source
Balla uses his vivid imagination and transforms regular produce into Expressionism artwork. Balla spends countless hours perfecting his craft into the most intricate of details. He uses oranges, tomatoes, and watermelons to carve out his creations, with each unique and bizarre facial expression telling a different story.
11) Dieter Roth
source
Roth's edible abstract creations began in 1965 while he was working as a visiting professor at the Rhode Island School of Design. He had smeared a tasty combination of chocolate and bananas together onto a canvas and would go on to sculpt piles of butter together. Roth would even place sealed slices of sausages and watch how the mold would blend beautifully into the designs.
12) Ray Duey
source
Ray sculpts magnificent designs onto melons, apples, and other assorted citrus fruits, which are then set up as gorgeous table arrangements. Duey even battled against the legendary chef, James Parker, on The Food Network, and took top honors for the first food challenge. Needless to say, Parker, won the rematch.
13) Zhanna Bakery
source
You'd think that treasure chest belongs in a museum, but it's an edible cake design. Everything you see here is made entirely from sugar and flour. The bakery is based out of St. Petersburg, Russia and creates all types of objects that range from a delicious hamburger with lettuce to a collection of Pepsi cans, and even an edible sewing machine.
14) Song Dong
source
The miniature city you're looking at was made out of biscuits and wafers. Biscuit City is the brainchild of Chinese artist Song Dong, who created his edible town in a London department store. In case you were wondering, there were a total of over 72,000 biscuits used to complete the traditional Asian city.
15) Jim Victor
source
Jim Victor might need an extra coat when he begins his edible projects, since he spends hours at a time crafting his incredible designs in the cold freezers. Jim uses mounds of butter to carve out his creations, which includes; life-size figures of horses, children, and farm houses. He's used chocolate, cheese, and vegetables for various other designs.