We all know the feeling of craving for something simple and sweet to eat when we just don't feel like cooking or eating anything too big. Here are some great ideas for delicious snacks you can serve your family and friends or eat yourself and never feel guilty about it!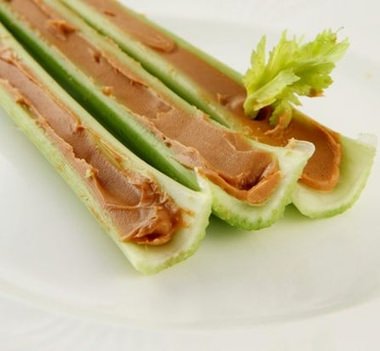 Celery has an amazingly low amount of calories in it, as little as 10 calories in a large stalk. It does however have Vitamin A in it, which is great for your eyes, and it can help lower your blood pressure and even LDL (bad cholesterol) levels. You can put a little peanut butter or anything else you like on a stalk for a yummy and crunchy fun snack.

Zucchini Pizza Bites.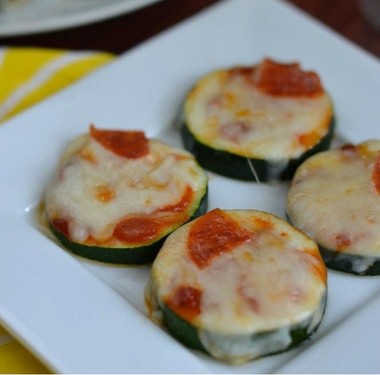 The healthy Bite sized version of pizza. Cut some zucchini slices and top them with tomato sauce and a bit of cheese before you put them in the oven. Zucchinis are high on vitamin C and cheese is high on calcium, just make sure you don't use too much.

Strawberries Dipped in Yogurt.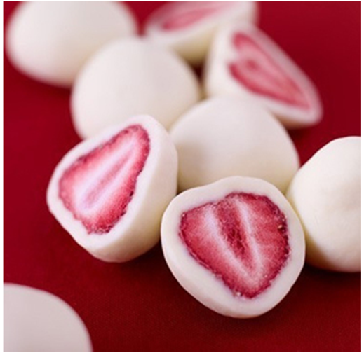 Simply dip some strawberries in your favorite kind of low fat or Greek yogurt. Put it on a plate or in a big ice tray and place it in the freezer for 20 - 30 minutes. It looks amazing, it's delicious and it's low on fat and protein which makes it ideal for people who try to lose some weight.

Hummus Dip with Vegetables.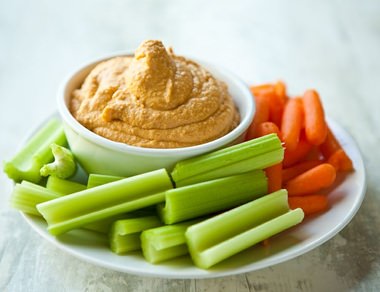 Hummus is made out of mostly chickpeas, which have no cholesterol or saturated fat, and a sesame seed paste called tahini. Chickpeas are also good for helping you maintain a healthy level of blood sugar that will not only make you feel better but also make you feel full for a longer time. Just add some vegetables and you have a great dish for the whole table to enjoy.

Chocolate Covered Roasted Inchi Seeds.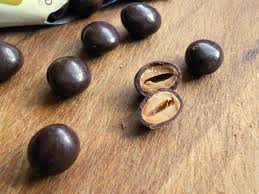 Inchi seeds are an Amazonian super source for omega 3 and are considered to be one of the highest plant based sources of it. Add a high percentage of protein and a rich taste created by a long low temperature roasting process and you have a wonderful chunky snack.

Tomatoes with Feta and Olive Oil.
Simple, fast, beautiful and delicious. If you don't like Feta you can try any other low fat cheese and if you are out of olive oil just use your favorite light salad dressing.

Walnuts.
Walnuts are high on omega 3 and have an added advantage of making you feel satiated just by eating a few of them. They are also believed to help with heart problems and reduce inflammation after a big meal.

Dark Chocolate.
Now I know what you might think, surely chocolate isn't a healthy snack but the truth is, it can be. Dark chocolate with a high percentage of Cocoa (70% and above) and a low percentage of sugar has lots of antioxidants and a mild amount of caffeine that can give you that much needed energy boost to get you through a day.
Ginger Chews.
Ginger has been known for many years as a great addition to any meal. It helps your digestive system, it can help reduce joint pains and even ease a feeling of nausea . Sprinkled with some sugar powder, or flavored by other means, Ginger chews are just a bite sized wonder snack.

Edamame Sprinkled With Sea Salt.
Edamame is Japanese for sweet, green soybeans that are soft and rich in flavor. Mostly served hot with some sprinkled salt Edamame contains protein and many essential minerals that make it a great treat for your body as well as your mouth.